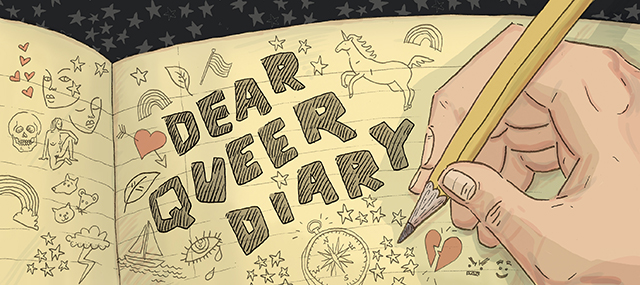 In honor of the much-heralded return of Autostraddle's favorite television show, allow me to share some ways in which your journal and Orange is the New Black are basically the same thing.
1. They are all the rage on Autostraddle.
I assume you all noticed that there was a time earlier this week when approximately 70% of items on the Autostraddle home page were related in some way, shape, or form to Orange is the New Black. There was the post about the cast on the Red Carpet, a truly genius collection of menu ideas based on the show, and, of course, the deeply impressive ranked list of one hundred orange things.
While your own personal journal probably has not reached quite this level of visibility on every queer lady's favorite website (hint: you are reading it), several of your diaries have, in fact, been featured in this very column. Moreover, it was recently written by none other than AS's new tarot columnist Beth that, if you "don't like journals…you're reading the wrong website."
Q.E.D., am I right? This is only my first piece of evidence that OITNB = your journal.
2. There are episodes.
You know how every time you write in your diary, there is the same preamble of finding a pen, writing the date, and beginning in the entry with some kind of opener? Television shows are exactly the same way! There's an intro, a song, and some opening credits, which, in the case of OITNB, feature many extreme close-ups of lips and eyes set to the always-pleasing voice of Regina Spektor.
There's also the fact that sometimes you wait weeks or even months to write an entry in your journal—and sometimes you have to wait weeks or even months for a new season of your favorite Netflix sensation! The similarities are endless, people.
3. Both involve plenty of lady-loving action.
I don't want to make too many assumptions, but I think this may be both the most obvious and most important similarity between your dear queer diary and your dearly beloved television show. Whether or not you are a woman who spends a lot of time getting it on with other women in the showers of prisons, if you are reading this website, I think there is a decent chance that your journal contains reference to a sexy female-identified person or two.
4. I haven't watched/read it.
Go ahead! Decry my madness in the comments! Urge me to log into Netflix immediately! The truth is that I'm a big nerd and I don't really like watching TV, meaning that I have spent a decent percentage of my life pretending to listen with interest to conversations about characters and plotlines I don't actually know anything about it. (And, apparently, writing columns based on TV shows I am only vaguely familiar with.)
The alternative, of course, is facing the consternation of my interlocutors when I explain that, no, I have never seen a single episode of Fill-in-the-Blank-Popular-TV-Show-of-the-Moment and no, I was not aware that this was a significant gap in my quest to live a life filled with happiness and meaning. I don't even own a TV, I often protest, though, in the age of streaming, this excuse no longer means much of anything.
It's not that I don't want to like TV or even that I hate all television programs—it's just that the majority of the time, there are things I would rather do than spend a multitude of hours on a television show. I have been accused of being an intellectual snob, but I swear to you that it is mostly just a personal preference. I love Regency romance novels (despite the frequent appearances of "throbbing members"), so I can promise you that I am not gazing down at anyone from the throne of high culture.
I feel a tiny bit disloyal even writing this on a website whose very genesis was made possible by television—specifically, The L Word, another show whose pilot I watched before deciding I would rather write in my journal and bake cookies than sit in front of my computer contemplating the crazy alternative lifestyle haircuts of the 1990s. However, in the interest of representing a multiplicity of queer perspectives, I suppose I can whisper my treasonous words into the capacious ears of the internet—while also promising that I will fulfill my duty as a lesbian and Straddler by watching episode two of OITNB sometime in the next few weeks.
For now, let's get back to my original premise, shall we?
Orange is the New Black is all the rage, it is divided into seasons/episodes, and it involves ladies getting it in on with other ladies. Your journal is all the rage, it is divided into entries/volumes, and it (probably) involves ladies getting it on with other ladies. My dear queer diarists, we are clearly talking about peas in a pod — birds of a feather — a Tegan and a Sara! Or is your journal the somewhat-identical twin of a different television show entirely?
---
Dear Queer Diary is a column about the joys (and occasionally, the pains) of journaling. We crack open our tiny notebooks and break out the rainbow-colored pens on the regular, so get ready to limber up your writing hands and document all your beautiful feelings!
Header by Rory Midhani