You've already got your ten thousand closest friends over, and you've got a drink or five in hand. But you're starting to get a little peckish halfway through the season. What's to be done? Don't worry, we've got a dinner party all planned. Grab a seat and dig in!
---
Pornstache Pea and Mint Soup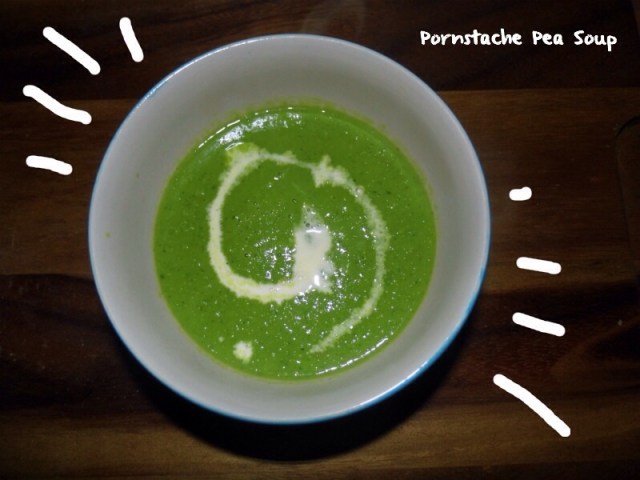 When I was first coming up with recipes, I joked that I would do a Pornstache Pea Soup, remembering Red's ruined gravy. My partner thought a recipe based on a urination scene was questionable, but after exhausting all other ideas, I realised that soup was the tastiest option. It's the perfect starter for the chicken, and it complements the flavors of the other sides so well. It's s(o)uper yummy, I promise.
Ingredients:
1 tbsp olive oil
1 small onion, diced
3 cloves garlic, crushed
500g fresh or frozen peas (~2 cups)
600 ml vegetable stock (2 1/2 cups)
Handful of fresh mint
Salt and pepper to season
Cream to serve
1. Gently heat the olive oil in a pan. Add the onion and soften, then add the garlic. Popping a lid of the pan cuts down the softening time.
2. Add the peas and stock and bring to the boil. Add two thirds of the mint. Turn down the heat and allow to simmer for 10 minutes. You can use this time to ponder how much better life would be if Laverne Cox was queen of the world.
3. Add the rest if the mint. By adding the mint in two stages you get two depths of minty flavour, yum.
4. Blend to a smooth consistency. Season to taste with salt and pepper. I personally like to sing Push It while I season, but hey, you do you.
5. Bowl up and swirl some cream in if you're feeling fancy.
---
Red's Chicken of Power
This whole dish was designed as an homage to the queen of the cell block: Red. The spice rub contains chili just like the paste that Piper makes for Red. The mash is what Watson requests after she gets out of SHU. The heirloom tomatoes are what Piper salivates over when Red exercises her powers and refuses to feed her.
Ingredients:
1 chicken
1 tsp paprika
1 tsp chilli powder
1/2 tsp cumin
1/2 salt
1/2 pepper
1/2 thyme
1 tbsp olive oil
50 g butter (~ 1 1/2 oz)
6 heirloom tomatoes*
3 cloves garlic
Drizzle olive oil
1 sweet potato
Knob of butter
*So, heirloom tomatoes aren't really a thing in Ireland. All of our in-season veg comes from within 50 miles. I just picked up some nice tomatoes in the Moore Street Market. As with any recipe, just try to get the best quality you can afford, you don't need to spend €4 on two tomatoes!
Chicken:
1. Preheat the oven to 180C (350F). Rinse the chicken and pat dry.
2. Cut the butter into two equal rectangles. Use your fingers to separate the skin from the breasts of the bird, which is a job I have to do because my tough strong butch partner has a pet chicken and gets very emotional about touching raw poultry. Slide the butter into the little pockets you've made.
3. Mix the spices together. Add the oil. Rub the mix allllll over the chicken.
4. Pop the chicken in the oven. The best way to calculate the cooking time is 20 minutes per 450g (1 lb) plus 20 minutes extra.
Tomatoes:
With super yummy in-season tomatoes, you don't need to do anything fancy. Just drizzle some olive oil, crush the garlic on top and put in to roast for the last 40 minutes of the chicken.
Sweet Potato Mash:
Chop the sweet potato into chunks and boil until tender. Add the butter and mash them using any residual anger you have from season 1, like why was that cute butch only in it for like five seconds in the first episode and then never seen again!?
Chocolate and Vanilla Swirl Ice Cream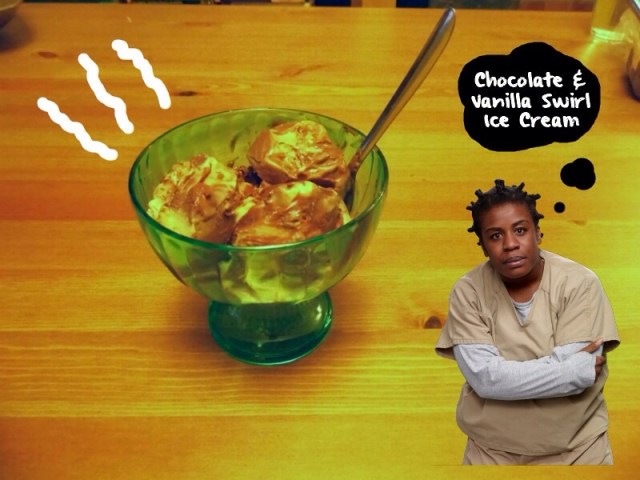 Ingredients:
280ml double cream (1 cup)
300ml whole milk (1 1/3 cups)
100g castor sugar (~ 1/2 cup)
3 egg yolks
Vanilla pod/3 tsp good quality vanilla extract
50g dark chocolate, chopped (~1/4 cup)
1. Pour the milk and cream in a saucepan. If you can find/afford a vanilla pod pop it in now. If not no worries, I used extract and it still tasted amazing. Begin to heat.
2. Add sugar and stir until dissolved. Add vanilla extract if you didn't have a pod.
3. Whisk the egg yolks. Slowly pour a small amount of the cream into the yolks, whisking the whole time. Continue this process until it's all combined.
4. Return to the pan and bring to the boil, stirring constantly. As soon as it comes to the boil turn it down.
5. Keep stirring until it's able to coat the back of a spoon. Take off the heat.
6. Put the chocolate in a bowl. Pour in half the cream mixture, whisking all the time.
7. Allow both mixtures to cool.
8. Place the chocolate mixture in the freezer. Pour the vanilla mixture in an Icecream machine*. After ten minutes, or when it's almost at the right consistency, add in the chocolate mixture.
9. Swirl it up for a few seconds and turn off the machine. Spoon it into a plastic container and put into the freezer to firm up for about 20 mins.
10. Scoop out and enjoy!
* If you don't have an ice cream machine put the mixtures in the freezer for four hours, whisking every hour to prevent ice crystals.