Welcome to Dear Queer Diary, a column about the joys (and occasionally, the pains) of journaling. We'll be cracking open our tiny notebooks and breaking out the rainbow-colored pens on the regular, so get ready to limber up your writing hands and document all your beautiful feelings!
Header by Rory Midhani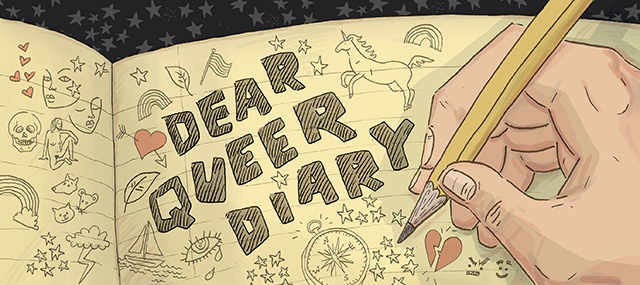 ---
Dear queer diarists, I bear the greatest of news! Our kith and kin from all corners of the globe have sent us photos of their journals' covers, and I am in awe of their pulchritude and perfection.
Among the volumes pictured here is an eighth birthday present, a digital take on the good old pen and paper, and a handcrafted journal made by a writer dissatisfied with the lack of aesthetically pleasing diaries in her small town. At least one of these journals holds an autograph from a favorite singer; another is peppered with tattoo ideas; a third "contains my whole queer journey of self-discovery from high school to college." One is a gift from a best friend turned first girlfriend (aww!).
The contributors to this gallery include a friend whose masculine-of-center-ness doesn't prevent them from enjoying a journal "despite its frilly pinkery," several Autostraddle team members who admitted to also being proud members of Team Journal, and an overachiever who's filled three journals in the past eight months while living in Chile!
Each one of these diaries is a slice in the great, big, scrumptious cake of gay identity, and I hope they will all be left to the Lesbian Herstory Archives someday. In the meantime, gaze upon this gallery. While I am most certainly against the judging of books by their covers (a peril brilliantly illustrated by Maureen Johnson's crowd-sourced Coverflip of last May), in my not-at-all-professional opinion, it can't hurt to admire some pretty journals.
To quote the Gryffindor Quidditch team, this is it—the big one—the one we've all been waiting for. Let the masses revel in this display of journal-writing loveliness! Let them be inspired and moved! Let them shout-out to their favorite diaries in the comments!