It seems like the Grammy Awards had us in mind when they announced the nominees for the 2015 Awards throughout the day yesterday, as it seems like just about every category has an artist or artists we've written about this year. A bunch of the women we love, including Beyoncé, Sia, queer country newcomer Brandy Clark and even Senator Elizabeth Warren were all nominated.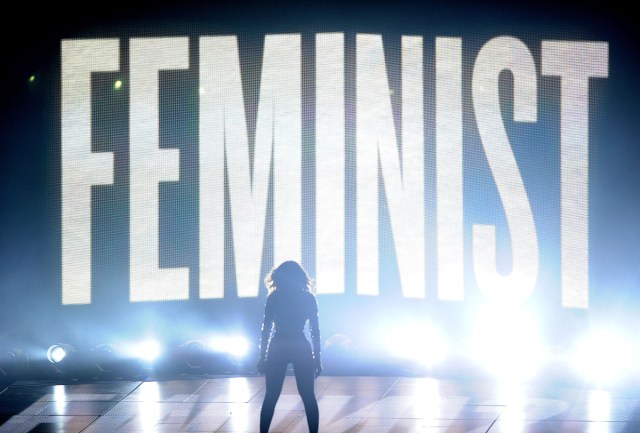 Queen Bey once again showed that she's the boss by garnering the most nominations overall (along with Sam Smith and Pharrell) with six, including Album of the Year for Beyoncé, Best R&B Performance, Best R&B Song, Best Urban Contemporary Album, Best Music Film and Best Surround Sound Album. She now has a whopping 48 Grammy nominations, putting her ahead of the legendary Dolly Parton for most nominations ever by a female artist. Bow Down.
Sia also received several nominations for her anthem "Chandelier," including Record and Song of the Year, Pop Solo Performance and obviously Best Music Video. Nicki Minaj hopes to get her first win, with nominations for both "Anaconda" and "Bang Bang" with Ariana Grande and Jessie J.
Brandy Clark, the out country singer who co-wrote Kacey Musgrave's Grammy-winning queer anthem "Follow Your Arrow" is now nominated, both for Best Country Album, for her debut 12 Stories and for Best New Artist, where she'll go up against the sisters of HAIM and a few others. The trend of Country being more queer friendly looks like it's continuing, and that's definitely a good thing.
http://instagram.com/p/wPf9DcDvK1/?modal=true
Taylor Swift, who's album 1989 won't be eligible until next year, still managed to get three nominations for her song "Shake it Off," including Record and Song of the Year. After the nominations were announced, she even posted a celebratory picture with HAIM and her possible girlfriend Karlie Kloss on instagram. I really love this new poppy, girl-positive Taylor a lot more than the old one.
In the less musical categories, Senator Elizabeth Warren goes up against people like James Franco, Jimmy Carter and Joan Rivers in the Best Spoken Word category for her book A Fighting Chance, Sarah Silverman tries to add a Grammy to her earlier Emmy win for We Are Miracles, and Malala Yousafzai's book I Am Malala: How One Girl Stood Up For Education and Changed the World is up for Best Children's Album as performed by Neela Vaswani.
Even our perenial favorites Tegan and Sara snuck in a nomination for their song "Everything is Awesome" from The Lego Movie. Other nominees include Meghan Trainor with two, our favorite Sensitive Rapper, Drake with four and Kanye with two, both for "Bound 2." St. Vincent's Annie Clark also got her first ever nomination, for Best Alternative Music Album.
Good luck to all these awesome artists lets win one (or a couple dozen) for our team. With all these nominations, this could be a huge year for queer and feminist women at the Grammy Awards, which, of course, would be absolutely wonderful. You can root for all of these artists on Sunday, February 8, 2015, when the 57th Grammy Awards airs on CBS.