Heyo and welcome to the World Cup Live Blog Open Thread situation you have before you. Hurrah! The United States is set to take on Japan in Germany. If it was 1941, this would be some really serious shit. But it's not so have a beer or other beverage. I don't like beer so I'm drinking sweet tea. I recommend it.
Yesterday in the Battle of Europe for third place, Sweden beat France 2-1. One of Sweden's goals was directly following a wrongly awarded corner. More proof that life isn't fair. Consider this payback for being wrongly credited for French toast AND French fries.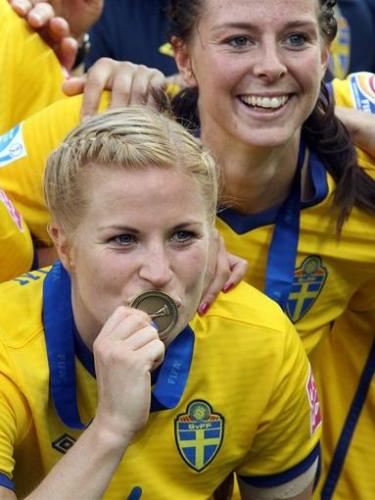 Other mention-worthy happenings:
France's most valuable player, Louisa Necib's hair, left the game with an injury.

Keeper Berangere Sapowicz had to be replaced after Lotta Schelin's goal at 29.

Elodie Thomis had a solo dance party after skirting France's only goal in from outside the penalty box.

Someone lost a contact. I don't know if you've ever lost a contact on the pitch but it sucks. Seriously, it's awful.

Sweden's Josefine Oqvist got a red card. Sonia Bompastor got the Marta treatment after the play since she initiated the altercation but wasn't carded.

Marie Hammarstrom scored the winning goal in the 82nd minute after replacing Linda Forsberg.
Championship Live-Blog Starts Now!
 30 minutes to kick off
Rapinoe is starting over Rodriguez. Megan Rapinoe, number 15 on the field, number one in your pants.
20 minutes to kick off
Did you know the U.S. has never lost to Japan? They've won 22 of the 25 games. The other three were draws.
Kick off
Here we go! I think this is going to be a high scoring game.
First minute
First shot on goal already. Americans attacking from the get go.
7′
Rapinoe from the corner to Cheney who shoots. Very close call but a miss.
8′
Lloyd penetrates and it's off to Wambach. She takes it from distance and it sails over the top. USA still looks aggressive.
10′
Krieger has some nice moves on ball. Get it to Boxx who tries to set up a  Wambach header. Knocked away and Lloyd finds the rebound. Another attempt and it's high again.
11′
I don't know what's happening in the world. Another good look but Rapinoe slips it right of goal after finding the seam.
16′
Lloyd from way outside the box. Not even close.
17′
Rapinoe and Cheney with a give and go on the left. Rapinoe's left-footed shot goes off the near post. US needs to finish. 7 shots to 1 at this point.
18′
Rapinoe has just been described to me as "a little fast fairy".
22′
If you find yourself yelling "convert" at the TV, be aware of your surroundings.
24′
US corner from Cheney. Balls pops out to the left after the entrance. Wambach's kick is picked up by the goalie.
28′
Wambach fires one in. Pretend I'm watching in slow motion because I have time to think to myself  there's no way this is not going in. But it doesn't. I'm staring at the score attempting to force the 0 to change to a 1.
30′
Ando gets the ball on the run. Coming up the left she shoots from an awkward angle and gives it right to Solo. Heh heh. Gives it right to Solo.
33′
Free kick by Rapinoe from the right. Japan comes high leaving space and opportunity for us to…miss another goal. This time it's Cheney.
36′
I think I just saw Japan's keeper laugh and do a cartwheel.
37′
Miyama corner. Sends the ball up top to Kawasumi who blows one over the top.
42′
Boxx gets a cross near the goal. Do I need to say what happened?
43′
Ohno with a little shake and bake. Gives a nice ball to Ando but she can't get a foot on it. Solo swoops the ball up.
45′
Another intense moment with a Japan attack. Comes up empty and we go to break. That felt like the quickest half of all time. Score is 0-0.
Half
The entire U.S. team has turned into the Wambach from the beginning of the tournament. Americans have out shot Japan 12-5. Shots have been of higher quality than Japan's and they've dominated the midfield. Hope Solo has been chilling in the goal doing Kegel exercises.
Lauren Cheney is out after playing the half with a foot injury. Morgan will play the second half.
Announcer: "She can go and she will go often." Place a down in the sentence if you want.
Paper0Flowers – "So happy we don't have to deal with free kicks every fucking minute. Men – stop being such drama queens and take a lesson from the ladies!" Check out this story.
48′
Morgan makes quick work of things with a shot on goal. She fits right in by hitting one off the post.
52′
Wambach will do anything not to hit the post and sends it into the stands. Only way I can make sense of that missed opportunity.
55′
Japan corner but no real scare
56′
Rapinoe's corner is a tad long. Japan heads it away.
62′
Back to back corners. Back to back nothing. Japan is off to the races but an off side is called. Wrong call?
63′
O' Reilly with a ball in to Wambach. It's on target! Oh my God it's on target! Kaihori has a fantastic save but you guys. This one would have gone in.
65′
Japan sub. Ohno out, Maruyama in. Ando out, Nagasato in. Interesting choices.
68′
Rapinoe sends one flying down the field. Morgan faces up to the keeper and GOOOOAAAALLLL! She sends one low and quick past the keeper! Did anyone see that kid lift his shirt up in celebration?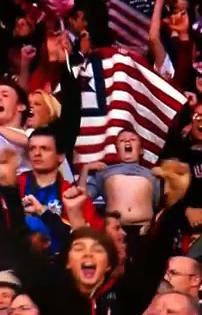 72′
Japan shows some aggression as Sawa takes one from deep. It doesn't give Solo any problems as she catches it in the air.
80′
Buehler tries to get it out then Krieger can't clear it. Miyama finishes it for a goal! Japan's pressing pays off as they even it up 1-1.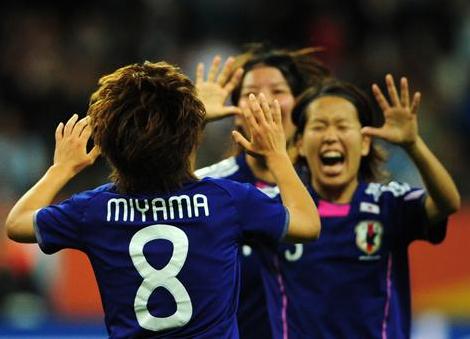 83′
Attacks from both teams. U.S. battling to regain control.
84′
Corner is defended away. Americans still look to reestablish their pace.
85′
Kinga pushes one over the face of the goal. Solo stays planted to her spot.
87′
Solo is out the goal for the third time to send the ball upfield. She looks like a sexy highlighter.
Injury time
Girls in the crowd wearing sports bras. Relevant.
Extra time
Ah shit.
91′
The announcer yells about Wambach's shot on goal and scares the cat but the keeper makes easy work of it. The cat goes back to sleep.
95′
Morgan gets a nice pass from Wambach but swings it wide left
96′
Miyama gets hit with a yellow
104′
The U.S. keep trying to get it in to Wambach. On about the fourth try they pull it off with Morgan whipping the ball to center goal and Wambach drives it into the back of the net. GOLAZOOOOOO! She pulls past Akers with her 13th World Cup goal. U.S. 2 – Japan 1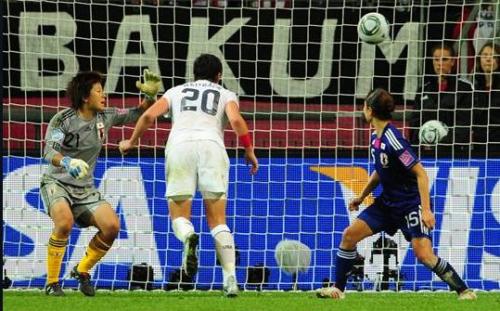 110′
U.S. packing the defense the way they did the last time they were ahead. Hoping this doesn't bite them in the ass again.
111′
Miyama sends one towards the goal. Couple of Americans run into each other. Luckily no Japanese players are hanging around to capitalize on the miscue.
113′
Heath in for Rapinoe
114′
Sawa sends the ball forward as Solo comes off the line. Kinga tries to chase it down but the captain Rampone saves the day and drills the ball out of harm's way. Solo hurt on the play but plays on.
116′
Japan service and Sawa scores her GOAL off a deflection! Fifth of the tournament. Evens it at 2-2.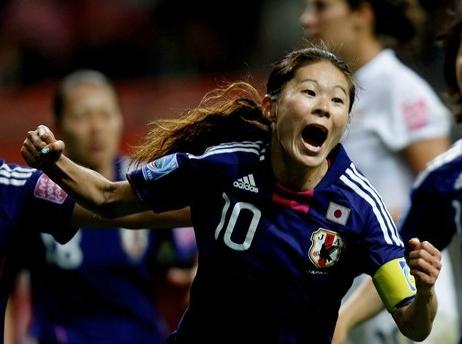 118′
Iwabuchi for Maruyama
119′
Wambach sends one over the goal on the chance to win it.
120′
Iwashimizu gets a red card for the penalty on Morgan's goal attack.
122′
Americans get nothing from the play. Time runs out. PKs. Here come the 1999 comparisons.
Penalty Kicks
Solo gets bandaged up. Time for her to prove she's the best in the game. Rapinoe can't take one as she's been subbed.
First PK
Kaihori seems to have seen Boxx's last PK and knocks away the first attempt
Miyami hammers her kick home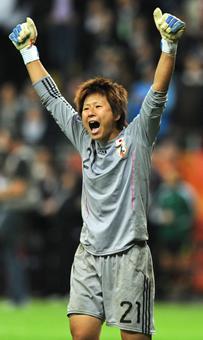 Second PK
Lloyd misses horribly
Solo saves the USA's ass by saving Nagasato's PK
Third PK
Heath doesn't put anything on it and is denied
Sakaguchi barely knocks it in as Solo gets her hands on it but can't keep it out
Fourth PK
Wambach puts one in easily
Kumagai puts one high to WIN IT FOR JAPAN! They win on PKs 3-1.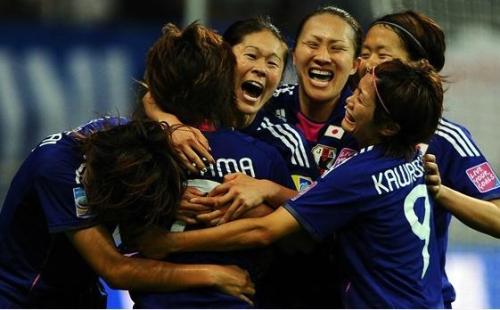 Postgame
"What Hurts the Most" starts playing in my head. Congratulations Japan.
Aaaaaand now this "Pressure Makes Us" commercial is just upsetting.
The Japanese team dances exactly how I would imagine them to dance. Glad they're not playing Lady Gaga's "Edge of Glory."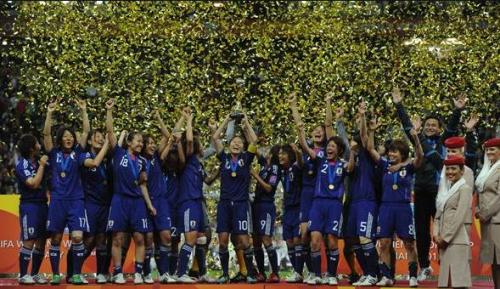 Homare Sawa wins the Golden Boot and Golden Ball.
Hope Solo wins the Golden Glove and went on to say, "If there's any team I could give it to, it would be Japan."
Well that sucked for the U.S. but it's been a fantastic tournament. Germany did a superb job of putting on this tournament that provided as much excitement as any fan could take. Will all of the excitement and coverage change the climate for women's soccer in Japan, the U.S. and the rest of the world?