Happy Lesbian Visibility Day, the one day a year us lesbians take our corporeal form and make mischief in the streets in our flannel and Birkenstocks while singing "Fast Car" by Tracy Chapman at the top of our lady lungs! This year, one of the ways we're celebrating here at Autostraddle dot com is by taking a look back at some of the TV moments that have changed lesbian visibility forever. This is not an exhaustive list, and I tried to leave out the bad stuff like the beginning of Bury Your Gays in 1976 when Executive Suite went all Hayes Code on poor lesbian Julie or how, in the mid-1990s, Picket Fences started the trend of re-shooting all sapphic kisses in the pitch black dead of night. As always, I'd love to hear your most life-changing lesbian visibility TV moments in the comments!
---
LA Law (1991)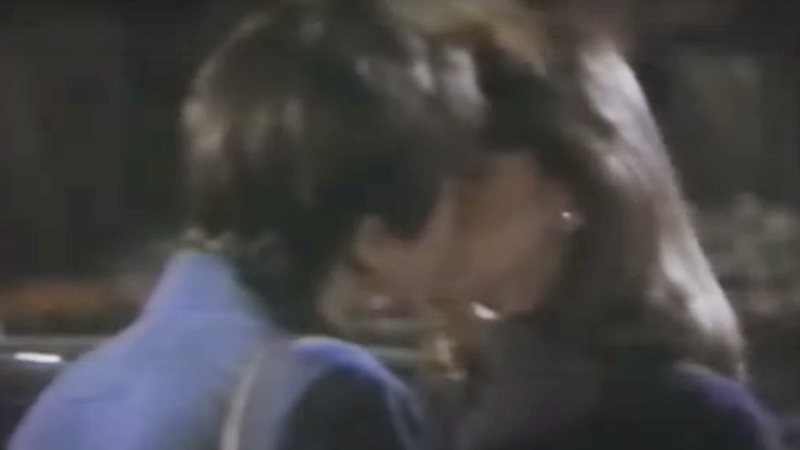 The first lesbian kiss on television happened a little too close to traffic for my comfort; it still makes me nervous when I watch it on YouTube. Luckily C.J. Lamb (Amanda Donohoe) and Abby (Michele Greene) managed to get one peck and one longer, closed-mouth smooch off without getting plowed into by any cars. "He's a Crowd," an excellent name for a sapphic TV episode, is usually considered the first "very special lesbian kiss episode," meaning nothing was ever going to come from it but ratings.
---
Courthouse (1995)
Let me just quote Autostraddle TV Team star Natalie here; she says it better than I ever could:
"Years before Gina Price-Blythewood would hire an unknown Lena Waithe as her production assistant on The Secret Life of Bees, she penned and co-produced shortlived series for CBS called Courthouse. From descriptions — since the show isn't yet available for viewing anywhere, I cannot personally confirm — the show feels like a precursor to those Shondaland series we've come to love: Beautiful, highly talented people working in the pressure-filled crucible of a Clark County courthouse. And just like in Shondaland, the gays were represented. Judge Rosetta Reide and her housekeeper, Danny Gates, became the first-ever black lesbian couple on television."
---
Star Trek: Deep Space Nine (1995)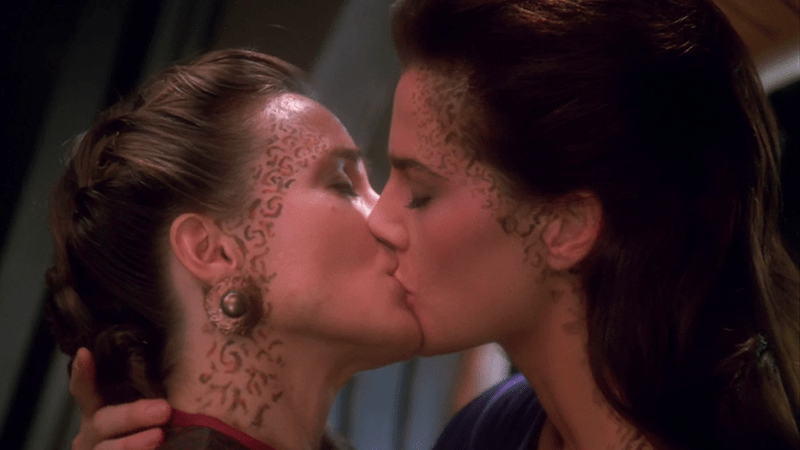 Jadzia Dax and Dr. Lenara Kahn kissed right on the mouth in the DS9 episode "Rejoined," not because they were into each other, organically, but because they were both female joined Trill who were hosting symbionts of a male and female couple who used to be married. Those symbionts recognize each other and end up making out, so what we get is Jadzia and Lenara locking lips. Star Trek has always been notable for moving the diversity representation conversation forward, and this is no exception. In fact, lots of lesbian TV scholars — me among them — believe this was the genesis of sci-fi and fantasy shows being much more friendly toward lesbian characters than any other genres. It's a trend that continues to this day!
---
Friends (1996)
Friends never did right by lesbians, using us almost exclusively as punchlines in a way that seeped into loads of other TV shows in the 1990s — however, Carol and Susan's wedding was both the first lesbian wedding on TV and one of the only genuinely sweet storylines the show ever gave Ross' ex-wife and her much better new spouse. It's funny, yeah, but it's also full of pathos. I've actually never not cried when I watched it, even as a kid.
---
Ellen (1997)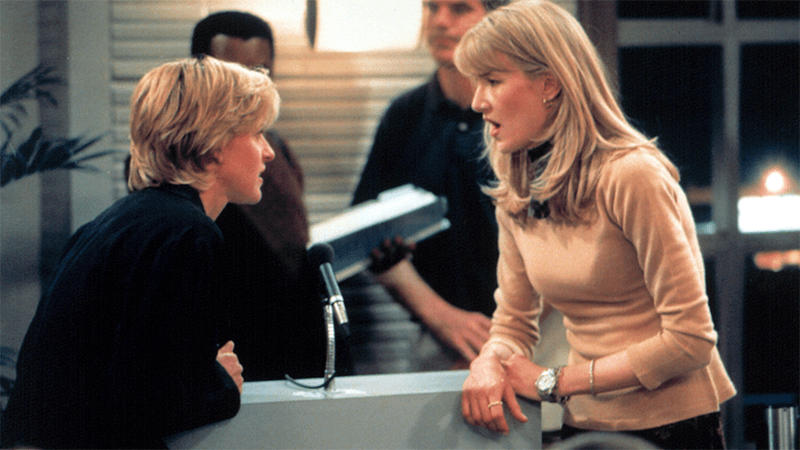 Ellen's "Puppy Episode" really needs to introduction or explanation; it was the biggest coming out moment in television history, made even bigger because Ellen herself came out at the same time. She became a hero to lesbians and a lightning rod punching bag to conservatives and their "family values." Ellen's career almost didn't survive. Her show definitely didn't. It still remains a watershed moment in lesbian culture, a sort of BCE/CE for representation.
---
Buffy the Vampire Slayer (2000)
Willow's coming out kind of changed everything. It continued the trend of fantasy series being most friendly to lesbians; it kicked off the trend of teen shows being the ones to embrace lesbian characters most easily; it started the first longterm lesbian relationship on TV; it was the precursor to the modern Bury Your Gays phenomenon; and also it was just a really sweet moment in which one best friend told another best friend a scary truth, and her best friend just kept on loving her exactly the same as she always had done.
---
The Wire (2002)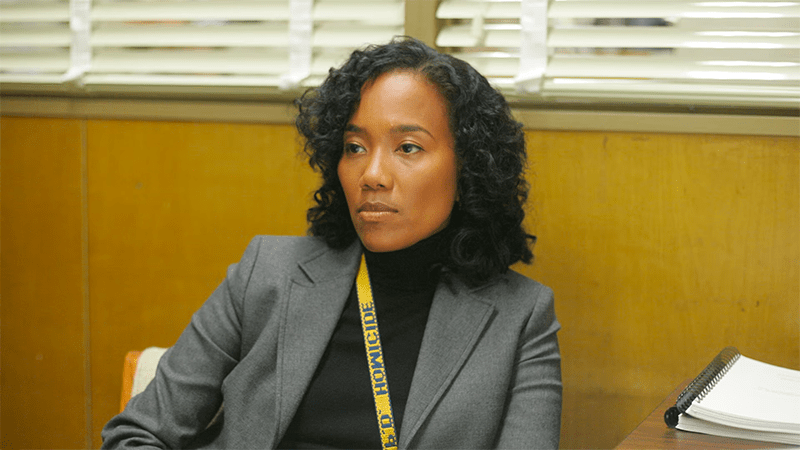 It's Omar Little that most people talk about when they talk about LGBTQ+ rep on The Wire. And, of course! Omar is one of the most important gay TV characters ever. And, in fact, both Natalie and I have him near the top of our Best Ever TV Characters lists. (Not just gay ones.) But let us not forget Kima Greggs, the lesbian detective who was allowed to be messy and complicated, to experience love and heartbreak because of her own charm and shortcomings, the rare Black woman who was given the kind of moral latitude usually reserved for straight white men. Kima wasn't perfect, but she was compelling — and that's the point. It's 20 years later, and we're still fighting about whether or not characters have to be "good" to be "good representation."
---
All My Children (2003)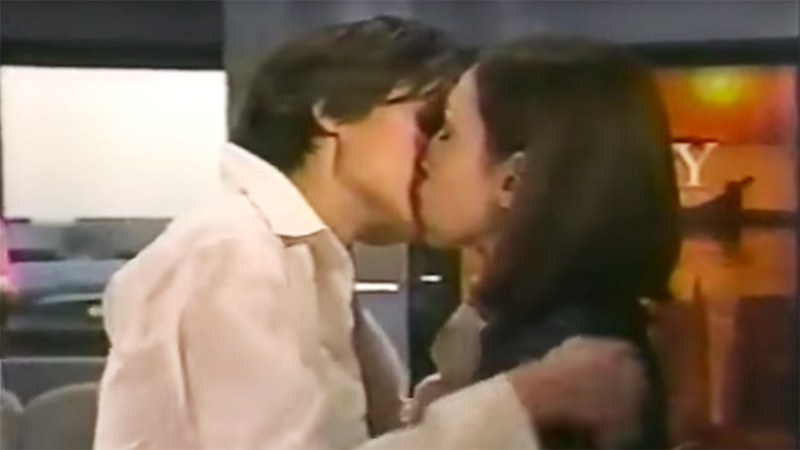 All My Children's Bianca Montgomery was a total game-changer. Daytime TV has always been even more heteronormative and conservative than primetime TV. Bianca wasn't a Very Special Character who arrived simply to be gay and leave; she was a staple of the long-running series, someone viewers had watched grow up. Her falling for a girl, her first kiss, her coming out, her dating, her wedding, her children — viewers got to experience it all. Most viewers had no choice but to keep loving Bianca because they'd always loved Bianca. It was the greatest gift to kids whose parents watched soap operas.
---
What can I say that hasn't already been said? The L Word was ours. The first thing, in fact, that was all ours. We gathered around TVs in living rooms and bars, we sneaked the DVDs between other movies when checking out at Blockbuster, we hid them when they came in the mail from Netflix. We watched The L Word in groups like the World Cup, and we watched under the covers hiding from everyone but ourselves. It is a cross-generational cultural touchstone that gave us permission to laugh, cry, and rage together. Even the theme song will live forever in our lesbian noggins.
---
The Rachel Maddow Show (2008)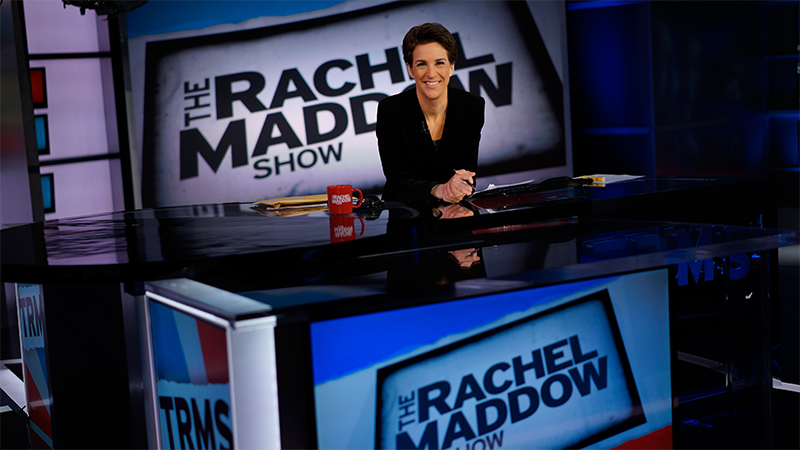 When Rachel Maddow made the leap from radio to TV in 2008, she was this brilliant liberal lesbian who filled a news niche for just a few of us. Now she's a household name across the entire country and the anchor of all MSNBC's political coverage. She is the most trusted name in liberal politics, to the point of reverence among many households. She never came out; she just was out. She normalized sardonic lesbian nerds in a way Daria Morgendorffer only dreamed of.
---
The problem with writing about the impact of Santana Lopez is that it deserves an entire book. Literally. A full college course could be taught on the way Santana changed the world. But for the purposes of this Lesbian Visibility Day, I'll succinctly say that Glee was the cracking sound of the beginning of the avalanche of LGBTQ+ TV characters who followed the devastating blow to marriage equality caused by Proposition 8 in California, the first time Americans voted to take away the right for gay people to get married. Santana's lesbianism wasn't even in the plan; the writers just tossed in a throwaway joke about her making out with Brittney, at exactly the time Twitter made it possible to talk to the people who made TV, out of the mouth of Naya Rivera, who went all in on advocating for fans, at a moment when Fox was basically printing money off the Glee brand. Santana was lesbian TV's John the Baptist; she knocked down the door for who-knows-how-many other sapphics to come out of the closet. She was an idol, an icon, and she will remain on of the most important lesbians in television history.
---
Pretty Little Liars (2010)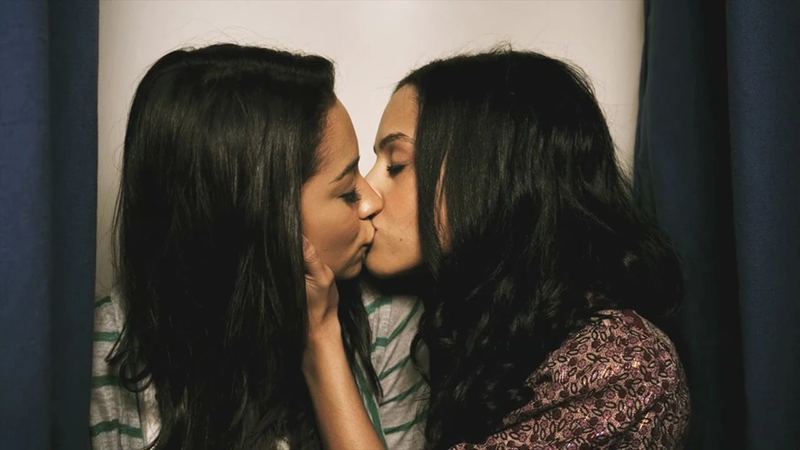 Before it was Freeform, it was ABC Family; and before it was ABC Family, it was the Christian Broadcasting Network's The Family Channel, which was founded by one of the Religious Right's most monstrous and homophobic figures, Pat Robertson. In 2010, in the episode "To Kill a Mockingirl," Emily and Maya kissed in a photobooth. Pretty Little Liars was such an enormous ratings and social media success, ABC Family started modeling ALL shows off of it, which meant that Emily and Maya's kiss paved the way for dozens and dozens more gay kisses as the network became the go-to place for lesbian characters in the early 2010s.
---
Orange Is the New Black was one of Netflix's first real cracks at original programming, and wow was it hugely successful in the beginning. It was also one of the first non-prestige cable TV shows that didn't rely on ad revenue, so outrage by the One Million Moms or whoever wasn't an issue. That meant the series could be as gay as it wanted to be, and it went ALL IN. Orange Is the New Black had almost as many lesbian characters as The L Word, and it also featured trans lesbian Sophia Burset played by Laverne Cox. It went off the rails in the end, but the beginning was revolutionary.
---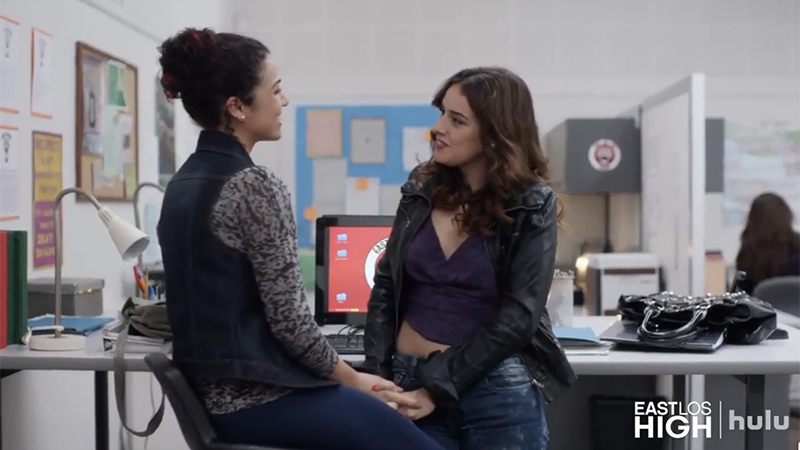 I'm simply going to quote Natalie again:
"Back when Hulu was still a fledging company and just starting to produce its own original content, there was East Los High. The show, which still retains the title of Hulu's longest running series to date, made history after being the first English-language series with an all-Latine cast, writers and creators. East Los High's second season centered around the tumultous love affair between Jocelyn, a smart, talented aspiring journalist, and Camila, a dance team member with ambitions of making it in the music industry. The storyline earned Camila's portrayer, Vannessa Vasquez, the show's first Daytime Emmy nomination."
---
Master of None's "Thanksgiving" launched Lena Waithe into the stratosphere. She became the first Black woman to win an Emmy for outstanding writing in a comedy series, and afterward, she was given the keys to the kingdom. She has gone on to create dozens of other Black lesbian characters, in shows across genres and networks and streamers. She writes, she produces, she showruns, she acts, and she's showing no signs of slowing down.
---
Netflix's reboot of Norman Lear's beloved comedy series not only brought a Latine family to the forefront of the comedy game, it also gave us lesbian teen Elena Alvarez, one of the first queer high schoolers who felt like us to us. (And not just because Penelope name-checked Autostraddle after Elena came out.) One Day at a Time became one of those rare shows full of lesbian jokes, where it never felt like lesbians were being punched down at — probably because the writers room featured plenty of queer voices. Elena's struggles and triumphs felt as real to us as our own, and yeah, it didn't hurt that we got to imagine Rita Moreno as our abuelita.
---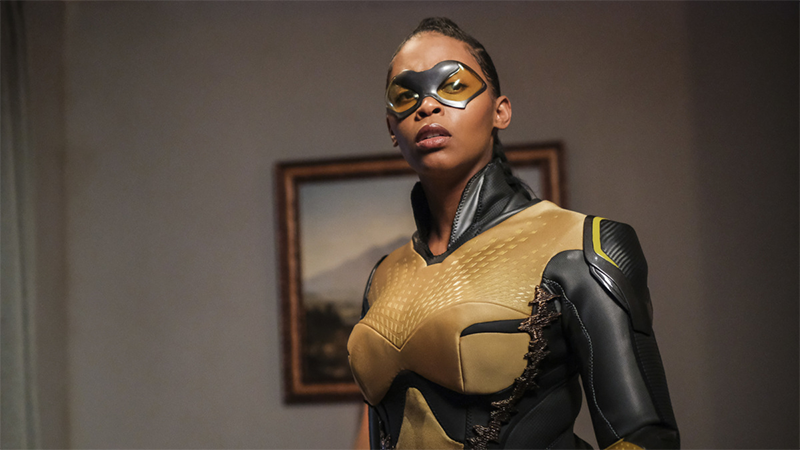 Nafessa Williams portrayed TV's first Black lesbian superhero, and she owned every minute of her time on-screen. Black Lightning struggled to give her the love story she deserved, favoring more screen-time for straight romances, but that didn't change the fact that Thunder was a game-changing hero in our country's current most-favorite genre on a network that built itself on superhero storytelling. She remains a radical lesbian TV character.
---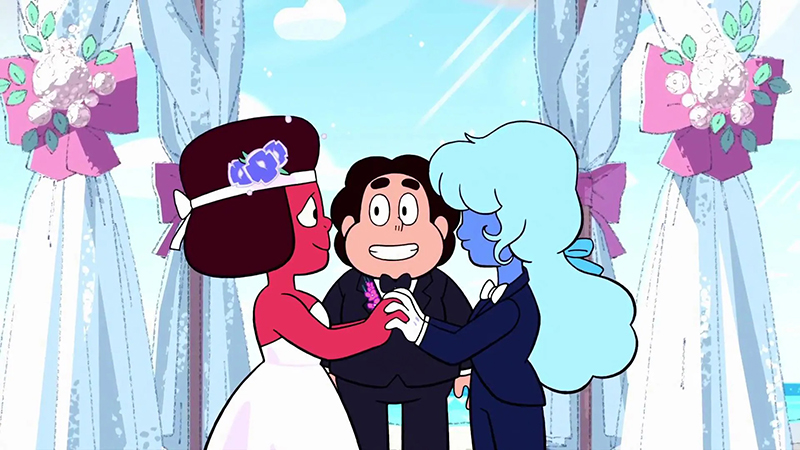 Legend of Korra walked so Adventure Time could run so Steven Universe could give us Cartoon Network's first lesbian wedding, between fan favorite gems Ruby and Sapphire. Steven Universe shocked fans when it revealed that Garnet was actually a fused lesbian couple. It delighted us to tears when it proclaimed lesbian love to be the answer to all of life's big questions. And it knocked our boots off again when Ruby and Sapphire bonded together to save the world after saying "I do."
---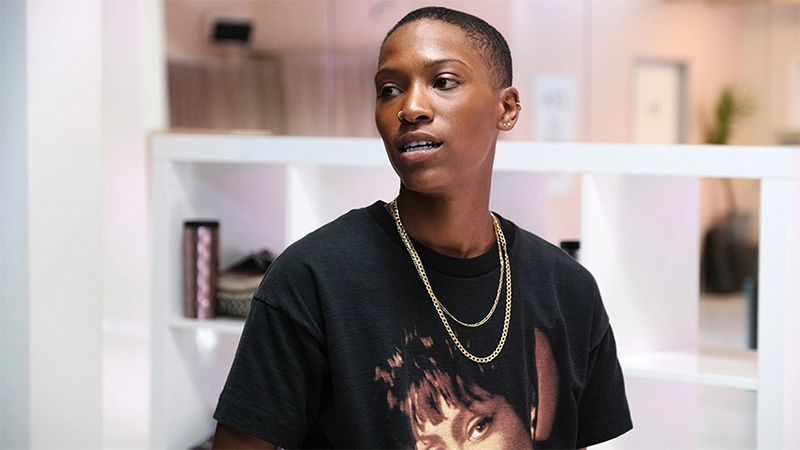 And now I will quote Autostraddle Editor in Chief Carmen Phillips:
"If you look at the very short history of black butches on TV (there's been just 22 of them in all of television, according to Autostraddle's database) then sure — there's a leap to be made between Master of None and Twenties. If only because there's so few too begin with! Even as television and film gets queerer with every passing year, there's still not nearly as much growth as I think we'd all like for black masculine-of-center characters… what sets Twenties apart is,  it's the first time ever that a black masculine-of-center lesbian is the PROTAGONIST in her own comedy series on television. And we can add to that the fact that this series exists on [BET], a historically homophobic black network."
---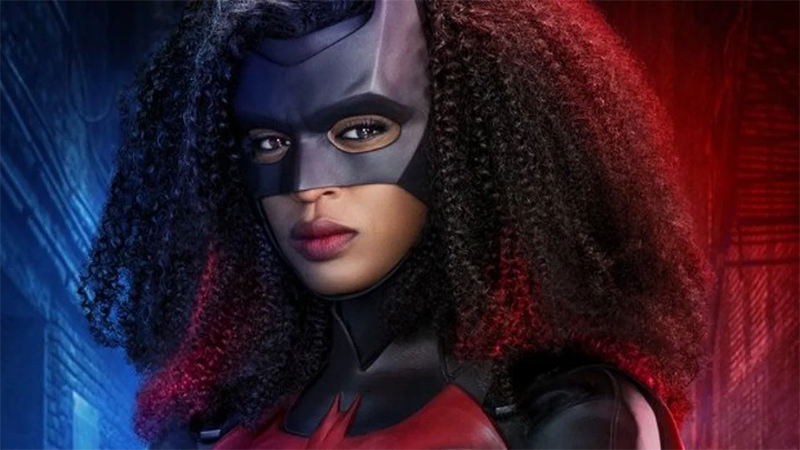 Queer actress Javicia Leslie stepped into the cape and cowl in Batwoman's second season, making Ryan Wilder the first Black lesbian to headline her own superhero show and the first Black lesbian to become part of the Bat-family. And now, Natalie again:
"Until 2020, I'd never bought a comic book before, at least not for myself. But then came Batgirl #50 and the introduction of Ryan Wilder, officially, into DC Universe.. .and I bought my first comic book. Weeks before Javicia Leslie's debut as Ryan Wilder on my screen, I was invested and had a small sliver of this forthcoming reality to call my own. A black woman was going to wear the cowl one day and I wanted some tangible representation of it."
---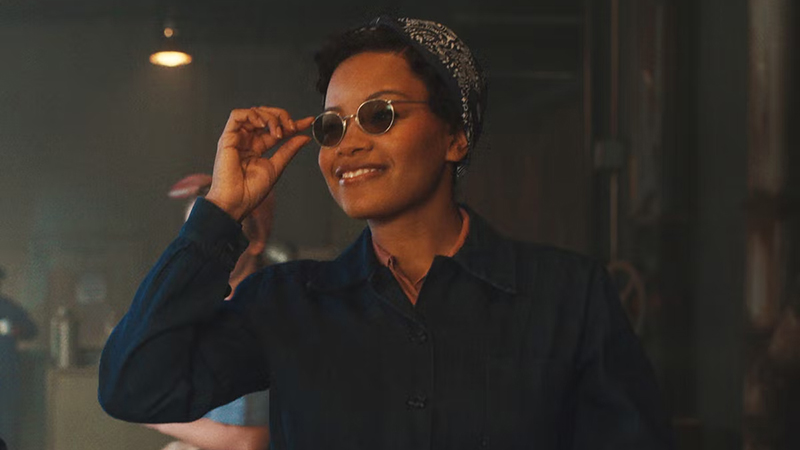 Prime Video's A League of Their Own series truly did something special: It rebooted a beloved property that nearly completely overlooked Black women and lesbians in its original iteration and centered the story of a Black lesbian by giving her a fully realized world to inhabit. Max Champman had her own dreams, her own complicated family (including her queer and trans aunt and uncle), her own best friend, and occasionally she tossed a ball around with the Rockford Peaches catcher. Sure, yes, there were plenty of lesbians and gender non-conforming stars on the Peaches, and we loved them all! We own the ball field! Cliches are cliches for a reason! But it was Max's story that resonated most with us, like a breathe of fresh air we've been needing to breathe for decades.