This week on Kat Dennings' Boobs' Show there was a lot of Facebook, a lot of shopping, and a lot of horse walking. Do you call Goodwill, "The Will"? Apparently it's a thing… on this show. Not anywhere else though.
The "young people please relate to this show" joke
Han: Max, three weeks in a row you have not yet accepted my request to be a facebook friend.
The dark joke
Max: Stop fighting it. Just give into it. I don't know why I'm quoting a rapist.
The edgy joke
Caroline: I've lost like 300 Facebook friends since my father was arrested.
Max: Well your father has probably made that many new friends in prison so it all evens out.
The non-PC joke
Caroline: Max, a woman in my section wants to know if we do anything gluten-free, what do I tell her?
Max: Tell her she's not allergic to gluten, she's just masking an eating disorder.
The "is that racist?" joke
Caroline: I hope you're happy. I look like a Cambodian stripper.
Max: Umm, they prefer to be called ping pong ball artists.
The vagina joke
Bartender: Vagina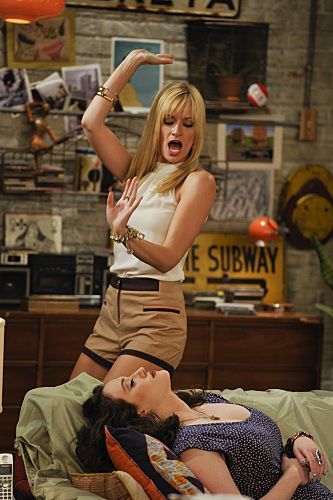 The joke that leads to a lot of questions
Max: If that's your tequila noise, God knows what your orgasm sounds like.
Do people have tequila noises? Are they similar to orgasm noises? If someone takes shots in silence, should you assume they also orgasm silently? Or is it an inverse relationship? The quieter the tequila noise, the louder the orgasm? What if you don't drink tequila? Does that mean you don't have orgasms? Can drinking tequila cause an orgasm?
I enjoyed this episode more than the other two. Maybe because it's starting to break away from the confines of the restaurant and all the wack characters there. I'm still annoyed by the horse. If they're going to keep it on the show, it could at least come out. Is the show getting better? Or am I just really tired?