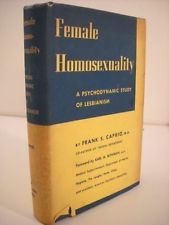 Last week at Treehorn Books in Santa Rosa, I came across yet another volume from my favorite genre, "faux sociological studies of human sexuality that say crazy-ass shit about lesbians." Female Homosexuality: A Psychodynamic Study of Lesbianism was written by Dr. Frank S. Caprio, the esteemed co-author of Sexual Deviations, another undoubtedly delightful edition chock-full of facts and measures. Unlike the faux-doctors who authored most of the books in this genre under false pseudonyms, however, Frank Caprio appears to be a real doctor. His later work focused mainly on self-hypnosis.
Many risk factors that could drive a person towards queerdom are discussed in this groundbreaking work of non-fiction, but perhaps the information on locations conducive to homosexuality will be of the most use to you right now as you plan summer vacations and the rest of your life.
Thus, I have extracted sentences from this book and reprinted them for you here. You're welcome.
---
14 Places That Will Make You A Lesbian According To 1954's "Female Homosexuality"
1. Islands, In General
"The fact that both male and female homosexuals congregate on one island no doubt gives them a sense of what might be called herd-security, much like sheep gathering together under a tree during a storm."
2. Fire Island, Specifically
"One lesbian who I interviewed confessed that she could not return to Fire Island even for a one-day visit because she feared it would bring back too many associations and frustrating memories."
3. The Isle of Capri, Specifically
"A cafe owner in Capri observed that mannish lesbians are seen with women partners who are exceedingly beautiful and very feminine both in appearance and mannerism — that whenever a man makes an attempt to alienate the affections of the feminine one from the masculine partner, a violent scene occurs. The mannish lesbian guards her "little one" like a hen protects her baby chicks."
4. Hollywood, In General
"Many persons with artistic temperaments live unconventionally and are indifferent to social taboos and moral restrictions."
5. Lesbian Bars in Hollywood, Specifically
"The atmosphere: girls dressed in masculine attire, smoking, drinking, melancholy music and conversation consisting of slang expressions common to inverts… the girls addressed each other by their masculine nicknames — 'Nickie,' 'Jimmy,' "Pete," etc."
6. Prisons
"There are a great many women who are more homosexually inclined than most people would imagine, or even then they have ever imagined themselves."
7. Brothels
"In one brothel, the lesbian inserted a stemless cherry, which she took out of a small jar, into the vagina of her partner, and then proceeded to extract it with movements of her tongue during the act of cunnilingus."
8. Ladies' Restrooms
"Many seductions take place in ladies' restrooms, particularly if the lesbian is of the overt mannish type."
9. The "Theater or Night Club World"
"Many in this field regard themselves as being different from ordinary people and entitled to a way of life according to their own code of ethics… Another factor conducive to this development is the existence of a strong, narcissistic element among people in the limelight."
10. Japan, In General
"…the defeat in the last war brought about a complete destruction of many phases of the feudalistic system including many sexual taboos."
11. All-Girl Drag Revues in Japan, Specifically
"It is almost unimaginable how crazy these teenage girls fans are about the girl performers who play the role of men on the stage. These girls have often been a social problem. They usually indulge in hair fetishism, garment fetishism, underwear fetishism or shoes fetishism. Sometimes fans may drag the idol girls from the approach to the stage to the floor and shower them with kisses. There have been cases where scores or hundreds of girls stormed the dressing rooms of the revue girls after the show and tried to touch the girls' flesh."
12. Greenwich Village
"One proprietor has an arrangement whereby he pays a group of girls to come into his place at a late hour for the purpose of attracting the attention of customers with their mannish attire, short haircuts and masculine mannerisms, conveying the impression that it is a hangout for lesbians…. these pseudo-lesbians acquire a certain amount of skill in the act of deceiving the visiting spectators. They dance with each other, pretending that they are lovers, some acting masculine and aggressive while others assume the role of feminine passive type…. the customers sit at the tables, order more drinks and seem to enjoy the atmosphere of subdued lights, heavy smoke and girls dancing together, little realizing that to many of these girls it is simple a way of earning some extra money… there are places where authentic lesbians meet. There is less frivolity, the atmosphere is a more serious one and the lesbians and their 'dates' when dancing together are preoccupied and engrossed with each other."
13. All-Girls Schools
Quote from a "real lesbian" interviewed for this book:
"I did not have too difficult a time in finding converts. An all-girls' school has plenty of girls who are emotionally frustrated and as eager for affectionate companionship as I was. I made out a smooth case for Lesbianism… about one girl in five was fascinated enough to become my friend."
14. Strip Clubs
"Strip girls see each other naked every day. This, coupled with their exhibitionist tendency, often gives them a chance to indulge in homosexual practices. Homosexuality amongst these girls usually takes the form of mutual onanism, but some are using the artificial phallus."