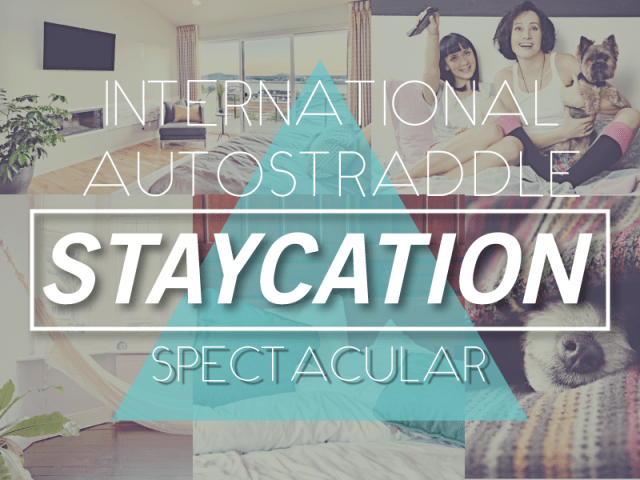 On March 14, we want our readers to stay in together as part of Autostraddle's International Staycation Spectacular! Follow along with everyone's hotel parties, spa days, and indoor picnics around the world with the hashtag #StaycationSpectacular, and join us on the day of for the A+ livestream!
---
Hey there, you pretty kitty. It's staycation time, so pour yourself a hot cuppa tea and melt into one of these yummy robes. A great robe makes you feel like you're falling slowly down a deep deep tunnel of ambient warmth while being hugged by a million fluffy kittens who are purring into your ear, "Stay, relax, shhhh." Perfect for lounging around, whether you're hosting a PJ party, indulging in a snugglefest with some sexy company, or curling up in bed with a fav book.
Who needs to go outside and face the world? Not you, not today. Get your warmth on!
---
For Her Pleasure
Get the full-body plush experience with this hooded microfleece floor-length robe. This robe has everything: roomy unisex sizing, two belt loop options for a better fit, front pockets, chemical-free dyes, and a hood for your cold noggin. Available in unisex sizes S-4XL in a variety of colors and prints.
Alexander Del Rossa Fleece Hooded Bathrobe Robe, $49.99
---
Lasso of Truth
Now your can cosplay without even getting out of bed! Save the day in this officially licensed plush Wonder Woman robe! Lasso of Truth and bulletproof bracelets and Ms. Magazine t-shirt not included.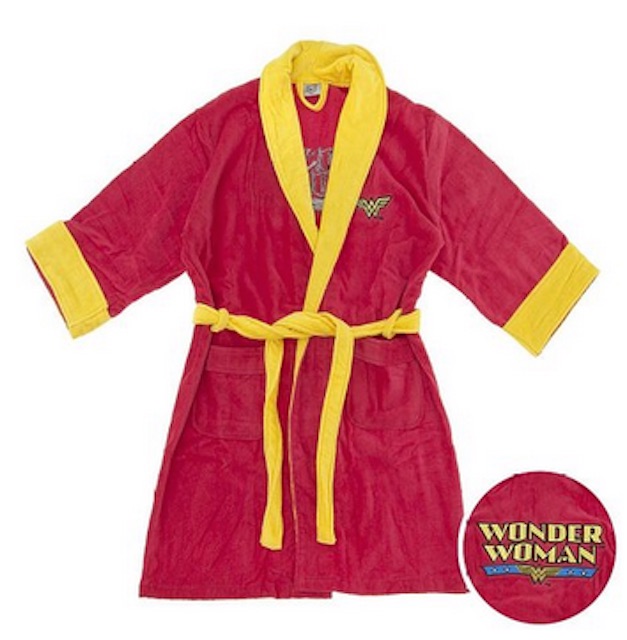 Wonder Woman Ladies Cotton Bathrobe, $59.95
---
Don't You Know Your Queen
Be the queen bee whether enjoying a champagne breakfast or making naughty plans with a play partner. This satin shortie will look great over your cutest underthings or your lovely birthday suit. Available in fourteen shiny colors and available up to 2XL.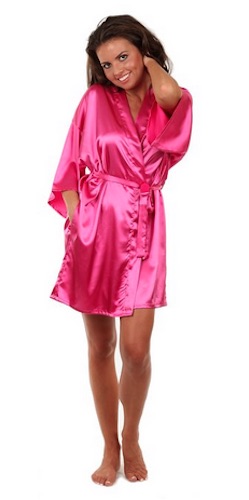 Veami Kimono Robe, $14.95-$39.99
---
The Smoking Gun
Won't you look so fancy in this smoking hot smoking jacket? Take out your best pipe and your martini shaker and find some sexy company to share a quiet evening by the fireplace. Twill wool and cashmere blend with satin piping and satin lining, shawl collar and turn-up cuffs in a wrap style. This one's an investment, but daaaamn, will you be dapper.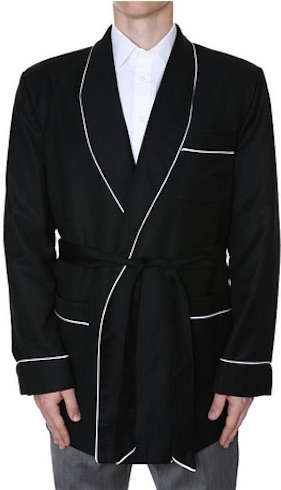 Duke & Digham Smoking Jacket in Thaddeus Black, $199.99
---
Reduce, Reuse, Relax
Whether you're doing a sun salutation, making your own organic mud mask, or sorting your recyclables, be kind to yourself and the earth in this 100% GOTS certified organic cotton robe made with low-impact, environmentally friendly dyes. Namaste, betch.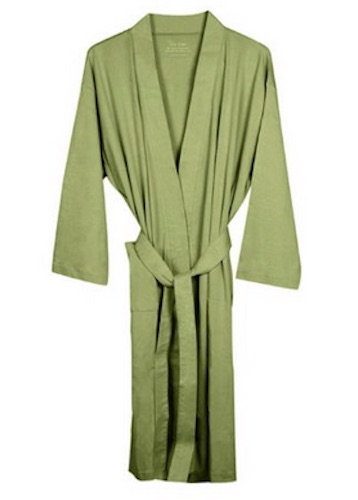 Pure Fiber Organic Combed Cotton Bath Robe, $65.99
---
Red Hot Polka Dots
The company that makes your favorite house slippers now makes your favorite robe. It's a little cute, it's a little kitsch, it's damn comfy.
Dearfoams Patterned Robe with Sherpa Collar, $26.99-$30.00
---
There Might Be Bears
If your idea of a good staycation activity is chopping wood or harvesting maple syrup from your trees or whittling yourself a new harness, this is the robe for you. We all know lumbersexuals appropriated the merciless and timeless style of wilderness lesbians, so take back our people's signature look with this cozy flannel number in nine different plaid print options. Did I say nine plaid print options? Why yes, I did.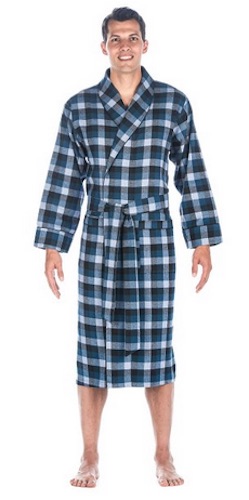 Noble Mount Premium 100% Cotton Flannel Robe, $39.99
---
Mud Mask Spaaah Realness
Get your spa on with this Turkish spa robe. Cut up a cucumber and plop some slices over your eyes. Splash your face with bottled water. See? It's just like being at the spaaaaaah. This Turkish spa robe is actually made in Turkey. I don't know if that actually makes it better, but the price is right and the reviews are glowing.
TowelSelections Turkish Cotton Bathrobe Terry Kimono Robe, $38.95
---
This is Not an Invisibility Cloak
Pack up your owl and head to King's Cross Station, because it's time to enter the magical world of Hogwarts in your official Harry Potter robe. Also available in Hufflepuff, Ravenclaw, and Gryffindor, depending on where the sorting hat assigns you, of course.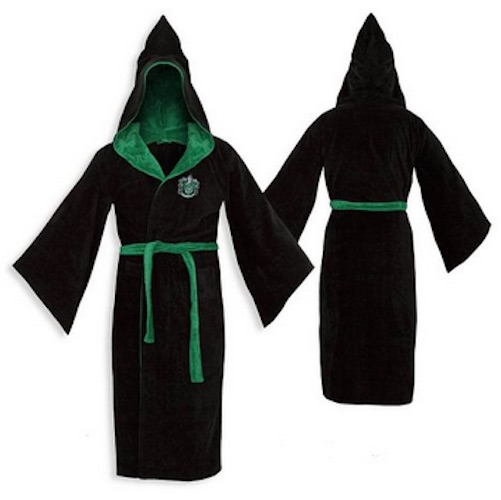 Harry Potter Slytherin Robe, $69.95
---
On the Prowl
Leopard print has that perfect mix of "look at me I'm so hot" and "don't even think about messing with me." True confession time: I have two fuzzy leopard print robes already and probably my next robe will be leopard print, too, because that's how I roll. Maybe I will buy this robe. Oops. I did it. Are you ready to go on the prowl, too?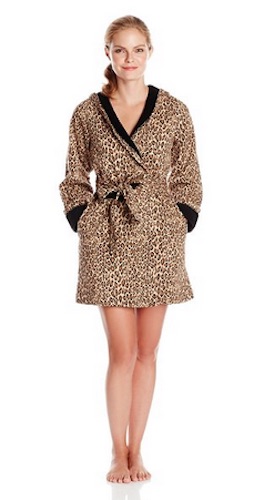 Casual Moments Leopard-Print Hooded Robe, $20.40-$40.80
Are you warmed yet, poppets? From your heart cockles to your lower extremities? Do you have a favorite robe for lounging? Are you buying a new one right now?