You know Scully made us gay and maybe you're ready for Scully to make you gay(er) too. But where to start? For some, starting at Episode 1, Season 1 of a nine-season behemoth is a little much. Sometimes you need to dip your toe in first and you need some overly-enthused queer weirdos to point you in the right direction. Well, friend, this is your lucky day.
1. Bad Blood
Rachel: Is this episode perfect? It might be perfect. Scully is on point, Mulder is point, Luke Wilson is on point and he's not even really on the show. Scully's constant eye rolling at Mulder and constant bedroom eyes at Luke Wilson are an excellent primer on why she is the greatest: she's snarky and dry-witted and super smart and totally ready to get down. Scully, if it were up to me, you would never have to pay for the Magic Fingers on hotel beds. It also illustrates one of the greatest things about the X-Files and the thing that X-Files haters never seem to get: the X-Files is already better at making fun of itself than you ever will be, so sit down.
Stef: The X Files' funny episodes are always hit-or-miss by a fairly wide margin, but this one is a goddamn home run and a half.  "Bad Blood" cleverly takes us through the first half of a case from both detectives' very different perspectives.  It's a real treat to see how Mulder and Scully behave through each others' eyes, and it's also kind of fascinating to see how they view themselves; Mulder seems to think he second-guesses himself more than he actually does, but Scully is pretty on-point.  It's nice to see that the kid from "The Sandlot" had at least one more big acting gig, this time as a glowy-eyed pizza vampire.
2. Killswitch
Rachel: What if the internet was really like this? I wish I had seen this when I was 14, because it would have given me way more to hope for blindly and then be deeply disappointed about than Disney movies ever did. Do you want to be the cyberpunk goth internet girl or date her? How much would this episode could have been improved by the inclusion of Julia Stiles in Hackers? I have a lot of questions.
Stef:  I did see this episode when I was 14 and I remember feeling strongly enough about it to write fervently about it in my diary.  In retrospect, I probably had a giant crush on the character of Invisigoth and I definitely envied her ability to upload herself to the Internet – my (admittedly geeky) teenage dream.  I may or may not have tried to make some take on Invisigoth into my AIM screen name at one point, because I was very cool.  This isn't really a particularly Scully-centric episode, but you do get to see her kick some ass in a surreal action sequence where she beats the shit out of some sadistic nurses, so there's that. Also, this is what email looks like in "Killswitch," which kills me: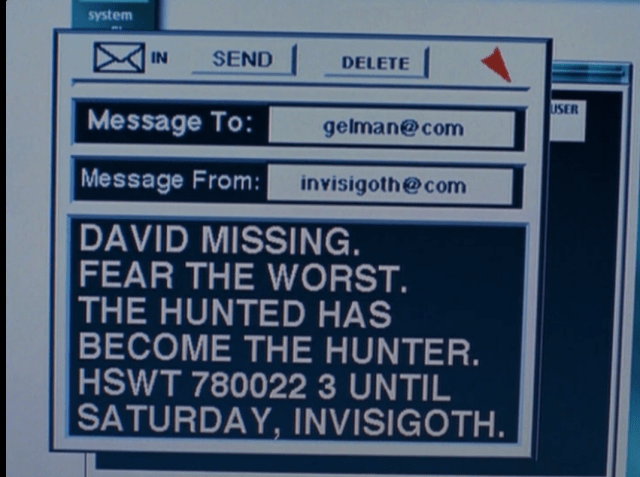 3. Quagmire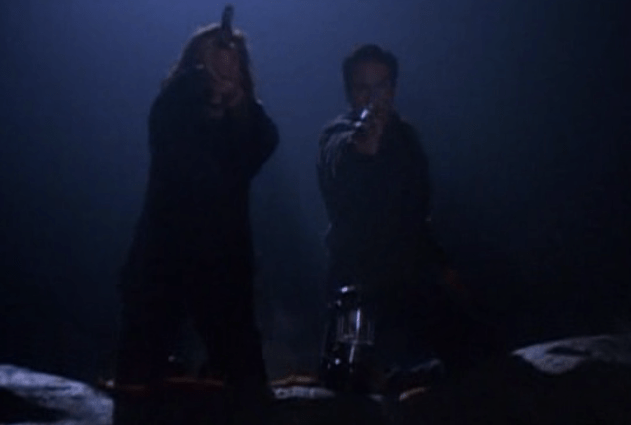 Rachel: This is not my favorite X-Files episode of all time, but it is very close to it. When the episode "Detour," which is in fact my favorite of all time, came out, critics complained that it was essentially just a rehashing of this episode in that the real focus was just Mulder and Scully hanging out, specifically hanging out overnight in an unsafe wooded area and talking about their feelings while waiting for dawn. Um, that's awesome? Frankly I feel a little cheated that we didn't get more than two episodes of this. Also, Queequeg's performance in this episode is one for the ages; no Pomeranian actor since has been able to measure up.
Stef: Despite being one of the less successful comedic episodes (sorry Rachel), "Quagmire" has wormed its way into our hearts because of the time we get to spend with Scully's Pomeranian, Queequeg. Because Mulder drags Scully out to this case fairly unexpectedly, she has no choice but to bring her little dog along. Queequeg smiles dimly at everyone from the backseat of their rental car, trots merrily right through a murder scene (which you'd think at least Scully would have a major issue with, forensics-wise) and ultimately meets his demise at the hands (jaws?) of the mysterious swamp monster. His death leads Scully to draw parallels between Mulder and Ahab, both blindly seeking something they will never achieve, blah blah blah – this was a very peculiar way to react to the death of a pet. O Queequeg, we hardly knew ye – an important character in X Files mythology who never got his time to truly shine.
4. Never Again
Rachel: This episode is a real emotional roller coaster for Scully fans. I love that Scully gets laid — get it, Scully! You work too much! — but this made me feel like when I was a sophomore in college and would have to trail my roommate when we went to parties in order to run interference on gross dudes who she was too polite to fend off. (My roommate was very pretty.) Combine that with the feeling I also had when one of my coworkers had a drunken stick-and-poke party and then proudly showed off his freshly and poorly inked legs; see, there are a lot of complicated feelings here. I feel like a real feminist critic would have a lot to say here. The patriarchy, etc.
Stef: Yo, I'm always really excited when Scully gets to have something along the lines of a personal life, but really Scully?  This guy?  You're Dana Scully!  You're a medical doctor and a total babe; you look good whether you're all sweaty from running after UFOS through a cornfield, freshly stung by an alien-disease-carrying bee or elbow-deep in an extraterrestrial corpse. Surely you could have your pick of anyone you wanted! But instead, Scully goes for the kinda creepy recent divorcée who has Jodie Foster's voice screaming at him through a really silly tattoo.  Then Scully gets a friggin' TRAMP STAMP like she's on medical doctor spring break in South Beach.  I have a lot of questions about Scully's taste in a lot of things.  No matter what happens to Scully for the rest of the entire series, I always take time to remember that under that classic blazer with the huge shoulderpads, Scully has a lower back tattoo… and a wild side.
5. War of the Coprophages
Rachel: This episode is everything. It combines all the best things about Mulder and Scully's dynamic (somehow the best Mulder/Scully episodes are the ones where they aren't actually together and are just working together via telephone. Why is that? What would have happened if Mulder and Scully could gchat?) as well as a full episode of Infested and, for some reason, a Playboy Bunny runner-up as a hot scientist. What else could you want out of television? That wasn't rhetorical, that was a serious question. What more is there?
Stef:  You guys, Mulder is SUCH a lesbian.  In every episode where Scully has maaaaybe the most potential of sparks with any other character, Mulder gets hilariously jealous and defensive.  "War of the Coprophages" is that rare episode where the tables are turned, and Scully's withering disdain in the face of Mulder's crush object (a bubbly entomologist named Bambi) is completely priceless.  She can barely say the doctor's name without raising an eyebrow and sneering a little.  Other than that, my #1 feeling about this episode is that bugs are gross.
6. All Things
Rachel: When Stef and I were talking about this, I was really afraid I had made this episode up in my head. I was trying to describe it as "like, that one where Scully does a bunch of new-agey stuff? Stuff glows? I feel like there are a lot of people wearing purple?" Lo and behold, it exists, and is even more ridiculous than I remembered! You know when your aunt went through that phase of buying into The Secret really seriously and wore a lot of flowing tunics and scarves? This is like if your aunt became an episode of television. This is sort of a meh Scully episode because I feel like my concept of who Scully is would roll her eyes and roll up out of there in the first five minutes of this episode, but it's a CRUCIAL Scully episode in that this is the only episode actually written and directed by Gillian Anderson, which means that this is what Gillian Anderson thinks of Scully as being. Fascinating!
Stef: I don't know how but somehow Rachel managed to find one X Files episode with lesbians in it.  Not only that, but two seconds after the lesbians appear, Scully informs one of them that she is a medical doctor, which means you get to take a drink.