Musical theatre has more than its fair share of critics. I'm not sure whether I can even say "critics," because it's often less "reasoned, engaged analysis" and more "people laughing and pointing at other people singing and dancing onstage." Some dude at The Evening Standard called musical theatre an "innately idiotic form" and I'm not immune to this kind of thinking either: I often catch myself justifying (to whom?) musicals as a guilty pleasure, uncritically and unthinkingly consumed.
Bleedin' snobs, the lot of us.
I get it. When musicals are bad, they're really bad. Both We Will Rock You and Rock of Ages made me want to bang a guitar repeatedly against my head, and I'm glad that I will likely not live to see Spider-Man: Turn Off the Dark (at the rate they're going, neither will some of the cast). Sometimes you're into your third overwrought Queen rendition and you're stuck between rethinking every life decision you've ever made that got you to this point… and trying to quash that little bit of you that wants to sing along.
Avenue Q piqued my interest in musicals, Wicked cemented it. The Phantom of the Opera gave me significant pause — perhaps all of this was really overrated after all? — but then The Lion King reminded me that masks can make magic, not just disguise stalking and jealousy as romance. Les Misèrables is my current reason for being. (If you're ever in London, by the way, booking in advance can get you tickets for ~£15-25 and the view's not half-bad from the upper circle. Unless you're afraid of heights.)
See, done well, I dare say there are few things that rival the immersive experience of the musical. Sure, you can keep mocking "people acting and then singing at the same time, and quite possibly dancing too," but I'll just be here constantly in awe of people acting and singing and dancing all at the same time.
You leave the theatre and some people will love it, some people will hate it, but absolutely everyone will get the songs stuck in their heads. It's a gift that keeps on giving, as my mother learns every time my youngest siblings (aged 7 to 18) happily and loudly garble their way through "Do You Hear the People Sing?".
Now all of this has just been a terribly lengthy way to tell you why I'm really, really excited that Fun Home's off-Broadway debut will take the form of — yes! — a musical.
From four-time Tony Award-nominated composer Jeanine Tesori (Caroline, or Change) and Tony-nominee Lisa Kron (In The Wake, Well) comes a fresh, daring new musical based on the acclaimed graphic novel by Alison Bechdel. When her father dies unexpectedly, graphic novelist Alison dives deep into her past to tell the story of the volatile, brilliant, one-of-a-kind man whose temperament and secrets defined her family and her life. Moving between past and present, Alison relives her unique childhood playing at the family's Bechdel Funeral Home, her growing understanding of her own sexuality and the looming, unanswerable questions about her father's hidden desires. Directed by Sam Gold, FUN HOME is a groundbreaking, world-premiere musical about seeing your parents through grown-up eyes.
With Fun Home, Alison Bechdel took the graphic novel — another medium that is similarly derided (and that I feel just as strongly about) — and spun a haunting emotional masterpiece. It was a book that not only reached into me with its words but left soft-edged, ink-washed images lingering at the back of my mind long after I'd left the last page. I'd held onto it in a new country then, newly alone, and all I wanted was to be able to share it.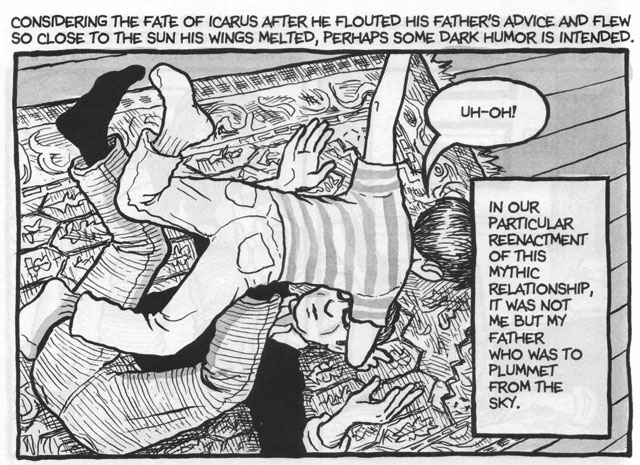 So now I am so excited to see what Jeanine Tesori and Lisa Kron are going to do at the Public Theater, bringing Fun Home to audiences old and new. I can't quite imagine how it'll turn out just yet, I'll admit, but that's exactly what makes the thought of it so fascinating and I have high hopes. Maybe there will be dancing (sadly probably not). Most likely there will be new duets for you to sing along to with your human of choice. And if there weren't enough reason for me to want to go already, Bechdel personally swears by Sydney Lucas's performance as "Small Alison," and I am of the sort that is immediately charmed by anything done by anyone below the age of 12.
Except — due to fiddly matters of "being on the wrong continent" — I can't actually go.
I briefly considered stopping over in NYC on the way to LAX for A-Camp 4.0, but my wallet (and sense) won't allow it. So this is where you come in! NYC-based queers, watch this for me. Do it for everyone who loves musicals, queers, and queer musicals. I'm counting on you.
September 30 – November 3, 2013
425 Lafayette Street, New York City
$81.50 – 91.50 (regular price) / $45 (member price)
Purchase tickets online or call 212-967-7555. Accessibility information (as well as information on rush/student tickets) is also available on Public Theater's website.