Lunchtime: unequivocally the best part of the day. But could it be better? Yes sir, it can. You don't have to spend gobs of money going out, but you also shouldn't be packing the same peanut butter sandwich year in and year out; there is a middle way. The path to becoming a lunch box buddha isn't so hard. All you need is a good balance of inspiration and  improvisation. Every week, we'll make one or two packable recipes so that you have something new to fill your lunch box and your stomach. 
---
Have you ever experienced a grease fire? If so, wanna join my virtual support group? In between huddling together and shaking in terror remembering the flames that just barely missed our cupboards, we discuss ways to put them out in case we ever cause another one. If not, you're welcome to come too so you can learn from our mistakes.
And holy guacamole did I almost make a huge mistake recently. My friend and I were frying pakoras and halfway through I remembered that I hadn't put cilantro in the batter. I took the bowl over to another counter to add it and looked back at the at my stove five minutes later just in time to watch the smoking pan burst into flames. Now the thing is there aren't that many things that scare me. I take care of spiders and can even deal reasonably well with my roommate leaving his dirty underwear in shared spaces (hint: two plastic grocery bags is all it takes). I've even watched the episode of MythBusters where they put out extreme grease fires. But my knowledge of handling grease fires was limited to using baking soda and baking soda is near impossible to find in Spain. So I flipped out and opened all my windows and doors while my friend was cooler than a cucumber. Eventually it went out, but not before making me absolutely sure that I was going to burn down my apartment and get deported.
So. In the interest of this never ever happening to you, here are some tips for putting out grease fires.
+ NEVER EVER EVER USE WATER. You will probably kill yourself or at least your upstairs neighbor.
+ Turn off the heat on the stove and wait for the fire to go out. This is what we ended up doing because we only had a little bit of oil in the pan but if you've got more than an inch, you'll probably want to take a more proactive approach.
+ Cover the pan with something. A lid or cookie sheet will keep oxygen out and stop the fire.
+ Use baking soda or salt. Baking soda cuts off the oxygen supply and salt absorbs the oil.
+ Use a fire extinguisher. This will contaminate your kitchen so it should be the last thing you try.
+ Call 911 if it gets out of hand.
Naked Samosas
via Cook Republic
Ingredients
3 large potatoes
3/4 cups of dry quinoa
1/2 cup of peas
1/4 cup of cilantro
3 teaspoons of cumin
1 1/2 teaspoon of garama masala
3 cloves of garlic
salt
pepper
olive oil
Instructions
1. Chop the potatoes into about 6 pieces and boil them skin and all until they're soft. Once they've cooled, peel the skin off and mash them.
2. While the potatoes are boiling, cook the quinoa. You should end up with about a cup and a half.
3. Grate or mince the garlic and cook it, along with the peas, in a small amount of olive oil until the peas are soft. This will help keep them from falling out of the samosas.
4. Mix the potatoes, quinoa, garlic-y peas, cilantro, salt and spices together.
5. Fill a pan about an inch full of olive oil and turn it to the hottest setting. To, ahem, avoid burning your kitchen down, you'll either want to form all the samosa patties first or have a friend making them while you watch the frying pan. The patties should be circles about an inch in diameter.
6. Plop a few patties in the very hot pan and don't touch them until the bottom starts to brown. If the pan isn't hot enough or if you move them too fast, the samosa will fall apart and the bottom will get stuck to the pan. Trust me, I learned the hard way. These babies are delicate and to get them to have that beautiful brown crunchy outside, you need to give them the heat they deserve.
+ Storage: These can be stored for a little over a week in the fridge or frozen indefinitely. The longer fried food sits unfrozen, though, the soggier it gets; so keep that in mind if you're considering eating these for a whole week.
Tamarind Chutney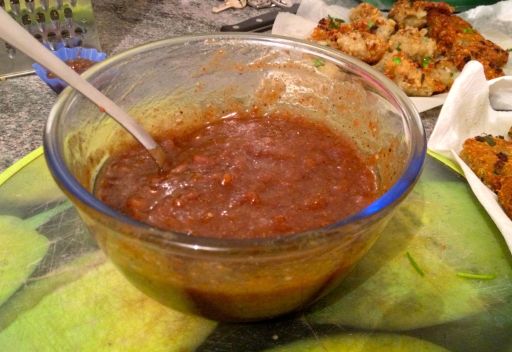 Ingredients
1/2 pound of tamarind
1 cup of sugar
2 cup of boiling water
1 1/2 T of cumin
2 t of salt
1 t of chili powder
1 t pepper
1/2 t of ginger powder
Instructions
1. Peel the tamarind. The easiest way to do this is to go from end that was attached to the tree. Crack the shell about a centimeter down from that end and pull. The shell should come right off. Now tear the tree-end off the meat, pulling all the stringy pith with it. Painless, right?
2. Break the tamarind into small pieces and put it in the water. Bring it to a boil and then let it simmer for about an hour until some of the water has evaporated and your tamarind is a nice sauce-y consistency.
3. If your tamarind's seedless, I salute you for finding it. You can skip this step. If not, go through and pull all the seeds out. This is the most boring part so you might want to get a podcast or a friend or something.
4. Stir in all the sugar, salt and spices. Taste it and add more of anything you think you need.
+ Storage and serving: Tamarind chutney can be refrigerated for two to three months thanks to its high sugar content and acidity.
Cheating Chutney Tip:
If you can't find fresh tamarind or just can't be bothered going through all those steps, buy apple butter and add everything but the sugar and water and it'll taste almost identical.