Lunchtime: unequivocally the best part of the day. But could it be better? Yes sir, it can. You don't have to spend gobs of money going out, but you also shouldn't be packing the same peanut butter sandwich year in and year out; there is a middle way. The path to becoming a lunch box buddha isn't so hard. All you need is a good balance of inspiration and  improvisation. Every week, we'll make one or two packable recipes so that you have something new to fill your lunch box and your stomach. 
---
I'm back in Spain where the rain falls mainly every day and since picnics and frolicking are out of the question, I've been inside catching up on Scandal. You guys! If you haven't seen it yet and you're looking for something to watch, this is what you need in your life. I just started watching it on Saturday and I'm already on episode 8 which means a) I have too much time on my hands and b) it's really really good.
When you're cooking something that isn't necessarily hard but is pretty monotonous and time-consuming (like making tortillas, for instance), I find that watching an episode of Scandal makes the time fly by. There's just something about Olivia Pope's charm/intelligence/lips/self-righteousness that makes me forget what I'm doing. But not so much that I let anything burn; no quesadillas were hurt in the making of this daydreamy lunch.
Corn Tortillas

A Spanish tortilla is not even close to the same thing as a Mexican tortilla, so I'm stuck making my own. The thing is, though, they taste so much better than the store-bought ones that I might continue making them even after I move somewhere with an abundance of tortillas. You can absolutely buy them, but if you've got 20 minutes, it might be worth trying to make them yourself for a change.
Ingredients:
2 1/2 cups of masa harina
2 cups of water
Instructions:
1. Pour most of the water into the flour and mix it together with you hands. Depending on the day, you might need more or less water which is why we're not starting with all of it. You want a dough that doesn't fall apart when you squeeze it, but isn't so wet that it's just a bowl full of slime.
2. Get a good pan (cast iron works really well, but as long as it's not teflon, you should be good to go) and get it nice and hot. You want your stove to be as hot as it possibly can be so that the tortillas cook fast and don't have time to dry out.
3. While you're waiting for the pan to heat up, divide your dough into 20 pieces. You want to do this before you start rolling so that you end up with the right number of tortillas and so that they're roughly the same size. I find the easiest way to do this to be: divide the dough in half, divide thoses halves in half, divide those quarters into 5 pieces.
4. Find a plastic bag (ziploc or grocery bag, it doesn't matter) and cut the sides so that you have one big flat piece of plastic.
5. Place one of the balls of dough in the middle of the bottom half of the plastic and fold the top over. Using a rolling pin, roll the ball into a flat circle. The secret here is to push from the middle and not the sides because the dough is fragile and I don't want you to get frustrated if the tortilla comes apart when you try to peel off the plastic and give up.
6. Carefully peel the dough off the plastic and place it in the pan. Let it cook for about 15 seconds on one side and then flip it to the other and let it sit for 30 seconds or so. If you do it right, the tortilla will puff up for a second. When the second side's cook, turn it over one more time for 10 seconds or so to finish cooking the first side.
7. Keep the finished tortillas under a damp towel while you´re cooking the rest so that they don't dry out.
Quesadillas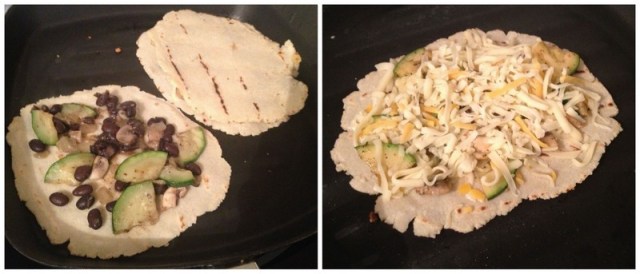 So yes, a hot quesadilla with melty, stringy cheese is always the preferred way to go about eating one, but a slightly-less oozy quesadilla is still a beautiful thing. That being said, if you have any sort of heating device at your job, I'd recommend you take advantage of it for this meny by reheating your quesadillas at lunchtime.
Ingredients:
olive oil
1 can of (or 1 cup of dry) black beans
1 zucchini
a handfull of mushrooms
half an onion
a few cloves garlic
paprika
cumin
cayenne pepper
black pepper
salt
cheese
salsa or hot sauce
Intructions:
1. Slice the zucchinis and mushrooms into 1/4 inch thick pieces. Chop the garlic finely, dice the onions and do whatever it is you need to do to get your beans ready.
2. Pour a tablespoon of olive into your pan and turn it to medium heat.
3. Once the oil has heated up, toss in the onion and zucchini and cook them until they start to become translucent. Add the mushrooms, garlic, beans, spices and salt and cook them for another minute or so until all the vegetables are tender and well-spiced.
4. Divide the filling among among 10 tortillas and sprinkle cheese on top. One at a time, cook each tortilla-pizza in the skillet until the cheese melts, cover it with a plain tortilla, flip it and let it cook until the quesadilla is good and stuck together.
+ Storage and eating: Make sure your quesadillas completely cool before storing them in the fridge to prvent them from getting mushy. I store them in an airtight tupperware container and then take two with me each day. I also fill a small tupperware with salsa or hot sauce for dipping.