Welcome to You Brew You! A series dedicated to all things homebrewing. Have you ever wanted to make your own beer? You probably will by the end of this post.
---
You've familiarized yourself with our Homebrewing 101 and now it's time to brew some motherfucking beer.
I recommend starting with extract brewing, and following the recipe to the letter, because only then will you know how to alter the beer from this basic recipe. Beer begins with grain, which goes through a process called malting, then milling, then mashing before it's ready to be cooked into wort (the primordial soup that ferments into beer). In all-grain brewing, you will normally start with milled grain and mash it yourself. (Some people will mill their own grains, too.)
In extract brewing, you start with malt extract, and jump past malting, milling, and mashing. Extract brewing is great for those short on time, money and space. It's also a great way to begin brewing at home.
Since it's fall, my brewing buddy and I decided to make a dark ale. We got the extract from a local homebrew store (which, incidentally, is in a warehouse that looks like the kind of place serial killers use to cut up and pickle body parts, but is actually full of wonderful and friendly staff that know everything there is to know about making beer, cider, wine and cheese — Beer & Wine Hobby in Woburn, MA). The extract kit comes pre-measured, which is great if you're a beginner.
Be aware that malt extracts can come hopped or unhopped. If you buy unhopped extract, you will also need hop pellets for the beer. I buy extract from homebrew stores, but you can also buy them from online distributers like Northern Brewer and Mr. Beer. Just make sure you get the right amount of extract for the amount of beer you want to make.
Note: if you're holding your breath for all-grain brewing, it's coming soon to You Brew You!
Sanitizing
Before you begin brewing, you must sanitize EVERYTHING. There are many options for sanitizing, from bleach-and-water solution to boiling to sanitizing solution. I prefer sanitizing solution like One Step No Rinse Cleanser. There are many others that are just as effective.
Follow the directions on the cleansing solution. I like to let all the small utensils soak in a pitcher.
Make sure to sanitize a plate to put all your stuff on.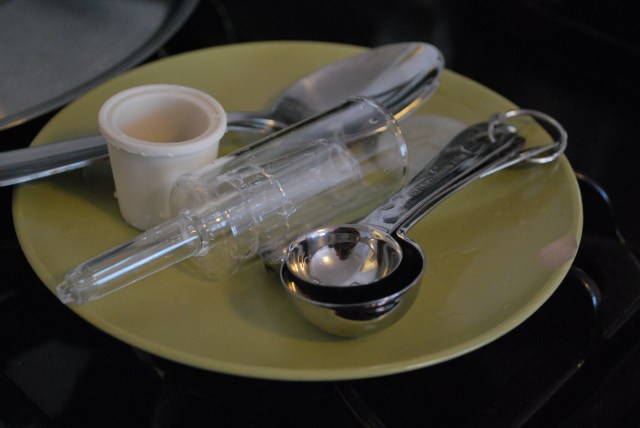 For larger pieces of equipment like your pot, your plastic fermenter and your carboy, pour some solution in and swish for a while.
Cooking the Wort
Now comes the fun part.
Get all your ingredients out and measured. Keep things clean, but you don't have to sanitize your ingredients because you'll be cooking all the dirty out of them.
Our recipe called for crystal malt, so ours wasn't a purely extract brew.
We put the malt in a muslin grain sack.
Then poured enough water to submerge it, and brought it to a boil.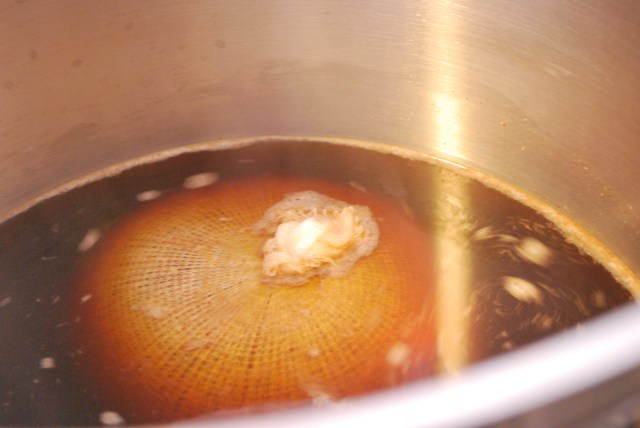 Once the water boiled, we let the grain steep (like a tea) in the water for 5 minutes, then took out the grain sack.
Time for the extract!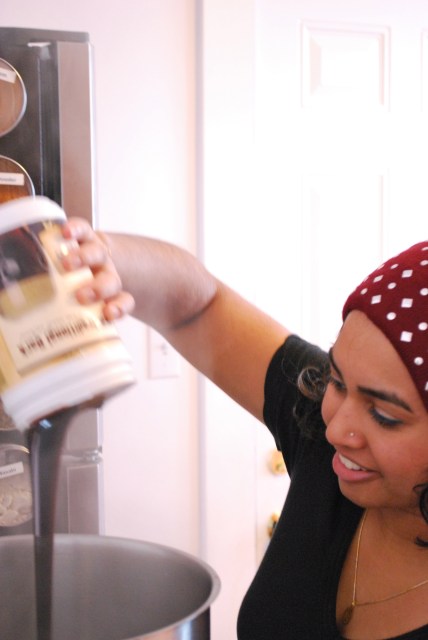 Add the hops and pour the extract in. Bring back to a boil, and cook for 30 minutes. Keep stirring to keep the extract from burning.
Once the wort is fully cooked, it needs to be cooled. There's fancy equipment to do this, but we use cold water in a bathtub.
Pour cold water into the fermenting bucket, and add the cooled wort. Add more water to bring the volume of the bucket to 5 gallons (or 6, depending on the recipe).
Reading the Gravity
The specific gravity of beer (or other fermenting alcohol) is its relative density to water. Measuring the gravity of your wort can be useful in telling when the fermentation is complete. Wort will have density higher than water (original gravity), but your finished beer should be around the same density as water (final gravity). Stouts and porters will have a slightly higher final gravity. Here's a handy chart.
You can also use original and final gravities to calculate the alcohol content of your beer.
Using a hydrometer, measure the gravity of your beer. Dip a sanitized test jar into your wort and fill it 3/4 (make sure to sanitize both the inside and outside of the test jar, and don't let your fingers touch the wort). Put your hydrometer into the test jar and let it float.
The 10, 20, 30, etc. mark hundredth increments. So our beer gravity reading is 1.042. You must adjust for temperature according to the table below (the temp is in Fahrenheit). Our final starting gravity is 1.044.
50 = -.0005
60 = no adjustment
70 = +.001
77 = +.002
84 = +.003
95 = +.005
104+ = you will probably kill the yeast, so wait longer for the wort to cool.
Write down the starting gravity in a brewing journal or planner. You'll measure the gravity again in one to two weeks to see when the fermentation is complete. As a guess, our beer will probably be about 3.5 – 4% alcohol by volume.
Don't put the wort from the test jar back into your beer. Drink it, dump it, do whatever you want.
Pitching the Yeast
Take your sanitized floating thermometer, stick it into the wort, and wait for it to reach somewhere between 70 and 80 degrees Fahrenheit (or 21 to 26.5 degrees Celsius). Meanwhile, if you're using dried yeast, pour the yeast into a cup of lukewarm water and let it re-hydrate. Remember to only use proper brewing yeast. It will come with your kit, or ask the homebrew store to direct you to the proper yeast for the beer you want to brew.
Once your wort is in the desired range, you're going to pitch the yeast. That means pouring the liquid or re-hydrated yeast into the wort, and mixing vigorously with a sanitized spoon.
Now put the lid firmly onto the bucket, stick the airlock into the hole, and you're done!
Will our beer ferment correctly? Or will it fall victim to infection and oxygen, the mortal enemies of good brew? Tune in next time to learn about secondary fermentation, bottling and other adventures!