Hello! Welcome to the next installment of this thing where we're all trying to live forever. There is a very special place in my heart reserved for everyone who commented on last week's article, thank you! I'm learning so much already from all of you and it feels nice to not be in this alone.
Did you hear that we've set up an Also Working On It social group on Autostraddle? It's where we're all gonna chat about health and fitness things and swap advice and encouragement in between posts – come join us!
So this week in my personal journey to improved health and wellness, everyone is training for a half-marathon. Half-marathons are the new brunch. My co-workers have been going for 10km practice runs on their lunch breaks like it's no big thing. Meanwhile I've been focussed on resistance training, i.e. channeling every ounce of energy into ignoring the caramel-filled fudge brownie recipe I saw on the internet last week. It's tough. There's a tiny evil asshole camped out in my brain yelling OH MY GOD WILL YOU JUST LIVE A LITTLE. But I guess that's how I arrived here, at the dizzying heights of Cholesterolville. I've lived a little a lot.
A quick update on last week: I temporarily conquered my inferiority complex by walking into a sporting goods store and buying real workout pants. If you've never done this before, the deal seems to be that there's a choice of very short hot pink and purple ladies shorts, or super long, baggy dark blue and black men's shorts. Gender neutral colours and sizes don't exist in sportswear, I guess? I panic-grabbed the blue men's shorts. Later, at home, I discovered that they're capri length and feature a grey racing stripe which I'm quietly confident will make me go a LOT faster. Pretty sure. Also, quite a few of you sung the praises of DIY cut-off tees as workout gear in last week's column and so I took the scissors to a few old tees that were headed to the trash. Good tip, thanks you guys.
Not working: Having 'workout buddies'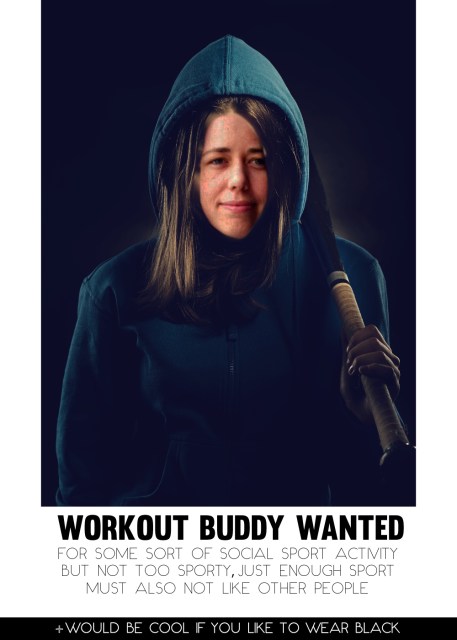 I've been doing so much reading on how to become a fitter, healthier human and almost every article recommends recruiting 'workout buddies' to help make exercise more enjoyable. Which sounds super! Teamwork is dreamwork. I'd love to meet up with people to do some sort of social sporting activity, like throw or kick around a ball. It looked fun on  The Sandlot.
What these articles don't take into consideration is that I don't have friends? That's my next column, Making Friends After 30. But seriously, the few buddies that I do have live in distant suburbs and already enjoy exercises that are beyond my current fitness and comfort levels, like rock climbing and chasing zombies. My best pal Owen does keep inviting me to join his indoor cricket team but only because his teammates keep breaking their fingers.
Do you have workout buddies? How/where did you meet them? If anyone knows of a group for loners in Sydney with an interest in amateur social sports, link me. I'm too scared to sign up to the group fitness classes at my gym but I'm sure that could be a really neat alternative once I locate my guts. (I'm going to discuss my fear of group fitness in future posts, it's A Thing.)
Working: Calorie counting
I've never dieted before, not really. Occasionally I've vowed to put more healthier foods into my body, usually after smashing a whole pan of cookies, but I've never followed through with a strategic plan for making it happen. My marathon-running coworkers have SERIOUS plans; they do 5:2 fasting and get calorie controlled meals delivered to their homes and say 'no' to office birthday cake. Birthday cake! I could maybe turn down birthday cake if it was vegetable based, like carrot or zucchini, but I could never say the same for other high calorie food items, like say a burrito, for example. Burritos are fucking delicious. Just the thought of this purely hypothetical scenario is stressing me out.
If, a few years ago, you'd have told me that one day I'd start using calorie counter with passionate intensity, I'd have laughed my youthful ass off, I bet. Initially I was worried that monitoring every kilojoule would suck the joy out of food however it hasn't, not one bit. It's changing my eating habits for the better, first and foremost. But it's also helping me to maintain my body shape as my metabolism slow to a crawl, which is an unpopular thing to admit. When every asshole on the planet is telling us that skinny is beautiful, actively working to prevent weight gain (or achieve weight loss) kinda feels like hurling a giant machete into the back of womankind.
I guess the thing for me is that I feel good in my current body. It's not conventionally perfect but it's mine. It's familiar and all my clothes fit it and I don't really want it to change, not if I can prevent it with a healthy balanced diet.
I've been using MyFitnessPal, which's a calorie counter, fitness/diet tracker and overall pretty neat educational tool. It shows the nutritional properties of foods and highlights deficiencies in my day-to-day diet which is really rad because nutrients > calories. (And there's a lot of new science showing that calorie counting isn't as simple as we once thought it was.) I regularly find myself looking at the report and going, well fuck, my body has barely ingested any iron today, what can I eat tomorrow to make up for that? And oh damn, that sourdough roll had 400 calories? Next time I'll get whole wheat! Plus it sends alerts when I approach the recommended daily sugar intake which is helpful and also frequent because there is so much sugar in EVERYTHING and I just did not know. So, diet tracking. It won't be the best or right thing for everyone but right now it's helping me.
Does anyone else use MyFitnessPal or a similar app? Do you add/follow your friends? How is that working for you? I can see how peer support might be super motivating but also being able to see your friends progress against health goals might be a little weird? Or not! I don't know.
Sort of working: Not smoking

I finally gave up cigarettes, or at least the daily habit of smoking. It's the first time that I've quit on my own, without using Champix/Chantix (and suffering the night terrors and general mindfuckery that it sometimes brings on). Kicking the daily habit has been a huge win for my health and I'm super proud of that. However! I'm still not entirely cigarette free. Sometimes my willpower disappears when I drink alcohol and I'm not super keen to also give up that drug because ending the week with a vodka or two is chill. But maybe that's what I need to do! I'm not sure. I'd really love to hear about people's experiences with resisting the temptation of smoking while drinking, particularly if you found a good solution.
So that's been my week. What's been happening in yours?
Coming up next week: I'll probably want to tackle how to remain somewhat healthy when living with another human who isn't on board with your #healthgoals.