The number of people who work from home has multiplied rapidly over the last few years, but the world still caters to 9-to-5 officegoers. Existing social, financial, and business institutions haven't really caught up yet. Neither have most people, since a huge chunk of the population still seems to think that anything you do at home cannot possibly be work. Many people are well-versed in Office Etiquette, but what about Work-From-Home Etiquette?
Work From Home Etiquette, like many forms of internet manners, is largely unexplored territory, which's why we're always hearing stories about tension between work-from-homers and their roommates, girlfriends, parents and otherwise seemingly amicable human beings.
+
Inside The Box Office
The only way to work successfully from a home office (or kitchen table or couch) is to do things the way you would in a real office: by sitting (or standing) in front of a computer for the majority of your waking hours and Getting It Done. I've never understood people who say, "I could never work in an office from nine to five every day, it would be like being in a box," because when you're working from home, you still have to work in a box. It's just a box you have to make and lock yourself. For me, this is much harder than it would be if the box was in an office somewhere, because then I would not have to turn the place I watch Netflix in into a place of business and back twice a day.
Obviously, working from home has its advantages. Sometimes my "office" looks like this:
But most of the time it looks like this: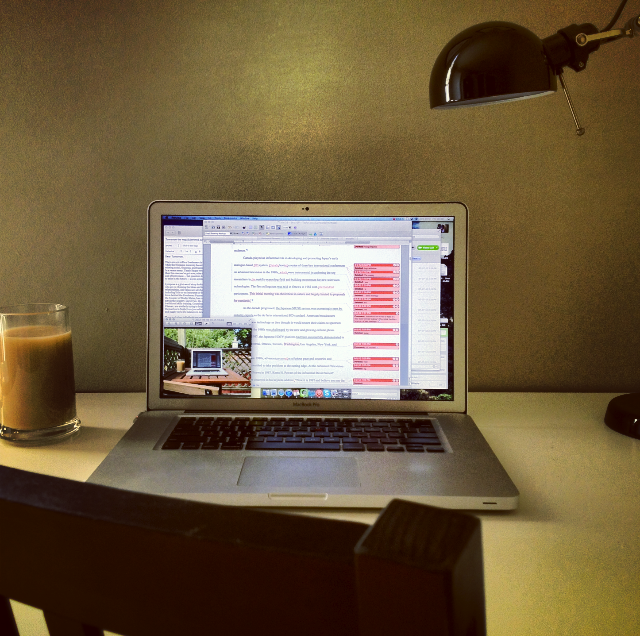 The essential problem of working from home is this: it's working from home. Nothing, and everything, is sacred. Most people who work from home choose one of two methods on dealing with "other people" during the workday: (1) brunch followed by napping, leading to total non-productivity, or (2) extreme hostility and irrational anger against anyone who dares interrupt for any reason.
If you know someone who works from a home office, and they recently threw something at you, you've come to the right place.
+
Pretend I Am In An Office. Pretend You See Walls Around Me. You Cannot Speak Through Walls. Knock On My Door For Emergencies Only.
Phone calls! Emails! Skype dates! Pleasant conversation! These things are all distracting and time-consuming, and are excellent when they happen when I'm not at work but annoying-to-rage-inducing when I am. When you get paid an hourly rate or salary, texting or calling during the day feels like getting away with something. You're basically getting paid to Gchat!
But people who work from home don't get paid to Gchat. Not ever. To someone who works from home and only gets paid for meeting deadlines, a 2 p.m. phone call "just to chat" says one of three things:
1. I care enough about you to call, but do not respect the things you spend your time on and do for a living enough to call in the evening, or
2. I consistently forget what you tell me about your working hours, or
3. I am a jerk.
Is it an emergency? No? Save it for later in the day (or whenever you know your fellow human's free time is. You can ask this!). Or try a quick text, and allow a few hours for a response — some of us prefer to work far away from our telephones. Also please, please don't get snippy if you text/email/chat/show up at the door during the day and I don't get back to you for hours and hours, if ever. You know what it's like at work when a manager is looking over your shoulder? Imagine one is implanted in your brain.
+
I Love You But I Can't Have Coffee With You
I can't go for midday coffee with you even if I love you. I probably do love you, but I'm working. I can't have lunch or brunch, either.
Similarly, I can't stay out late doing tequila shots and arguing over the representation of bisexuality in popular culture until 4 a.m. on a work night. I would like to, believe me. But I can't just sleep in and get up and work until late the next day, because that is not how productive people function and stay sane (if you are the exception, lucky you). +
+
I Can't Do The Dishes Until After I Invoice
Sitting quietly in front of a computer to work looks a lot like sitting quietly in front of a computer to play on the internet, so it should be OK to ask a working-from-home roommate/activity partner/girlfriend to just do the dishes before you get home, right? Wrong.
A good rule of thumb is, would you ask me to do this if I had an office job? No? Then don't ask me to do it, at least not now. Going to the grocery store and the drug store and talking to the landlord and vacuuming and doing the dishes can, and will, wait until after work. If I choose to squeeze those errands in mid-day, then I'll probably have to work a little later, and that needs to be respected, too.
If it's something that has to happen during the day, such as a visit from the cable company, make sure it happens on a day I don't have anything immediately time-sensitive happening at work, or (if possible) at least at a time when I don't have any online meetings or important phone calls to interrupt.
I find this is one of the hardest lines to draw with myself as well as with other people. It's tricky with roommates. It is trickier with a partner, because it's nice to do things for somebody (particularly if that somebody has an out-of-the-house job and is exhausted by the time she gets home. But "I'll just clean up a little this afternoon! I can get paid later!" does not work.). It is possibly trickiest with parents, for whom "working from home" and "not being an accountant like we'd always hoped you'd be" may be synonymous. Being clear about boundaries from the beginning, on all sides, is important.
But if your girlfriend swings by the store to pick up groceries for dinner on her way home from work, it's not rude for her to expect you to have the kitchen clean by the time she gets home — that's called teamwork, and we all do our part where we can. The key is to discuss it, and to listen to what your partner says their workday is like so you know what's reasonable to expect.
+
This May Be Your Vacation, But It's Not Really Mine
One of the most frustrating elements of the work-from-home conundrum is how to properly host out-of-town visitors or temporary houseguests. This is a situation in which everyone breaks the "pretend I'm in an office" rule and both parties end up feeling extra shitty about it. Yes, I love you, I'm so glad you're here, and a mid-day picnic at that lake would be so much fun, but I just can't do it. I'm at work! Taking it personally only makes us both feel worse.
If they're coming specifically to see me without any other people or sights to see, I'll probably need to take some vacation time. But under any other circumstances, guilt-tripping me about my inability to pay attention to you all day if you've already been warned I'll be working ultimately just makes me feel like you either weren't listening or don't consider my work to be actual work. Furthermore, framing the situation as, "Wouldn't you rather spend time with me than sit at your computer all day? It's just that I love you and want to see you," makes us feel worse about something we already feel bad about — we would rather spend time with you than sit in front of our computer all day! But we can't.
But freelancers also need to hold up their end of the bargain — if you'd typically request a day off from an office job while your Mom is in town, you should request a day off from yourself while your Mom is in town, and make it clear that this is the day you've taken off and it will be packed with fun fun fun!
The Work Day Is Over When I Say It's Over
When the work day starts is fairly straightforward: it is when I get up and caffeinate and get to it (let's say between 7 and 9 a.m.). When the work day ends is trickier. What does it look like when I am at work? What does it look like when I am done with work? How can anyone know the difference?
Having an office or a desk or a locked door or some sort of traffic light can help immensely, but a lot of people don't have those things. So just ask us if we're at work and expect that the answer will probably be "yes."
Working late from an office has its benefits: presumably, people get more productive (within limits) as everyone else trickles out and the office goes quiet and some of the lights start to turn themselves off. Working late from a home office, on the other hand, gets increasingly more difficult: there might be people and they might need to make food, and a lot of the rest of the world is off work or on their dinner hour and wanting to text.
The workday more or less ends when I say it does. It might be four or seven or ten, but until then, I'm at work.
+
+
But I Am Not Excused From Being a Jerk
The primary tension between the work-from-homers and our peers boils down to an issue of respect: we feel disrespected when our work is treated as less sacred than work done in a different building, and perceived disrespect is the number-one cause of the bratty knee-jerk reactions many freelancers become notorious for within our own homes.
Working from a home office does not excuse anyone from being rude to friends, being a slob, or staying inside for weeks at a time. (Hi, friends I haven't seen in several weeks! I will text you back soon.) If I am at my desk, and have been since 7:30 a.m., and it is now close to midnight, and I said I would make dinner six hours ago, I deserve the same stare of death I'd get if I rolled in six hours late from work with no notice. If I'm on the Internet and start talking to you and it's 8 p.m., it is not OK for me to get mad at you for distracting me from my job. I don't want you to be a jerk, but I'm not allowed to be one either.
+
In Conclusion
Obviously, there are exceptions to every rule. Sometimes my partner comes home and discovers I've rearranged the office, hung pictures, and mopped. Sometimes I do go out in the middle of the day, and sometimes I call my grandmother at 11 a.m. and get the groceries and drink beer inappropriately early. So does the rest of of the world.
But mostly, the key thing is respect. I am at work, and having a space to work in (mentally, electronically, physically — even if that space is the kitchen table and some earplugs) is what I need in order to be productive, get paid, and have a sense of personal fulfillment, and if you don't respect that, you don't respect me.