feature image via Shutterstock
Is everyone following the twitter account @poetastrologers? It's my favorite new thing. They keep on calling me and all my friends out in the harshest way possible. I'm never going to get over this twitter account, and neither should you. They somehow manage to be cut-to-the-bone truthful and hilarious at the same time. I thank Cecelia for getting me into astrology so that I could eventually get into this twitter account. Astro Poets makes sure to do a good job and cover all the signs, calling us all out and showing us our deepest truths and realest pop culture comparisons. Check out just a few of these.
Scorpio as a Britney Song: Toxic

— Astro Poets (@poetastrologers) December 20, 2016
Any sign: That's dope ur a Sag, who are famous Sags?
Sagittarius: Me u asshole

— Astro Poets (@poetastrologers) December 8, 2016
Job Interview
HR: thanks for your time we'll be in touch
Leo: I'm very good at sex, I'm very talented. FYI.

— Astro Poets (@poetastrologers) December 8, 2016
The other night was the Winter Solstice, the longest night night of the year and a big night for us witches. Or at least for a lot of witches. It's the longest night of the year, and so that might seem dark, but that also means that each day after it will have more and more daylight. It's a night of rebirth and renewal. Honestly, this year I was travelling and tired and busy, so I didn't do anything. What did you do? What are your favorite solstice rituals? What kind of power do you get from the darkest night of the year? What kind of renewing energy does it give you?
I really loved this article about 5 women, including Princess Nokia, and how they use religion to navigate the modern world. Also, here's a thing about the Salem Witch Trials and "our miserable present."
At Autostraddle we had a ton of witchy or witch-adjacent content. We had another brilliant Queer Horoscope by Corina, as well as Cecelia's Aesthetic Rising, which is a wonderful, insightful and fashionable take on queer horoscopes. We had an article about the magical realism book When the Moon Was Ours and another about queer high fantasy novels. There are probably witches in those, right? I also wrote about my top ten ghosts from this year, which is spooky and therefore sort of witchy. Finally, Cameron Glavin designed the absolutely wonderful dead lesbian pins that include one of our favorite witches, Tara.
---
Playlist: Crystal Ball
https://play.spotify.com/user/autostraddle/playlist/6EKyUxBQu1ldEITijlnQEC
---
Words With Witches
by Rachel
scrying: a method of divination that can be accomplished through a variety of mediums, including but not limited to crystals, water or liquids, fire, smoke, mirrors or other reflective objects, or even attempting clairvoyance through a trance state without necessarily employing an outside medium. Some practitioners say that the medium of scrying is useful only in serving as something to focus on, helping create a mental state for the practitioner that allows visions or insights to be perceived. Many folk magic practices, from repeating "bloody mary" in front a mirror to older practices that claimed young women could see the image of their future husband if they looked into a mirror in a darkened room, are variations on scrying practices. It's a broadly defined enough practice that there are no universally agreed upon precepts or schools of thought, but there are many specific practices that fall under the larger umbrella of scrying, from lecanomancy (scrying into a dish of liquid, usually water), anthracomancy (scrying into glowing coals), scyphomancy (scrying into a cup or goblet), or captromancy/enoptromancy (scrying into a mirror). Modern witches may use other reflective surfaces, like the darkened screen of a smartphone or laptop.
---
Poisonous Plant Corner
by Laura M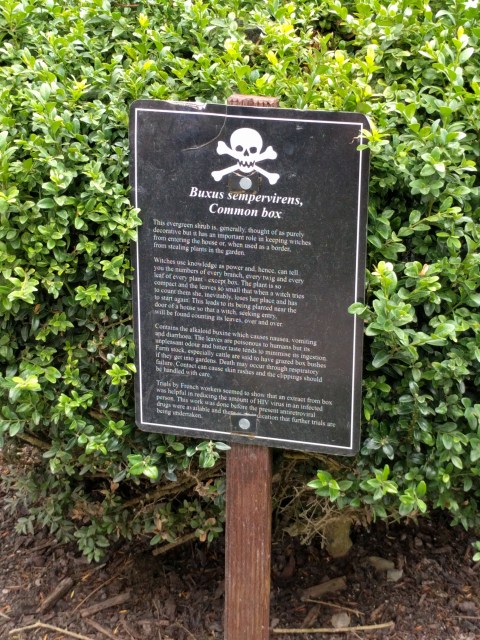 Attention witches! This is your scientist friend dropping by to tell you not to eat this plant. Probably don't try to count the leaves either, because it's a waste of time? Anyway, here's what they're saying at Blarney Castle in Ireland. Caption: "Buxus sempervirens, Common Box. This evergreen shrub is, generally, thought of as purely decorative but it has an important role in keeping witches from entering the house or, when used as a border, from stealing plants in the garden. Witches use knowledge as power and, hence, can tell you the numbers of every branch, every twig and every leaf of every plant — except box. The plant is so compact and the leaves so small that when a witch tries to count them she, inevitably, loses her place and has to start again. This leads to its being planted near the door of a house so that a witch, seeking entry, will be found counting its leaves, over and over. Contains the alkaloid buxine which causes nausea, vomiting and diarrhea. The leaves are poisonous to humans but its unpleasant odor and bitter taste tends to minimize its ingestion. Farm stock, especially cattle are said to have grazed box bushes if they get into gardens. Death may occur through respiratory failure. Contact can cause skin rashes and the clippings should be handled with care. Trials by French workers seemed to show that an extract from box was helpful in reducing the amount of HIV virus in an infected person. This work was done before the present antiretroviral drugs were available and there is a dedication that further trials are being undertaken."
---
My Favorite Witch
by Carmen
Hillary Clinton cast a spell on me and now I'm hers. Plus, I think Rush Limbaugh has some evidence about her actual life of witchcraft that he shared with Bernie Sanders but we may never see that since nobody is gonna leak their emails.
---
Magical Potion of the Month: Belly Heat
by Raquel
Brrrrrr, it's cold, cold, cold. Even in Texas, we've hit some temperatures that make my extremities want to fall off my body (I won't tell you the temperature, because non-southerners will laugh at me).
Despite its typical portrayal, this month can be a one of complications: maybe you have to deal with family, or figure out how much vacation time you have, or make sure you get the right presents for everyone that matters, or you're just trying to avoid having to watch Love Actually. Whatever your challenge this month, this is a simple cocktail to calm your nerves and warm your insides. I also thought it was high time I made a bourbon cocktail, for all you whiskey-lovin' queers!
As always, I believe in experimentation, adjustment, and what-the-hell winging it. Take every instruction as a suggestion, add more or less alcohol to taste. (Warning: I tend to like things strong, and please—let me know if you've improved upon what I've given you!)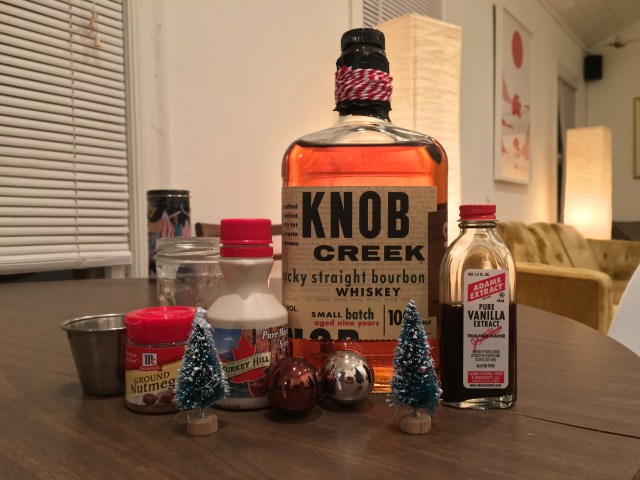 The Belly Heat
Ingredients:
2 shots of Bourbon (I used Knob Creek)
1 swig of maple syrup and/or local honey to taste
1 tiny drip of vanilla extract
1 dash of nutmeg
Instructions:
Put a pan over medium heat and pour the bourbon, maple syrup, and vanilla into it. Mix in the nutmeg and stir until it's warm but not yet steaming.
Take it off the fire and let cool until you're satisfied it won't crack your glass and pour it in. If you're feeling especially cozy, pour it into a mug.
Sip and breath deeply as the bourbon burns down your throat. Let its heat spread deep in your belly and allow yourself to be thankful for something, even if it's only the end of the year. Let yourself feel warm, and let that warmth act as a surrogate for love. Wrap yourself in a blanket.
If you hate bourbon, I highly recommend mulled wine or pouring rum into your tea.
I feel like a cinnamon stick would be a perfect addition / stirrer to this, but I didn't have any in my house. If you try it, let me know how it goes.
One last note — my beautiful roommate Angela received some bourbon balls from her lovely mother and they were a masterful pairing. If you're into some no-bake baking, I highly recommend giving it a try!