Last month, Kevin Fiege, who runs the MCU, announced that we'd soon find out who's playing Captain Marvel in her upcoming movie as well as other members of the cast and the director. Out of excitement and anticipation, I'm going to do a little bit of speculation and say who I'd like to see star in the film. Some of my picks might seem a little strange at first, but I think if you just give them a chance, you'll end up feeling the same way I do about them.
This movie needs to have a mainly female cast, because, well, it's Captain Marvel. It should be a movie that's totally centered around empowering women and showing how awesome and powerful we can be. I'm really, really hoping that they'll borrow heavily from Kelly Sue DeConnick's writing of the character, because those are some of the best superhero comics of all time. DeConnick really relaunched the character in a brilliant way and set the tone for her voice and personality that's still used today. With those two things in mind, here are my picks for the main cast of the Marvel Captain Marvel movie.
---
Carol Danvers: Gina Rodriguez
Apart from being a total badass superhero and pilot, Captain Marvel is also a real hero of the people. She's got a killer smile and she's fiercely protective of her friends and the people she loves, and she's not afraid to show them that she loves them. The actor playing her needs to have tons of charisma and spark. Nobody has more of those things than Jane the Virgin star Gina Rodriguez. Plus, with her recent appearance in Women's Health looking super tough and with that great new haircut, it looks like she's already working on getting the Captain Marvel look down. I mean, just look at Rodriguez and try to tell me she wouldn't be perfect for the role. Can't you just see her flying around, punching dinosaurs, taking care of her pet cat, being friends with cranky old women and inspiring her city? Of course you can. I'd pay a year's salary to see a Captain Marvel movie starring Gina Rodriguez.
---
Jessica Drew: Olivia Thirlby
Jessica is one of Carol's best friends and she needs to be able to balance a lot of attitude, humor and personality. Thirlby is hilarious and tough (I mean, have you seen Dredd?) and I think she'd have amazing chemistry with Rodriguez's Danvers. Just imagine how great their banter would be. And hey, it's always good to introduce another female superhero into the MCU.
---
Monica Rambeau: Rutina Wesley
Monica Rambeau is the woman who was Captain Marvel before Carol Danvers was, so I really, really hope she shows up in the MCU too. I think Rutina Wesley, probably best known for playing Tara on True Blood, would be absolutely perfect. Rambeau could show up as someone who's had powers longer than Danvers and knows what's going on with all this Kree and Shi'ar alien nonsense and help the younger Danvers out. And more women of color superheroes in the MCU are definitely needed.
---
Tracy Burke and Teddy Matthews: Holland Taylor and Jessica Lange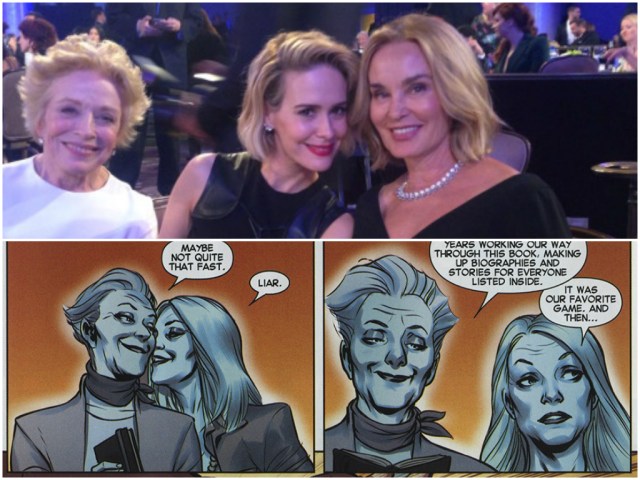 Tracy is Carol's best friend who isn't a superhero, and she's a super awesome lesbian photographer. Teddy is her long term partner and the love of her life. They're an awesome, funny, cranky elderly lesbian couple who help to humanize Carol, one of the most powerful superheroes in the whole Marvel Universe. I think these two might literally based on Taylor and Lange? Like, just look at the pictures (with a bonus Holland Taylor's girlfriend, Sarah Paulson, in the picture)!
---
Kit: Ella Hampton
One of the great things about DeConnicks' run was seeing how Carol interacted with the people of her city. She's a dedicated member of her community and her community helped to make her into the hero she is. One of the best examples is Kit, the young girl who looks up to her and helps inspire her to always do her best. New York is one of the most diverse cities in the world, so why not show that by casting Hampton, who played 8-year-old Soso in Season 2 of Orange is the New Black?
---
Deathbird: Zoe Bell
Deathbird is a butt-kicking Shi'ar warrior and Zoe Bell is a butt-kicking stunt woman and actor; they're a perfect match. With Bell's great stunt pedigree, we'd be sure to get some jaw-dropping action sequences.
---
Yon Rogg: Iko Uwais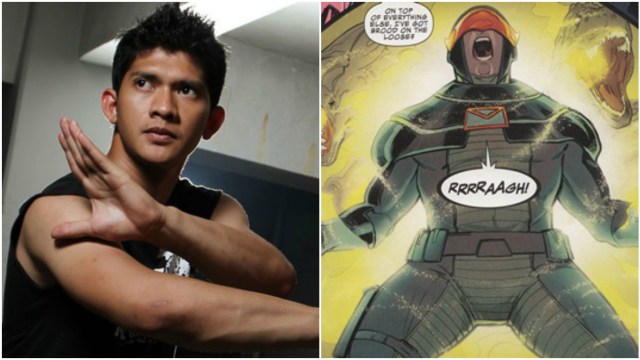 Yon Rogg, a Kree warrior who hates Captain Marvel and played a part in her getting her powers, would be the token male in the cast, so I wanted to make sure I picked someone great. Honestly, Uwais is the best action star in the world right now, and I'm just dying for him to become the international superstar he deserves to be. It would be great to see the kind of fight scenes we get with Uwais, the star of The Raid films, playing the main villain.
Who do you think should star in the Captain Marvel film?
---
New Releases (May 25)
Suicide Squad Most Wanted: Deadshot/Katana #5
Moon Girl and Devil Dinosaur #7
Princeless Raven the Pirate Princess #8
Steven Universe & The Crystal Gems
---
Welcome to Drawn to Comics! From diary comics to superheroes, from webcomics to graphic novels – this is where we'll be taking a look at comics by, featuring and for queer ladies. So whether you love to look at detailed personal accounts of other people's lives, explore new and creative worlds, or you just love to see hot ladies in spandex, we've got something for you.
If you have a comic that you'd like to see me review, you can email me at mey [at] autostraddle [dot] com.