HAPPY VALENTINES DAY STRADDLERS!!
Because I love you guys a lot, I have an entire meal for you today. Make it for that special someone for dinner tonight or eat it all by yourself while watching the Sochi games (or the Shoshi games) – either way, won't judge you. Because the highlight of my week was receiving a care package from my mother containing Airborne, Thin Mints, and concealer to hide my dark circles (she really gets me) I don't have much to share other than these recipes. Let's get to it, shall we?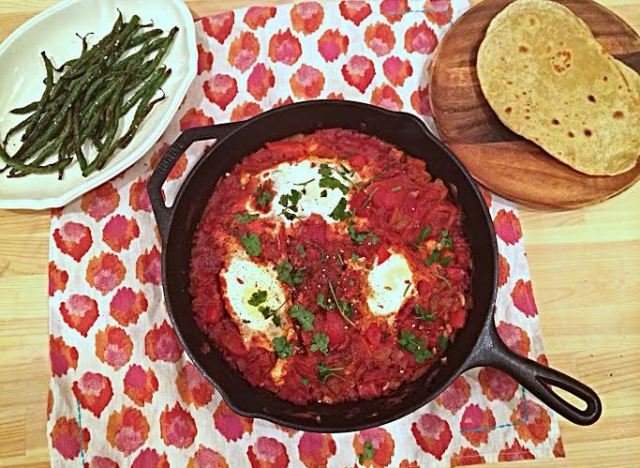 Shakshuka is really fun to say and also very healthy and delicious. To make it vegan just omit the eggs and add whatever you want really – it's totally customizable. It's essentially a spiced tomato mixture with some yummy eggs nestled inside. I was probably drawn to it for its "breakfast for dinner" like qualities. I'm having a love affair with Middle Eastern cuisine right now, and I want you to feel it too. To go along with the shouka (that's my abbreviation for shakshouka) I made some za'atar roasted green beans and a quick chapati flatbread for dipping! Za'atar is a Middle Easten spice blend that I'm currently showering on everything I eat. You can find it in the Indian section of your grocery store or you can make it yourself easy! The chapatis are pretty customizable as well. Use any kind of flour you want. I make them every week and have tried every flour with yummy results. I usually use 1/2 spelt or kamut and 1/2 unbleached all purpose.
Shakshuka
Whatcha Need:
1 tbsp olive oil
1/2 large onion, peeled and diced
1 clove garlic, minced
1 medium red bell pepper, chopped
4 cups ripe diced tomatoes, or 1 28 oz can of tomatoes, chopped
2 tbsp tomato paste
1 tsp chili powder
1 tsp cumin
1 tsp paprika
1 tsp cayenne pepper (less if spice ain't your thing)
Salt and pepper
3-4 eggs
1/2 tbsp fresh chopped parsley, cilantro, or whatever herb you like
Directions:
HEAT: a large skillet on medium heat and warm the olive oil.
ADD: the onions and sauté until they are start to soften.
NOW ADD: the garlic and sauté a minute more then the pepper and cook for 5-7 minutes until soft.
STIR IN: tomatoes and tomato paste until blended.
ADD: spices and simmer over medium heat for 5-7 minutes or until it starts to reduce a bit.
SEASON: to taste with salt and pepper (adjust other seasonings to you liking).
CRACK: the eggs over the mixture, spacing them out evenly.
COVER: the skillet and let it all simmer for 10 minutes or until the eggs are cooked. If the sauce looks like it's about to burn add a little water and lower the heat.
GARNISH: with the chopped parsley and serve!
Green Beans
Whatcha Need:
1 lb of green beans
2 Tablespoons of za'atar
olive oil
Directions:
TRIM: the green beans and put on a parchment lined baking sheet.
TOSS: with olive oil and sprinkle wit za'atar.
ROAST: at 425 F for 12-15 minutes, stirring halfway.
Chapatis
Whatcha Need:
2 1/3 cups flour + more for the countertop
1 Tablespoon extra virgin olive oil
1 1/3 cup warm water
Directions:
PUT: the flour in a bowl and make a well in the center.
ADD: the oil and water to the well and stir until the dough starts to form a ball.
KNEAD: the dough for a few minutes on a floured countertop.
ADD: a little water if you need to.
LET: the dough rest for a couple minutes then divide it into 12 balls.
ROLL: each ball into 1/2 cm thick rounds (more like ovals)
COOK: in hot frying pan with a bit of oil for about 30 seconds on each side (they will puff up a bit).
KEEP: in a warm oven until ready to eat!
If you are still hungry and want some cake, may I highly recommend this Orange Blossom Sesame Cake that I made this week? (Sorry I don't have a recipe!)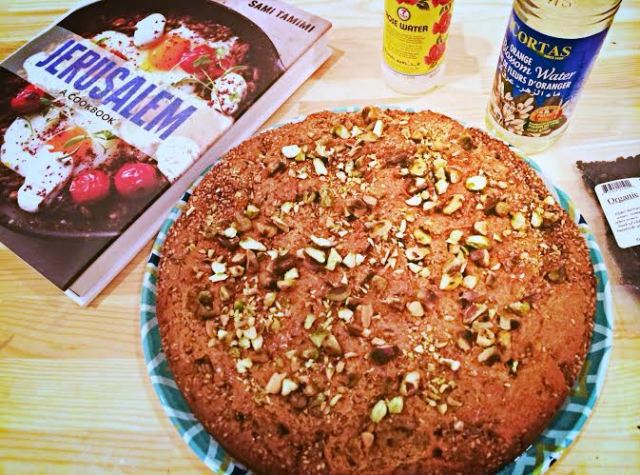 Header by Rory Midhani