feature image via Fibonacci Blue
Jamar Clark Killed by Police in Minneapolis
At about 12:45 am on Sunday, 24-year-old Jamar Clark was killed in Minneapolis, MN. Police had been called to a birthday party to address a report of an assault; police claim that Clark was a suspect in the assault and that he was "interfering" with the victim being loaded into the ambulance. When an officer tried to stop him, a gun "went off." Alternately, some reports of police versions of the incident say that Clark went for an officer's gun. Handcuffs were found at the scene; the Minnesota Bureau of Criminal Apprehension says "we are still examining whether or not they were on Mr. Clark or whether they were just fallen at the scene." The police story allows that Clark was unarmed, and that he was shot in the head, as an autopsy confirms.
Witnesses to the incident report that Clark was handcuffed and laying facedown on the ground, immobilized, when police shot him in the head. Police didn't have dashboard cameras or body cameras turned on, and while there is some video from "an ambulance on the scene, a police camera stationed in the area and a public-housing-authority camera stationed near the scene," the Bureau of Criminal Apprehension is saying both that it doesn't record the entire incident and that they can't release it until the investigation is over, which could take months.
The 10-year-old son of Tequila Dillon said he witnessed Clark's death. At first, Dillon said, she didn't believe her son Ze'Morion, who kept telling her that "the police killed someone."

But Dillon said she saw Clark after he was shot, a handcuff clasped around one arm. Dillon didn't see Clark fighting with police, but repeated what her son had told her: "They told the man to back up and he did,wp_postsshe said. "Something needs to be done. What would justify this?"
Protesters have responded quickly to the news, camping out outside the police precinct and shutting down I-94 for two hours by forming a human chain across it, after which 51 people were arrested. Black Lives Matter protesters have demanded the release of video of the incident, the names of the officers involved, and for Mayor Betsy Hodges to request a federal investigation into Clark's death.
Jamar Clark's family reported that he was taken off life support on Monday night. On Wednesday, the BCA finally named the officers involved in Clark's death: Mark Ringgenberg and Dustin Schwarze, who have both been police officers for seven years.
It's hard to know what to say about this because what hasn't already been said about the many, many other unarmed people who have been killed by police this year? Jamar Clark was killed less than a week ago and already this story feels familiar. The inconsistent story, the confusing police explanation — a seven-year police veteran fatally lost control of his gun and also accidentally dropped his handcuffs on the ground at the same time? — the powerful grief and rage, the disappearance of the evidence, the fact that we're already resigned to probably not seeing any justice come of this — in the first 439 cases seen by Minneapolis's police conduct review office (which doesn't seem to have even existed before 2012) not a single one ended in discipline for an officers. It's exhausting, and many people are exhausted, and Jamar Clark doesn't have the chance to be exhausted because he's dead.
Campus Activism for Racial Justice
+ After Mizzou student activists' success at achieving their goals for campus bureaucracy and culture, there's heightened awareness of campus culture nationwide, how it's affecting students of color, and the activism organized against it. One major example is at Yale — after decades of suffering microaggressions that hindered their education and general wellbeing, a series of racially charged events have motivated specific activist efforts at Yale. A helpful and polite email was sent out before Halloween suggesting that students be mindful of the possible racist implications of dressing as nonwhite races they don't belong to for Halloween; a faculty member, Erika Christakis, responded publicly by arguing against it and claiming that restricting anyone's Halloween costume was a free speech issue. The same week, an SAE frat party allegedly turned away women of color at its door, telling them "white girls only." In response to these and years of other incidents, over a thousand people marched, and a sit-in meeting was held with school administrators and about 50 students of color. This piece on the subject by Clover Hope is really excellent and everyone should read it.
In the room, students openly grieved, sobbed, and shared stories with faculty, hoping for answers about their school's apparent failure to provide a safe environment for minority students. At the head of the table were Holloway, Salovey and his Chief of Staff Joy McGrath, and Yale Secretary and Vice President for Student Life Kimberly M. Goff-Crews. According to Barlowe, emotions were one-sided. And this, she says, was the precise problem — that after multiple accusations, complaints and petitions about racist incidents, it took a sit-down meeting for administrators to listen, and that even the students' discernible pain in the room sparked no visceral empathy.

"People were having breakdowns in this room. People were out of control of their bodies,wp_postssays Barlowe. "There were accounts of really deep trauma and pain, everything from outright racism to micro-aggressions to discrimination and also feelings of invisibility. And the administrators were not emotional at all, which was part of what was strange and difficult for us. They were calling on people as if we were having a regular meeting."
Demands from students included increased support for ethnic studies programs and required ethnic studies credits for all Yale students, budget increases for cultural centers for students of color, and more minority professionals in the mental health program. On Tuesday, Yale President Peter Salovey released a memo promising change, pledging to develop a "transformative, multidisciplinary center" in the area of "race, ethnicity, and other aspects of social identity," adding four faculty positions in the area of "scholarship on the histories, lives, and cultures of unrepresented and under-represented communities," "additional teaching staff and courses in Yale College starting in spring 2016 that address these topics," a five-year series of conferences on "race, gender, inequality, and inclusion," doubling the program budgets for the campus cultural centers starting in 2016-2017, improvement in financial aid policies for low-income students, cultural competency training for mental health professionals as well as scheduled counselor hours at the campus cultural centers.
Brittney Cooper at Salon has more on why the activist work at Yale and other universities isn't about "PC culture" or being oversensitive, but about safety. Larissa Pham has a piece at Guernica about what it's like to be a student of color at an Ivy.
Students have also engaged in activist work at other universities around the country, including Georgetown, where the school has agreed to rename buildings that were previously named for "school presidents who organized the sale of Jesuit-owned slaves to help pay off campus debt;" NYU, where students organized demonstrations and a walkout; Ithaca, where students walked out to demand the resignation of their college president; and Claremont McKenna, where the dean of students resigned.
Anti-Muslim Backlash after ISIS Attacks
In the days since the terrorist attacks on Paris and Beirut, outbreaks of anti-Muslim violence and vitriol have been constant. The following are only a few examples; there are many, many more.
+ A woman became terrified of a Middle Eastern man watching the news on his phone on her flight and successfully got him (and several other people?) removed from the plane, although he was found to have done nothing wrong.
+ A Florida man left voicemails at mosques threatening to kill them with a militia.
+ The mayor of Roanoke, Virginia, invoked the US's use of internment camps for Japanese-Americans as a suggestion when weighing in on how to respond to Syrian refugees.
+ Relatedly, research has found that Islamophobia hurts the health of Muslims, increasing the risk of "common mental disorders."
Order in the Court
+ A judge in Worcester, MA has told Julius Jones, a BLM protester, that he can't wear a Black Lives Matter shirt during his trial, saying "Is that appropriate to wear in front of a jury? Why isn't that unfair to the commonwealth? You're asking me to ferret out jurors who are not fair … I'm not going to allow clothing with that message."
+ A lesbian mom is asking the Supreme Court to reverse the Alabama ruling that said she isn't legally the parent of the three kids she has with her ex-partner because she wasn't the gestational parent and had no visitation rights.
Law & Order
+ A Republican Indiana lawmaker is addressing LGBT legal protections — or, as he sees them, infringements on religious freedom.
Long accused LGTB supporters of "shortchanging" debate through their campaign slogan, which suggests the addition of "four words and a comma" to state law is all that's needed to resolve the volatile issue.

"It's not just four words and a comma," said Long. He added that discussion about "freedom of religion" has been sidelined and "we should not discount that as we discuss how to deal with this issue."
+ Jackie Biskupski will be the first openly gay mayor of Salt Lake City. Salt Lake City voters also elected Derek Kitchen as the first openly gay member of City Council.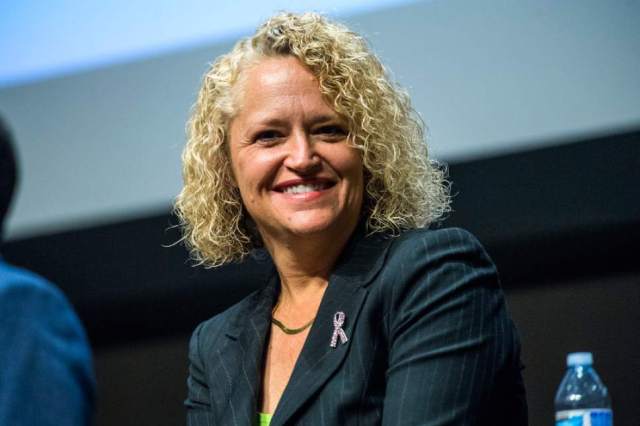 + Fay Wells, a black Santa Monica woman, was locked out of her apartment and called a locksmith to get back in. Her neighbor called the police, and 19 armed officers arrived. Wells said "The SMPD sent 19 armed police officers who refused to answer my questions while violating my rights, privacy and sense of well-being… A wrong move, and I could have been shot."
Some Things You Should Read
+ Longform reporting on Syria and the stories of refugees who are leaving it.
+ A longform story on the modern-day lynching of Craig Anderson in 2011.
+ Xatherine Gonzalez on how anti-immigrant policy and policing blocks undocumented women from receiving healthcare they need.
Grab Bag
+ Casa Ruby, the LGBT organization with a 12-bed youth homeless shelter, needs emergency wintertime housing.
+ A series of Boko Haram bombings have left dozens dead in Nigeria; just a day after a bomb killed 30, young female suicide bombers killed 15 in a busy market.
+ "By a 2-to-1 margin, likely voters said they do not think the Black Lives Movement supports reforms to ensure all Americans are treated fairly under the law." A new survey reveals that the majority of Americans don't understand the aims of BLM or the context that created it.
+ Patrisse Cullors, one of the founders of BLM, is working with Google to create a social network to connect those working for racial justice.
+ Texas is one of the US states most direly affected by restrictions to abortion access; horrifyingly but unsurprisingly, new research now shows that between 100,000 and 240,000 Texans have attempted to perform abortions on themselves. Reported attempts at self-induced abortions were performed via Misoprostol, "herbs or homeopathic remedies, getting hit or punched in the abdomen, using alcohol or illicit drugs, or taking hormonal pills.wp_postsThe average Texas county is, at this point, 111 miles from a clinic that can perform abortions.
+ The World Economic Forum estimates it will be 118 years before we achieve global gender pay parity.
+ The CDC reports that STIs are on the rise, especially chlamydia, gonorrhea, and syphilis, and especially among gay and bisexual men.