Welcome back to GET OUT THERE, a brand-spankin'-new miniseries in which you and I (and all your friends) are gonna explore the heck out of the places we live. (And then put a bunch of collectable downloadable stamps into a tiny book to prove it all actually happened.) We're gonna find new places to eat, drink, be merry, escape, and breathe fresh air — together.
---
My Last Two Weeks
Challenge number three brought me to try out the local transportation in town. While we've got a booming bus system I was super curious about the city's new way to go — the Metro Rail.
When I was living in Austin four years ago, the metro rail was just a glimmer in the city's eye. We had heard rumors that maybe, eventually, we would have a commuter rail. I don't know if you guys have heard the statistic that 110 people move to Austin per day. That's 3,300 people per month! This massive growth is reflected in our increasing traffic issues. So this two car train that stops in nine places throughout the city, has the potential to make a big difference during rush hour. But as a self-proclaimed millennial my biggest concern for the local transportation in Austin is getting downtown to boogie. SAFELY. We've got Uber and Lyft but you absolutely need a car to get around. The metro rail, though specifically for commuters, is trying to change that. Well at least partially.
On Friday and Saturday nights the trains don't stop rocking until midnight! Whoo! It means you can get downtown but once the bars close at 2 AM you'll have to find your own way back! But for $3.50 per ride and I'd say it's more than worth it if you live close to a station.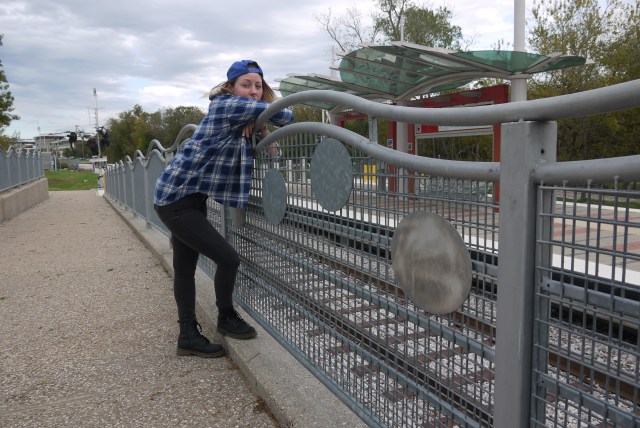 Challenge number four will probably go down in my DIY local travel challenge book as my favorite because it involves food. When I was thinking about which local grub best represents Austin, I went with my gut (pun intended) and chose to feature Tex-Mex. I'm sure you've all heard of this delicious cuisine and some of you may have wondered: what's the difference between Tex-Mex and Mexican food?
In my research, I found that Tex-Mex is basically gringo grub. All the parts that make your beef taco delicious are components added by pioneers back in the day. Flour tortillas, yellow cheese, ground beef, black beans! Yes, all of these things are the American contributions to the cuisine.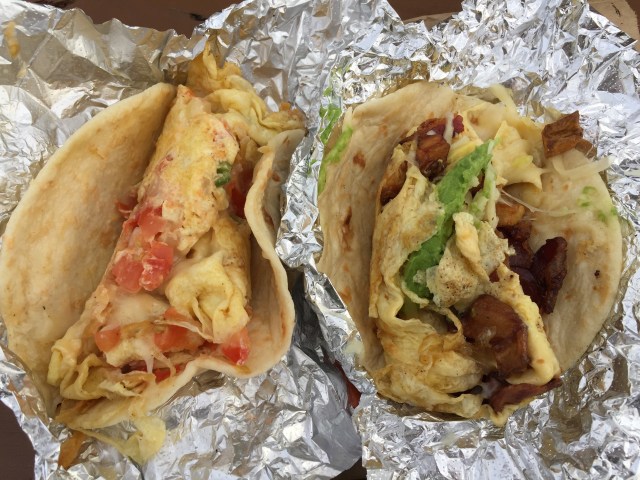 So when I was searching for the best Tex-Mex, I thought, you know what? I'm getting out there so I might as well go for the even more fusioned of the fusioned foods. Take Tex-Mex, add eggs and you get the iconic breakfast taco. I headed to El Chilito, a little taco stand that also has amazing coffee! I got an Ojo Rojo which is horchata and espresso. My taco choices were the Migas and the Cherrywood (a name in homage to the neighborhood it's situated in on Manor Road.)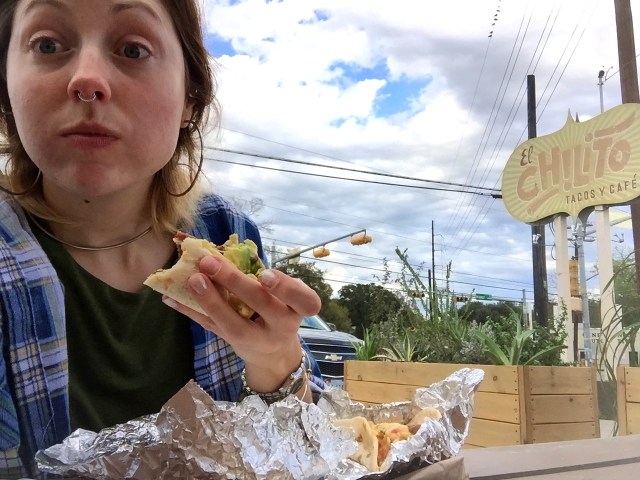 This made for a delightful little brinner snack as breakfast tacos can be consumed whenever! Which I do, as often as I can.
---
Social Media Spotlight
Shout out to all of you who are posting awesome pictures and getting out there! Here's some highlights from the adventures of your fellow 'straddlers during the last two weeks. To be included, just tag @autostraddle and @lezbackpack on Insta and use the tag #GotOutThere!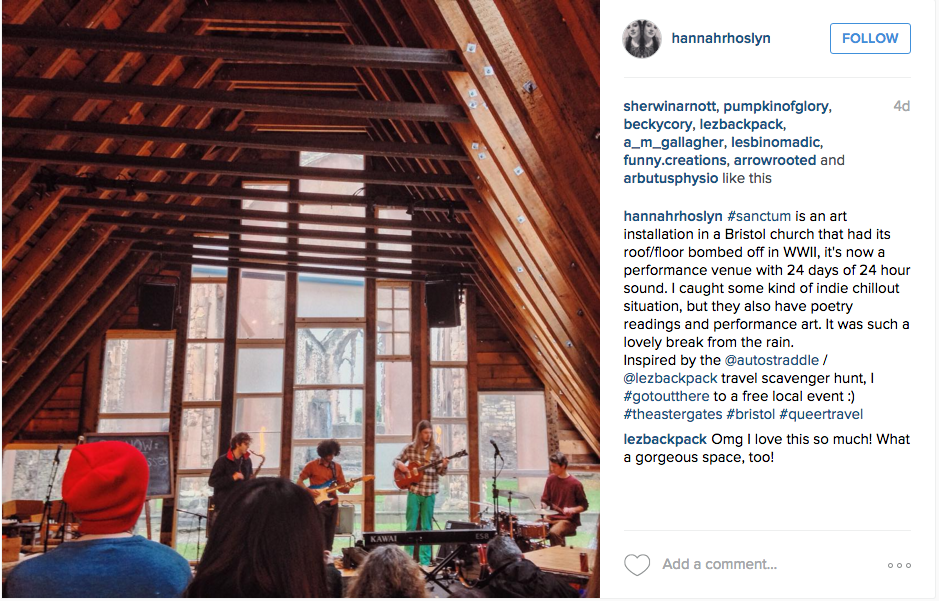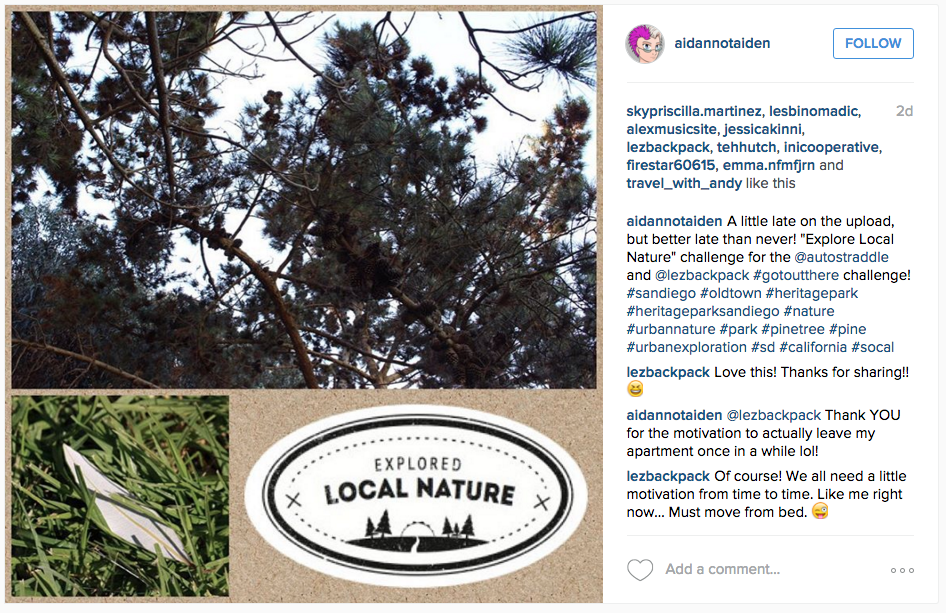 ---
How to Participate
GET OUT THERE. Go see your city! Do the thing! Feel free to adventure solo, form a rag-tag group of adventurers, or even host meet-ups around the challenges and get 'em done in a group! However you wanna see your homespace is up to you. People living in extremely rural places might want to cast an even wider net and include neighboring cities and towns. So many options!
Post pictures and updates from your adventures on Instagram with the hashtag #GotOutThere and tag @autostraddle and @lezbackpack. Users who share their stories on social with us could be featured in posts and every one of y'all will earn bragging rights in the process. (You'll notice the hashtag is a little different from the title of this very series — just roll with it! We're excited for your posts to show how you actually went and did things, how you seriously got out there and saw new places and faces.)
Download, print, and collect our custom passport stamps for each challenge in a DIY passport in order to cherish your memories and remind yourself how badass you are.
That's it! Easy peasy lemon squeezy.
I'm doing the challenges in the order listed below, but you can do them in whatever order you want. Feel free to follow my lead so that you can get tips and inspiration every two weeks, or plot out your own course like the brave soul you are and go for it on your own terms. There's also a Choose Your Own Adventure stamp for those of y'all who wanna think up a different way to see the sights in town!
The Challenges
10/22 – 11/5: Visit a Historic Site, Explore Local Nature
11/5 – 11/19: Take Local Transit, Try Local Cuisine
11/19 – 12/3: Connect and Explore with Someone Else on Social Media Who #GotOutThere, Go To a Sporting Event
12/3 – 12/17: Find a Queer Space, Visit Local Coffee Shops (and pick a fave!)
12/17 – 12/31: Go To a Museum, Attend a Free Event
CHOOSE-YOUR-OWN ADVENTURE: Go way off the beaten path and take on a challenge I haven't even thought of – find a vegan joint, check out all the ice cream shops in town, shop at local thrift stores. Whatever you dream up!
Resources for This Week's Challenges