I told her upfront, possibly even in the OkCupid profile, that I wasn't looking for a longterm relationship. I said I wanted a friend who would go places with me (by which I meant that I wanted a friend who could successfully make me go places with her), and wouldn't care that I spent approximately 700 hours a week staring at a computer and shoving expensive cheese in my face. She said she didn't want anything longterm either because she was busy and focusing on herself these days and was also just looking for a friend. Everything was sweet and cool. We were sweet and cool. And then? Then that sneaky little shit like, totally fell in love with me and asked me to MARRY HER! Who does that?? I mean, we had an agreement. So I said noooo-ho-hoooo.
"No, sorry. I'm not getting married again," I said.
I had done that once, for all the wrong reasons, and then I'd swan dived into another committed longterm situation for some other vaguely wrong reasons and just NO. No we're not getting married not now not everrrrr. Because I thought love was a lie we told ourselves and that marriage was a real cute way of setting everyone up for failure and who has that kind of money, anyway?
But the thing about Megan is— ok actually it's several things. One, she's hot. She just is. She's very attractive and we need to get that out of the way first. Two is that she's literally the kindest person I've ever known, and that includes elderly grandparents, school teachers, innocent doe-eyed children, and Mr. Rogers. She's just spilling over with it. Three is that she's a total fucking weirdo and I'm somehow, by the grace of the sparkling universe, fluent in Meganese, and speaking her language is like a party in my heart.
Four is that she is persistent as all heck.
I knew I loved her and I knew I wanted her to be the one who hollered at me from the other side of the house when we were in our eighties and she was looking for some wine to go with our mashed potatoes. Also I'm a total fucking weirdo too, and she's fluent in whatever language I speak. She doesn't gloat when she's winning at Uno and she once gave me an artichoke for Mother's Day. I stuck to my guns because I didn't want to rush or do anything for the wrong reasons, but I'm only able to resist so much until I crack. On a summer morning in 2012 when I was getting out of my sweat-soaked workout clothes and into a shower, there she was, this time with a ring, and I cracked. I said yes — or actually I said, "…Ok" and she said "OK? Yeah?" and I said "Yes!" and then we probably had sex. Sweaty hot lesbian sex, write that down.
---
Everyone's response when you tell them you're engaged is to ask when you'll get married, which is a totally normal thing to ask. Honestly, there really isn't much else to say besides that and "Congrats!" I know they're just being polite and following protocol, but it was also enough to unravel my whole entire brain because our answer was always "Hahahaha we don't know yet?!?" and that got old fast. We replaced it with "In two years!" because that seemed about right — two years is plenty of time. I wanted to get married in a clearing in Tennessee, swatting away mosquitos and watching lightning bugs in the tree line, so two years felt far enough away that maybe I'd figure out how to get back there by then, how to make that happen. I was also assuming a pile of money would land in my lap with a nice thud, I think?
So I was the definition of Not In A Hurry/How Could We Even Do This Anyway, and Megan was the epitome of Still Not Yet, Huh? And it was sweet and cool. We were sweet and cool. Then one night this past January before falling asleep, I said, "What if we just got married in April?" Megan probably said something like "That's cute, you're delirious. 'Night babe!"
It was still on my mind the next morning, and I wondered when the next lunar eclipse would be, because for whatever reason that seemed urgent to find out. Lo and behold it would be on April 4, right over our darling dear Pacific Ocean. I realized April 4 would also be a Saturday, and I'll be damned if Saturdays aren't just prime days for weddings. So I really thought about it, and I imagined us promising things to each other somewhere other than a Tennessee clearing. It honestly broke my stupid heart, but it also felt real like the solid ground. Like I could spend the next five years imagining a party in the woods, or I could just augment that dream a little and make it real right here. I waited until she was awake with coffee in hand before saying, "Hey what if we got married on April 4? After a lunar eclipse? Out here in the desert?"
"This year? Here?"
"Yeah. Does that sound crazy?"
"Not in Tennessee?"
"Right. We do the ceremony here and have a reception in Tennessee later, in the summer."
"Fuck yeah let's do it."
And do it we shall, little baby beans. FUCK YEAH DO IT WE SHALL.
---
I like a quick turnaround because I can't imagine having months and years to actually plan for something. I know I'd change my mind about all the details and back-burner projects until the last minute anyway, so this functions better for me. We've been figuring things out since late January and we've got 40 days left to finalize how we'll throw a wedding party for ourselves in her parents' backyard. Invitations are being printed and table rentals have been reserved. Other details been hammered out: it's happening at 7pm (sunset is predicted at 6:50 and my third panic attack of the day is predicted at 6:10) followed by appetizers and drinks and maybe dancing. Like who knows, there could be dancing! Who is ever to say, really, whether there will or will not be dancing?
But what about the lighting and the menu and the ceremony? What about the CENTERPIECES, hm?? Who will invent them out of thin air and then round them all up and pack them in boxes and then stack those boxes in their living room next to the sofa for two months? Who will consider, even for a moment, the escort cards? Who will decide on benches or chairs? White or eggplant tablecloths? Are succulents too obvious a choice for Arizona? Do we need a DJ? Do I hate myself yet? Does a bear shit in the woods??
The answers to all these questions and more will be revealed in this miniseries I've nicknamed Really Wedding, Really? but that I've officially named Wedding Feelings I'm Powering Through, because one time I did a series of personal blog posts titled Feelings I'm Powering Through and it was so cathartic I almost turned into a willow tree and never spoke again.
Wedding Feelings I'm Powering Through: 1-10
A couple of these feelings have already been powered through because I've been writing this post for three weeks and it keeps becoming outdated before I can publish it, so pretend it's three weeks ago or something, ok? You omnipresent superhuman, you.
1. Make It alsdkkfjjalsdkfj?
In the "real wedding" stories on wedding blogs, they ask the bride something along the lines of, "What's your best advice?" or "What would you do differently?" and most of the time the bride answers with a version of, "Don't get caught up in the [whatever they got caught up in that they wish they wouldn't have]! Try to have fun and enjoy your day!" or "Make it yours! Don't worry about [whatever self-imposed standard they held themselves to] and just make it yours!"
"Make it yours" is my favorite because it's just punchy enough to sound like real life advice, but vague enough in this situation to be TOTALLY USELESS TO ME. It's like telling me to make this yacht vacation mine. Really get in there and make this space rocket launch YOURS! Don't hold back, make this snowy self-guided tour along the Aonach Eagach Ridge YOURS YOURS YOURS! After about 160 real wedding posts, "make it yours" is starting to look like the Have A Nice Day they have printed on the side of gas station bags.
When you have no idea what you're doing and no long-standing dreams to guide your way, there is no 'yours' yet, so you just start borrowing from someone's/a million someones' ideas until something mercifully clicks.
---
2. Hangout Vibe or Dance Vibe or ???
What if all I want played at the reception is depressing indie folk music?  Nobody can dance to that, but also we're not having a dance floor or a DJ, right? Are we? Megan are we getting a DJ or not oh my god.
---
3. The Dress
I've seen other people online being married in my wedding dress, which is not technically a "wedding" dress. Do I care?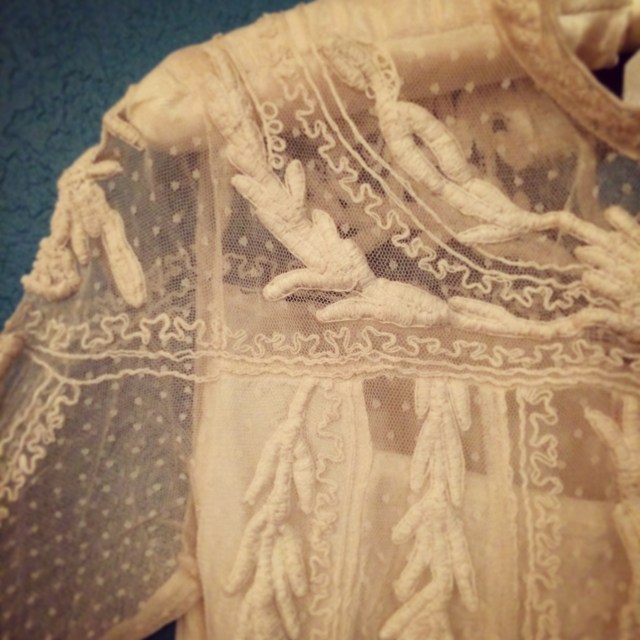 Jury's still out. I don't think I care? I'm mostly just not thinking about it. Other people wear other wedding dresses and you don't see them freaking out about it! Jeez!
---
4. Officiants and the Ceremony Script: How Even
How do people choose their ceremony script and vows?? I've read so many and most of them make me cry after the first three lines, so clearly I'm not cut out for this!
We've chosen an officiant, which was so weird I can barely talk about it. Not because she's weird — she's perfectly lovable and excellent — it's just bizarre to actively find someone you've never met and then ask them to lead you through one of the most deeply intimate and weighted rituals you'll ever be part of? I want to feel as close and dependent on this woman as I did my obstetrician or my mother's hairstylist (she gave me my first pixie cut in '97, so I don't have to tell you the kind of bond that cements between two people), but I'm not. I know she loves the queer community and wants to help make this day as tailored and special as possible, but I don't know if I'm capable of getting out of my own way long enough for that to happen!
In my totally unreasonable mind, I want our ceremony script to be 100% original and something only we have ever said, but I'm thinking that might be outlandish and maybe impossible. I don't write wedding scripts, I write personal essays and emails. Most typical ceremony scripts make me itchy and I've had more anxiety attacks over this in the past month than when my grandmother was on her deathbed! I've read accounts of people stressing out over vows and scripts, only to go the traditional route in the end, and they breezily tell me it was the best decision they made for themselves — to give up that control and say the words a trillion zillion other people have said. I can see that being my truth.
But then I know me, I think. I know I cringe at 298347 things I've done because a lot of times I don't follow my instincts and I take the Ok/Easy Route instead of finding out what I'm made of on the WTF Route. What if I just tried to script this thing from scratch?
I realized last night that wedding vows and ceremony wordings are necessarily things that have been passed down and repeated (almost) verbatim, because that's kinda the deal: we're putting our names on the unfathomably long list of people who once made the same promise. It's the ritual of the thing that grounds it and gives it weight, and I talk/write/think enough already. Maybe on this day I should say some words other people have said, because I feel the weight in them and they feel true without me having to fuck with them.
This is just some unfiltered honesty here.  A feeling I'm still powering through la la la.
---
5. I… Don't Know What I'm Doing
It's a party and I want it to look like one, but I don't want it to look like yours or theirs. Again, how do I know when I'm having a real idea or just mentally vomiting up something I saw on Pinterest three weeks ago? How am I supposed to have an original idea in this whole world ever. ARE YOU THERE GOD IT'S ME MARGARET HOW DO I MAKE IT MINE??
---
6. Linens
Megan thinks she wants the white linens with white chairs and I'm pretty sure I want the eggplant linens with black chairs. Who will prevail? Who will cry into their pillows? (me probably, either way)
UPDATE: Eggplant linens and black chairs it is! And I'm not even gloating about it.
---
7. Where Will Everyone Park?
There is no answer to this question because there is simply nowhere for them to park. They will put their motor vehicles wherever they put them and they'll walk from that space to the house and I will never know how they made it work or where they parked or who received a citation from the city of Gilbert, AZ. Sorry. Let go and let god etc.
---
8. Is There Enough Room for [x] People in This Backyard?
Did you know that Intern Nikki used to be a wedding consultant?? Like I'm sorry but did you know you're surrounded by geniuses at every level here at Autostraddle dot com? Nikki says to allow 10 square feet per person, so I texted Megan's dad.
me: hello happy Saturday! I was wondering if you knew the square footage of your backyard (minus the pool)?
Megan's dad: Not off the top of my head. When not raining will figure it out.
And then I decided to let go and let god on that one, too, because some people are couples and they probably won't need 20 square feet to feel comfortable, right? That's how that works I think.
---
9. Giftz
I don't want people to feel like they're obligated to get us gifts, but I also don't want to make someone feel weird for giving us a gift. We had three separate people laugh out loud when we told them we weren't registered. How do we balance this awkward thing?
---
10. The Look, The Feel of Moss, The Forest Fabric of Our Lives
The look I want skews Deep Inside a Wet, Overgrown Forest in Late Autumn/Early Winter, yet this is taking place in spring in the desert! Those are two very opposite things. What do I do? Can I decorate the place like it's a magical mossy forest floor and just pretend not to notice the palm trees and dry night air? Or do I have to use the season and location that the universe has given me and just play up this desert thing? I mean obviously I can and very well should MAKE IT MY OWN, but with what limitations? Is it just that winter was the latest season I've experienced, so while I'm planning this party those aesthetics are still stuck in my brain? Or do I really truly want this look? I don't know! I don't know anything anymore! I had to get out a calculator to divide 26 by 8 yesterday!
---
Do you have advice? Are you powering through your own wedding feelings? Luckily Ali, Crystal, and Mari are also planning their weddings, and Rachel, KaeLyn and Whitney are already married, so we have a lot to talk about if you want to hash anything out! Email us at youneedhelp @ autostraddle dot com or leave a question/feeling in the comments!