In my adolescence, I spent quite a bit of time in two places — Blockbuster and the library — specifically the Public Library on 7 mile and Chase in Detroit, MI. I called home while writing this to make sure I wasn't imagining this Matilda-esque scenario in my head, but my daddy swiftly confirmed that I dragged him to libraries around the city weekly. I got lost in books and learned about not too far in the past folks, ideas, and places that I became infatuated with, one of them being Andy Warhol and The Factory in NYC. I was reading about this creative space in this city that I was dead set on moving to. Where people who were deemed "weird" or "too different" in their hometowns met, and created art and memories together judgment-free. I, of course, was absorbing this information through my rose-colored Y2K heart glasses, but still wanted to be part of something like that world. While I was in Detroit dreaming about being a part of something like it, elsewhere in the midwest, Vincent Martell was dreaming of creating it.
Martell founded VAM Studio in 2016, and to me, it is the manifestation of the daydreams I had when in those libraries. It's a beautiful collective of Black, brown, and queer artists who are creating and producing art that is meant to simultaneously speak to and disrupt the culture. During an interview with the self-proclaimed Boss-In-Chief, Martell says "VAM was a solution to a problem that was happening in Hollywood, where we weren't getting the access to tell our stories." The award-winning, Chicago-based studio has been setting itself apart since its inception, what stands out for me is the way that community soaks through the collective. They have bought on students from Chicago schools to shadow and work on projects and made it a point to fill their casts and crew with local queer folks who look like them.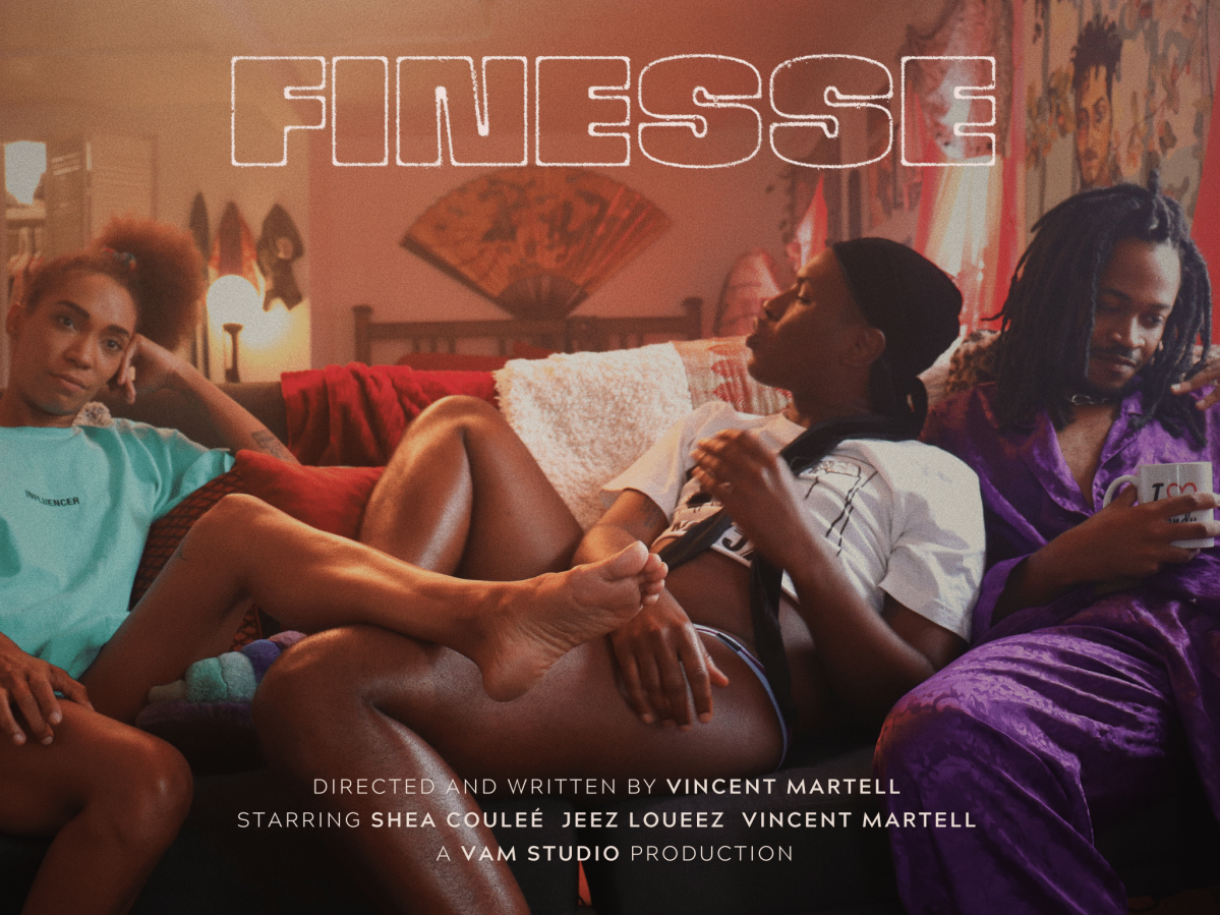 Vam is the home of some of the dopest original content I've seen in a while. Works such as the 2019 web series Damaged Goods, music videos for Jamila Woods, JunglePussy and Jidenna, and last year's Got Game? Which premiered right here on Autostraddle. What I adore about what comes out of this studio is that in so much of their content, I don't have to pick through pieces of characters to stitch together to find a version of myself or my friends. They give them to me, fully formed and sometimes flawed, and say "Pick one".
Up next for this crew is Finesse, "centered around a chosen family of three roommates who depend on one another to get through the world as Black artists and sex workers in Chicago." The series — directed, written, and starring Vincent himself — also features two other Chicago legends. Curator, performing arts educator, and entertainer Jeez Loueez and costume designer, musician, and drag artist, Jaren Merrell — professionally known as Shea Couleé. During our interview I discovered why their on-screen dynamic felt so authentic to me, the three are IRL chosen family and have known each other going on nearly a decade.
Martell pulled from his lived experiences when writing Finesse. His own healing journey, background as a sex worker, chosen family and more, all served as inspiration when writing. The messy (and beautifully lit) characters along with the comedically dark script pulled me in during my first viewing. It also was key to getting Jeezy and Shea to sign onto the project.Both attended Chicago's Columbia College, where they were often stereotyped when it came to studying their craft. It was frequently the case that they couldn't find monologues or characters that they could relate to in any way, when reading the script for Finesse that was quite far from the case. Couleé beamed when thinking back to when the opportunity to play Kizer came about, "Reading this script was a sigh of relief [for] that kid in college that wished they could pick up a script that's representative of them. Finally being able to feel someone jump off the page [and go], wow — this feels like me".
Jeez felt comparatively thrilled about her role as Daryn, "I was excited because especially as a sex worker/stripper, I've been in some shit written by straight white males from the outside looking in. Cos' they went to two sex parties with they wife they think they know. When people who don't have any of these lived experiences, or aren't even talking to naan person that have them it drives me crazy! That's what set Finesse apart for me, I got to bring parts of myself to this character, explore her and bring in the [professional] experience of having character development [and more]? — Sign me up."
When watching the 45-minute pilot, the first thing my kinky little heart spotted in the opening scene with Daryn, was a small church pew. She's in her dungeon surrounded by tools of the trade — an X-frame, paddles, masks — but my eyes went straight to the pew. Religious play is part of my world and for a while, I was ashamed of my want to participate in it. I am a pastor's daughter and grew up in the Black church, as did other members of the cast. When we were chatting about it, Jeezy brought up something that spoke so true. "Black Christianity is just different. It's not just a religion it's a culture, and there is a lot of shame around queerness, sex work or even being a performer in any capacity."
The screen rapidly moves between our cameras as we all give our verbal agreements with what she said. The church is embedded in so many of us and it takes patience, work, and copious amounts of self-love to get to the other side of that shame it instilled in us. Shea wants to continuously work to destigmatize queer, Black sexuality adding, "In a lot of Black Christian culture people will say it's fine as long as I don't have to see it. No, you need to see it because we need to normalize this and you guys need to stop acting like our love and our affection is wrong." Finesse has Black queer sexuality at its core. Martell deems it incredibly important to make sure that these stories are written and told by Black people, and without the guise of white people and execs. "Finesse is us kicking down the gotdamn door and saying, we're going to show you how beautiful it is and how sacred this intimacy between us is."
For me, our entire chat goes back to community.
When I see people from Chicago's Black Queer creative community succeed and get their flowers, I feel proud. I feel like I am seeing someone from my family win — being a Black artist in Chicago does that to you. When you find your chosen family here it's just different. When you connect with the right crew, you share and revel in your successes free of jealousy and anger. That's something I've only found here after surrounding myself with the Blackness and queerness of this beautiful city, and many of the cast feels the same. "We don't create art for the attention of the east or the west coast, we create art just because we love the art. That's the beauty of Chicago. If it sticks outside of Chicago cool, but if not, we made something dope for our people that will last way after we're done." I couldn't agree with Vincent's words more.
Black queer Chicago is community, VAM is community — Finesse is community.
I can tell you from experience that there ain't nothing like a VAM party, fuck the pandemic for not letting me experience this trailer premiere while partying with beautiful Black and brown hotties. I'll think on the positive side though and consider this the next best way to experience it — sitting in my perfect apartment, surrounded by my plants, and in a city that I hold close to my heart.
---
Editor's Note: The following video includes flashing lights and some sexually explicit content/brief nudity.