One morning last week, I logged into my tumblr account to discover that a number of self-proclaimed "radical feminisits" (radfems) had been reblogging and commenting on a photo of my girlfriend and me at a derby party last June. I don't personally know any radfems, so I hadn't had much exposure to their particular brand of feminism, but I was fairly certain that they weren't the biggest fans of trans* people like me. And sure enough, their comments on the photo were littered with transphobia and misogyny:
"That is a lovely photograph of a heterosexual couple.  How long have they been boyfriend and girlfriend?"
"And they think we don't know which one is which."
"Don't y'all know make up and a dress make a woman?"
"See, you know which one the dude is too."
 "You assume I mean the one on the left because s/he is taller. It's not their height that makes them identifiable as a male, it's their maleness and their pretentious femininity. I know height means nothing. I am a 6 foot tall female."
"…Except the one on the right has a vagina and the one on the left either has or has had a penis. Which one is the most masculine of those two sex organs?"
So basically because I am femme, the radfems felt it was their place to invalidate my gender and dismiss me as a "man performing a patriarchal version of femininity." I dug a little deeper and discovered that they not only reject the notion of gender identity as a "tool of oppression," but they're also super concerned about keeping trans women out of female-only spaces like public restrooms. Who knew they had so much in common with Republican politicians?
Thankfully this bigotry did not go unanswered, and by the time I discovered the comments many other tumblr users had called them out on their transphobia. I'm glad that people had my back, but it still made me a little sad to know that the radfems viewed my very existence as such a threat.
 I was feeling better by that afternoon for two reasons. The first is that I made my own response to the people who insisted on calling me a "dude":
The second is that I discovered one of my new favorite tumblrs: Radfem Scorpion! The blog was started by two trans girls in response to the increasingly vocal and transphobic radfem presence on tumblr. It's a way for trans* people, femmes, sex workers, people of color, bi and straight women, and their allies to laugh off the hatred directed at them from this group.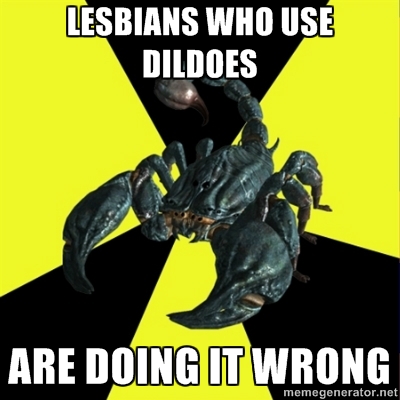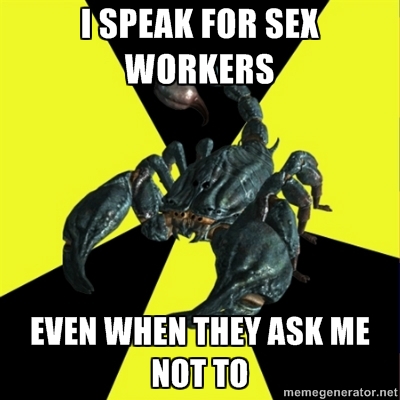 I'm moderating the gender panel at A-Camp, in which we're sure to touch on many of the issues that radfems and I disagree on, like gender identity, socialization, and presentation.
This post goes hand-in-hand with A-Camp's Gender Panel with Whitney, Marni, Annika, Sara Medd, Laura, Alex, Jess, Gabby and Katrina.