The second annual Trans 100 list was announced at a live event on the night of Sunday, March 30th. This list highlights trans people who are helping to make a positive impact in the trans community and the world. Jen Richards, who cofounded the Trans 100 with Antonia D'Orsay, says that the Trans 100's goal is "to create a counter narrative that offers a growing compendium of people organizations and projects that simultaneously reveals the diversity of trans people and celebrates the work being done in the community." She also added that the list "is not a 'Top 100,' 'Best Of,' or even the result of straight voting by the public or volunteers. It is an intentionally curated list of out trans people who are working on trans issues in the United States and having a positive impact." The event included many great speakers and performers, including Richards, Kye Allums, Laverne Cox and members of Trans*H4CK Chicago. This year's list was curated by 2014 Trans 100 Co-Director Asher Kollieboi. If you'd like to watch the event, it's still available to view online (the event starts about ten minutes in).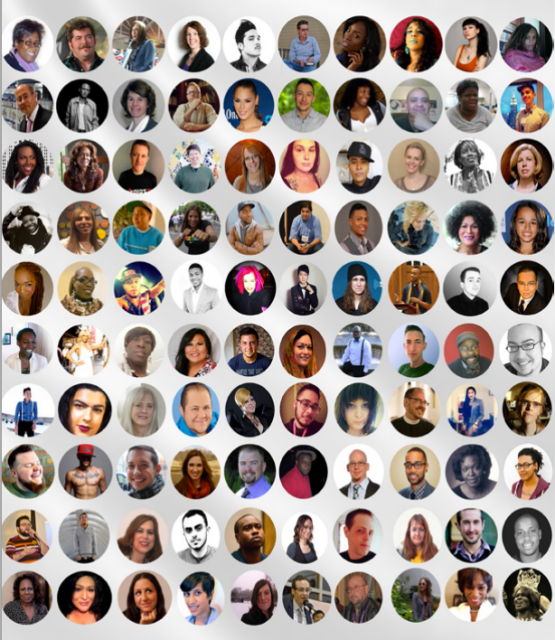 Janet Mock, the author of Redefining Realness and one of last year's honorees, helped to introduce the Inaugural Trans 100 Living Legend Award. She gave me some great advice on how to support trans women.
One way we can work in coalition with trans women is by embracing trans women as women, and hopefully the ones you know, as sisters. This work is one that's harder for many to do due to the misleading and pervasive rhetoric around trans women's identities, lives and bodies being framed as inauthentic and artifice. Combatting this misinformation and replacing it with truth is a powerful first step towards working in solidarity with trans women. Various other ways include hiring the amazing women on the Trans 100; donating your talent, time and funds to the organizations they lead; and incorporating and engaging these women in discourse and actions addressing criminalization, healthcare, reproductive rights, HIV/AIDS, homelessness, employment, domestic violence and much more.
I also spoke with model, Gender Proud founder and recent TED Talker Geena Rocero, who was one of the presenters at this year's event.
It was my first time being in Chicago, so what better way to be welcomed than being at HOME, with my community of amazing trans sisters and brothers. It was a powerful weekend full of LOVE and support. I believe the Trans movement as a whole is at a turning point. We are here and we are visible. We will continue to elevate each other's platforms!

The best way for people to support trans women is by simply supporting our work and to continue to tell our lived experiences. We have a lot of powerful stories that needs to be told NOW! And get to know a transwomen, you'll be surprise what you find out about our feminine divine!
This list is a great way to get familiar with a huge number of trans activists, artists and workers who might not otherwise show up on your radar. It's also a great way to find out about a huge number of ways you can support trans people. Here are some of the trans women and trans feminine folks who made this year's list along with information and links that let you know how to support them and their projects. If I don't have specific information, I provide info on the kind of projects they are involved with. I also talked to several of them to get special insight on how Autostraddle readers can support our trans sisters. All information comes from the 2014 Trans Booklet unless otherwise stated.
---
1. Gloria Allen (Inaugural Trans 100 Living Legend Award recipient)
Allen is an elder trans woman of color who started transitioning in the 1970s. She currently shares her experience and wisdom with young people in Chicago where she is known as "Mama Grace." She runs a "Charm School" where trans youth can learn safety, skills and education in order to live and thrive in the city. Her Charm School is hosted at the Center on Halsted, which you can volunteer at or donate to.
---

2. A. Dionne Stallworth
Stallworth is one of the founders of Gender PAC, the first transgender political action committee in the country and one of the founders and first cochairs of the Transgender Health Action Coalition. You can support her current work by helping out Project H.O.M.E., a housing and support organization that looks to break the cycle of homelessness and poverty.
---
3. Alana Nicole Sholar
Sholar released a memoir, Hung in the Middle: A Journey of Gender Discovery in 2012. She currently shares her experiences as a trans woman by speaking at colleges and public events. You can buy her book (and her spouse's book My Husband Looks Better in Lingerie Than I Do… Damn It!) online and you can check her facebook fan page to contact her about speaking engagements.
---
4. Alison Gill
A graduate of Rutgers and George Washington Law School, Gill now works at The Trevor Project as the government affairs director. Her job is to work through policy initiatives at the federal, state and local levels to advocate for LGTBQ youth health and safety. She also works with the Trans Legal Advocates of Washington (TransLAW), where she helps with trans advocacy in Washington, DC. You can get involved with The Trevor Project by connecting or volunteering or by donating. You can also support TransLAW by donating.
---

5. Angelica Ross
Ross is a modern day Renaissance Woman. She's a writer, speaker, photographer, actress and singer/songwriter. She is also the coordinator of TransWorks, a project that works toward the economic empowerment of transgender and gender-nonconforming people. She also works as a mentor and cofacilitator for The National Trans Leadership Academy. To help out with TransWorks and Ross' work, you can support the Chicago House or go to her website to find out about upcoming appearances and projects. We talked about the important of space and opportunity for trans women.
The trans community continues to be excluded from so many spaces including places of worship, the workplace, and even their own homes. Being excluded from so many spaces also means being excluded from so many opportunities. What can you do? Create space & opportunity. Think about the spaces you occupy, are they safe and welcoming to trans people? Creating more safe and welcoming spaces creates more opportunities for trans people to fully exist as human beings.
---
6. Askari Gonzalez
Gonzalez is a writer, performer, poet and artist.  One way to support her is by buying her book, Trauma Queen, as either an ebook for yourself, or as a paperback to donate to libraries or LGBT centers. If you'd like to book her for speaking engagements, performances or workshops, you can contact her via her website. Also, for next few days, the International Trans Women of Color Gathering, which she is one of the coordinators of, is accepting money for their Indiegogo campaign. She talked to me about a few things people can do to be better trans allies.
Reach out to trans women of color in your community and ask them how to be in solidarity with them, which can look like going to LGBTQ centers and joining trans support groups that are open to non-trans members. Also, any space made safe for women *must* be safe for trans women, and especially trans women of color.
---

7. Bailey Jay
An AVN award winner, comedienne, B-MovieHorror Hostess and frequent podcaster, Bailey Jay is able to reach a huge audience with her wit and irreverence. She's hosted several podcasts, but her newest one is called Gender Coaching with Bailey Jay, where she discusses spirituality, sexuality and challenging traditional gender roles. I talked to her about how she thinks people can best support trans women.
At the risk of being broad, I would say I want people not to be afraid to ask Trans women to define themselves. Including sex workers. Don't limit us or assume what our journey was or how we feel. Ask us. Ask us what terms we prefer. Ask us how our experience was in high school. Let a Trans woman educate you. Maybe I don't care about certain slurs. Maybe they infuriate me. Maybe I always knew I was Trans. Maybe I just found out. I want people to know there isn't one Trans story just because the same one is portrayed by cis people over and over again. We are beautiful, multifaceted individuals like all humans are. When your readers meet a Trans woman, allow her story to organically unfold like you would any person. Don't limit her to being your idea of Trans.
---

8. Bali White
White is a writer, researcher and PhD student in African Studies at Howard University. She previously earned a BA magna cum laude in Middle Eastern and Asian Languages and Cultures and an MA in Climate and Society from Columbia University. She is also a community organizer who works to address transgender identity, legal, health and social concerns. She can be found on twitter.
---
9. Brynn Tannehill
Tannehill is the director of advocacy for SPART*A, which is an LGBTQ organization that focuses on helping service members. She works with active duty and recently discharged trans service members connect with others, find medical and mental health services and get legal support, as the current US military policy requires that all openly trans service members be discharged from service. She also advocates for a trans inclusive military and writes for the Huffington Post and Bilerico Project.
---

10. Carmen Carrera
After first finding the public spotlight on RuPaul's Drag Race, Carrera came out as trans and has now earned herself a successful career as a model and showgirl. She appeared on Katie Couric's show with Laverne Cox and on that appearance, helped to shine a light on the rude, invasive and unnecessary questions that trans women are so often asked about their genitals. She signed with Elite Modeling Management, promotes transgender equality and HIV prevention and was the subject of an online movement to have her become the first trans Victoria's Secret model.
---
11. CeCe McDonald
CeCe McDonald is an incredibly courageous trans woman of color who was sentenced to 41 months in prison after defending herself from a transphobic and racist attack. She's since been released after serving nineteen months and has been advocating the rights of trans women of color and for prison reform and abolition. For more information on prison abolition, you can check out the work of Reina Gosset and Dean Spade. You can also support CeCe by supporting the documentary being made about her.
---
12. Charlene Jacqueline Arcila
Arcila is responsible for the largest trans conference in the US, the Philadelphia Trans-Health Conference. This conference is currently looking for donations, volunteers, workshops, vendors and advertisers. She also is working on a project called H.O.P.E. (Helping Others Pursue Excellence), which will address the needs of trans people being released from correctional facilities and substance abuse programs. Arcila is also an ordained minister at Unity Fellowship of Christ Church Philadelphia and educates liturgical staffs on how to make their chruches more trans-friendly.
---
13. Chella Isabel Marie Coleman
Working in Los Angeles, Coleman is an activist, artist and organizer who educates the public on issues that impact the trans community, especially low income trans women of color. She works with Gender Justice LA and the Los Angeles Poverty Department to serve high risk and low income communities. If you live in LA, you too can get involved with these groups, or you can donate to each of them.
---
14. Cherno Biko
Biko publicly came out as intersex and transgender last year in a one person show called LIFE: Lessons Learned. Since then, Biko has become a board member of TransOhio, the codirector for We Happy Trans and a codirector for Project I Am Enough. Biko talked to me about how people can support trans women.
We need funding resources to do the work we do. But even if folks can't contribute that way, I love Laverne Cox's speech at Creating Change. (We need to) love trans women out in public.
---
15. Cheryl Courtney-Evans
In 1979, Courtney-Evans came to Atlanta, joined LaGender, a transgender support group, and received her certification as a transgender peer counselor. In 2007, she founded TILTT (Transgender Individuals Living Their Truth), which was the first trans support group in Atlanta to serve both trans men and trans women. TILTT helps transgender people with moral support, advocacy, resources and legal information. She also provides trainings for organizations who want to improve their employment diversity practices and is currently helping to organize a group working to establish transgender focused emergency and transitional housing in Atlanta.
---
16. Courtney Gray
Gray founded the GLBT Community Center of Colorado in 2010 and now works as the transgender programs manager. She also worked on the Denver Sheriff Department's Transgender Inmate Policy, the US Department of Justice Transgender Law Enforcement Training, trans inclusive health insurance and the first state-level Transgender Behavioral Health Survey. Gray also volunteers at One Colorado, on the Kitchen Cabinet and Health Advisory Committee. One Colorado is open to even more volunteersand donations.
---
17. Cristan Williams
William started the first trans homeless shelter, cofounded the first ever federally funded trans homeless program, pioneered Houston area affordable health care and has done countless other goods for the trans community. She is currently the editor at TransAdvocate and TheTERFS.com, a long-term member of the City of Houston HIV Prevention Planning Group and the executive director of the Transgender Foundation of America.
---
18. Danielle Nika Askini
A social worker and activist, Askini is the policy director of Basic Rights Oregon and was the founding executive director of Gender Justice League, which takes donations, and Trans* Pride Seattle which you can volunteer at or donate to. She currently works in both Seattle and Portland to help bring justice to trans people in the Pacific Northwest.
---
19. Dee Dee Ngozi Chamblee
Chamblee brings over 20 years of organizing and advocacy to her work which includes health HIV/AIDS research, substance about prevention, mental health, intimate partner violence and counseling. Her organization LaGender, works through SnapCo (Solutions Not Punishment Coalition), which combats police profiling of trans women of color. She also became the first trans woman to receive the Champion of Change honor from President Obama in 2011.
---
20. Dr. Jillian T. Weiss
Weiss is a professor of law and society at Ramapo College where she has authored over fifty academic publications, presentations and scholarly works and about forty article and interviews for organizations like the New York Times and Associated Press. She also is a practicing lawyer who represents trans employees across the nation and serves on the board of directors of Lambda Legal Defense and Education Fund and as the chair of the annual Transgender Law Institute.
---
21. Drian Juarez
Juarez works as a consultant on trans issues in the workplace and helps to develop programs that help transgender people get back to work. She also served as the program manager for the Transgender Economic Empowerment Project of the Los Angeles Gay and Lesbian Center.
---

22. Fallon Fox
The first openly trans woman to be a professional MMA fighter, Fallon Fox has had to face more adversity than almost any other athlete in her sport. One obvious way you can support her is to cheer her on whenever she fights. As a part of the bigger picture, you can check out the Trans*Athlete website to see how you can help trans athletes across the country. She told me that just reading the Trans 100 is a great first step to support trans women.
Just knowing about the people in the Trans 100 and their projects and organizations is an important step. There are an incredible number of resources contained there, so sharing the booklet online helps disseminate that information while also changing the public perception of the number and variety of trans people. Many of the organizations listed are nonprofits and will accept donations and volunteers.
---
23. Imogen Binnie
The author of the novel Nevada, Binnie is currently a Lambda Literary Award finalist and continues to write about trans women and trans womanhood. To support her, you can keep buying her book, reading her blog and checking out her column for Maximum Rocknroll magazine.  We talked about the importance of challenging the misinformation about trans women that permeates culture.
I think my best advice is to start at zero and ask yourself: what do you know about trans women, and where did you get your information? It seems like most television and movie writers don't know any trans women in real life, which means if you can trace what you know about trans women back to old episodes of Law & Order — or even appearances by trans people on talk shows created and edited by cis people for cis people — you might not know as much about trans women as you think you do. Read Janet Mock, Reina Gossett, Casey Plett and Ryka Aoki and ask yourself: is this similar or different from what you've heard from Neil Jordan, Thomas Harris, Stephen Colbert and John Irving?
---
24. Jazz
The youngest person on the list, Jazz is a thirteen-year-old trans girl who bravely came out and has since used the platform that she has to advocate for the rights of other trans children. One of the projects she's involved with is the TransKids Purple Rainbow Foundation. In supporting them, you're helping send trans kids to trans camps, supporting trans youth organizations and homeless shelters, trans youth social events and more.
---
25. Kiara St. James
Kiara St. James was one of the major players in highlighting and helping to change the trans-woman-denying policies that many New York City shelters had. She also has used fashion shows to raise money for the transgender community. Currently, St. James works at the Lutheran Medical Center where she teaches cultural competency, helps to link trans women looking for jobs with employment and does consulting at Housing Works, which has a bunch of ways you can donate or volunteer.
---
26. Kim Watson
The cofounder of Community Kinship Life, also known as CKLife, her organization helps trans men and women with life skills, medical needs, counseling and access to resources. The group also sponsors the CKLife scholarship fund which helps to pay for transition related procedures.
---
27. Lana Wachowski
Lana Wachowski, one of half of the influential filmmaking duo The Wachowskis, who are responsible for The Matrix Trilogy, Bound, Speed Racer and several other films. They also have the movie Jupiter Ascending coming out later this year.
---

28. Laura Jane Grace
Laura Jane Grace is the lead singer and guitarist for the punk band Against Me!. She came out in 2012, and since then has written many songs that deal directly with trans struggles and issues. The band recently released Transgender Dysphoria Blues, which is the highest charting release of the band's career.
---
29. Lourdes Ashley Hunter
For over twenty years Hunter has led a number of initiatives that have impacted the socio-economic growth and development of trans people of color. She is currently the cofounder and executive board char of The Trans Women of Color Collective of Greater New York, which empowers trans women of color to take charge of their own stories.
---
30. Maria Louise Roman
Roman has been one of the leaders in social services for the Latina trans community in Los Angeles for over sixteen years. She was the first trans person to be program manager for Transgeneros Unidas, which is an HIV prevention program. Now, she is a member of the West Hollywood Transgender Advisory Board, a Los Angeles County HIV commissioner and a drug and alcohol counselor at the APAIT Health Center.
---

31. Mattee Jim
Jim is of the Zuni People Clan, Born for the Towering House People Clan. She is originally from Tse'na'oosh'jiin, and currently works as a supervisor for the HIV Prevention Programs at First Nations Community Health Source. She also is a board member for the Transgender Resource Center of New Mexico, the Center of Excellence for Transgender Health out of UCSF and a member of the Statewide HIV Prevention's Community Planning and Action Group and the National Native Transgender Network.
---
32. Maya Jafer
Jafer is currently employed as a counselor at the Asian Pacific AIDS Intervention Team where she serves people, especially trans women of color, in Los Angeles who are struggling with trauma, PTSD and substance abuse. She comes from a long line of healers and has two doctorates in holistic medicine with years of experience focused on trans women's health in India and the US. She is also the subject of the award winning documentary Mohammed to Maya, which is currently looking for sponsors for the final stages of post production.
---

33. Morgan Robyn Collado
Collado is an Austin-based working class femme trans woman of color. She is of Colombian and Puerto Rican descent and works as a community organizer and family builder. She is also a poet, and you can support her work by buying her first book of poems, Make Love to Rage, which will be published through Biyuti Publishing soon. I talked to her about what people can do to support trans women of color.
I think the best way folks can support trans women of color is to know that we are alive. We are not just a headline. So if you don't know any of us or our work, ask yourself why. Who has the most visibility in life? We are the lives of twoc celebrated when they are still alive? Examine who benefits from our erasure. And know that queers would have NOTHING without us.
---

34. Nancy Nangeroni
Since 2008, Nangeroni has served as chair of the Massachusetts Transgender Political Coalition (MTPC) Steering Committee, helping them pass the Massachusetts Trans Equal Rights Bill. She started her trans activism in 1990, and then in 1995 founded the GLAAD award winning radio program GenderTalk, which she cohosted until 2006. In 1998, she lead a candlelight vigil for murdered trans woman Rita Hester that inspired the International Transgender Day of Remembrance.
---
35. Nikki Calma
Known in the Bay Area as "Tita Aida," she has been a part of API LGBTQ HIV/AIDS activism since the 90's. If you'd like to help that community, you can donate, volunteer or help in other ways. She also helped to conduct the first Transgender Community Health Project Survey in San Francisco back in 1997 and served as program supervisor of TRANS: THRIVE, San Francisco's first drop-in center for the transgender community.
---
36. Octavia Hamlett
Hamlett has worked on two trans inclusive bills, which advocated for employment, housing and public accommodation equality for trans people in Las Vegas in the four years since she came out as a trans woman. She is also a lobbyist at Progress Leadership of Nevada, where she raises awareness for issues important to the trans community. She recently won the QUEST: Woman of the Year title in a pageant hosted by the APAIT Health Center, which encourages the empowerment of the marginalized trans community.
---
37. Parker Marie Molloy
Ms. Molloy is a talented writer who has written about feminist and trans issues for The Advocate, Huffington Post, Rolling stone and many other publications. She often brings to light stories that are often otherwise ignored by the media. She wrote a blog about her feelings on the subject, saying that not only is it an honor, but also a call to action.
I feel a true obligation to step up my game. I'm refining my approach to several aspects of my life, including how I use social media, the content of my writing, and my overall outlook on life.

I started writing about trans issues because I witnessed the lack of quality trans media coverage. If I'm going to be in it for the long haul, I need to focus. Less a firebrand, and more a unifier. I amin this for the long haul.
---
38. Precious Davis
Davis is the youth outreach coordinator at the Center on Halsted. There she coordinates youth programming about HIV prevention, trans advocacy and cultural awareness. She is also an artistic associate with the About Face Theatre, a facilitator with the National Conference for Community and Justice STL's Anytown program and she has a strong passion for challenging young people and helping them to see bigotry and prejudice in their communities.
---
39. Red Durkin
Durkin is a comedian, writer and activist who was voted the 2013 MOTHA Performer of the Year. She is the managing editor of PrettyQueer.com and has written nine zines and a piece in Topside Press' The Collection: Short Fiction from the Transgender Vanguard. She also organized a 2013 Change.org petition against trans women's exclusion from the Michigan Womyn's Music Festival and is the originator of the Trans Ladies Picnic.
---

40. Sarah McBride
One of Delaware's favorite daughters, you might remember her from when came out as trans just after completing her term as American University's Student Body President. Since then, she's worked with the Center for American Progress, the Board of Directors of Equality Delaware, several political campaigns, the White House and she was extremely influential in helping to pass Delaware's Gender Identity Nondiscrimination Act. She talked to me about the many different ways people can support trans women.
Contact your member of congress and urge them to support the Employment Non-Discrimination Act (ENDA). Contact – email, call, or write a letter – to the White House urging President Obama to issue an executive order banning discrimination against LGBT people in federal contracts. And urge him not to include any religious exemption beyond the current basic one in federal law.

If you have a story and you feel comfortable telling it, please share it. This isn't to say everyone needs to come out or that everyone needs to be an activist, but know that your voice and experiences matter. We need to tell the stories – both positive and not-so-positive – of LGBT people.

If you have the resources, donate money to your favorite LGBTQ advocacy organization or advocacy organization that does LGBTQ advocacy within a broader portfolio.

I think Autostraddle readers can continue to stand up and articulate that queer identities, trans lives, and feminism are natural allies and intersect in both lived experiences and in cause. Autostraddle and its readers are important voices in combating anti-trans sentiments among the very small, but vocal group of trans exclusionary radical feminists (TERFs).
---
41. Sharyn Grayson
Grayson recently announced her retirement after over thirty years in the nonprofit sector across several states, including her position as Program Coordinator for Transgender Programs and Services at AIDS Project of the East Bay in Oakland. She has received many awards for her work with trans people and plans to establish a national magazine and publishing house to provide an outlet for aspiring trans journalists.
---
42. Tiffany Woods
Woods is the Program Manager for Transgender Services at Tri-City Health Center in Fremont, California. There she helps the trans and gender neutral community gain access to healthcare, hormones and HIV prevention and care services. In 2002, she cocreated the program TransVision, which helps trans women of color with jobs, health services and mentoring.
---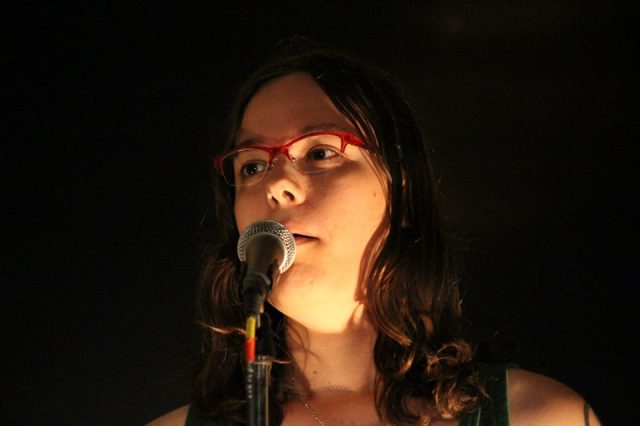 43. Tobi Hill-Meyer
Hill-Meyer won an Award for Emerging Filmmaker of the year in 2010 after releasing her first film, Doing it Ourselves: The Trans Woman Porn Project. She helped to found Handbasket Productions and is currently working on Doing it Again and the website Doing it Online, which she hopes will help create a trans positive culture. Aside from being a filmmaker, she also serves as External Coordinator for Washington's Gender Justice League. She gave me an entire list of ways you can support her.
Organize a screening, workshop, lecture, or talk at your campus. Donate money to the Gender Justice League or help volunteer for Seattle Trans* Pride. Buy/promote my films (use coupon code tpositive for $5 off films). Review my films – get in touch about free review screeners. Join my casting listserve or announcement listserve. Become a member of my soon to be launched website, I really need the regular income in order to keep doing this, or become an affiliate for [that] website- promote it and get a percentage of sales. You can follow me on tumblr/twitter as Tobitastic.
---
44. Tracy Garza
Garza is the cochair of the San Francisco Trans March, the largest trans pride organization of it's kind in the world, which you can support through donations or by volunteering. She is a founding board member of the Transgender Law Center She also recently joined the staff at El/La Para Translatinas, which advocates for trans Latinas in the Bay Area.
---
45. Valerie Spencer
One of the stars of the documentary Beautiful Daughters, about a 2004 all trans woman production of The Vagina Monologues, Spencer has a long history of working within the trans community. She often focuses on health disparities in the trans community and was honored with the Berman Shaffer Award for her years of community service in progressive action.
---

46. Vanessa Losey
Losey is a Pima Indian from the Salt River Pima-Maricopa Indian Community in Scottsdale, Arizona. She is a founding member of the Salt River L.O.V.E. (Lifting Our Voices for Equality) Support Group, which serves Two-Spirit people and provides them with a community.
---
47. Vanessa Victoria
Vanessa Victoria is an executive board member and ambassador of the Trans Women of Color Collective of Greater New York and also works for the Anti-Violence Project in New York City., which can always use more support. Apart from her advocacy, she is also an entertainer and model who started performing when she lived in Puerto Rico.
---
48. Vivian Taylor
The Executive Director of Integrity USA, Taylor is a writer, activist and military veteran. Integrity USA is the Episcopal Church's national LGTBQ organization, which aims to get full inclusion and access to rites for LGBTQ church members. Integrity offers training programs for people who want to help affect change at local, regional and national levels.
---

49. Z Jae Williams
Known affectionally as "Auntie Z," she helped to create the Youth Lounge in Chicago, a drop-in for queer youth where they don't have to worry about ID checks, sign-ins or removal of their possessions. She has the goal to take her work with queer youth nationwide, and with the expansion of Youth Lounge, she is starting on a new project, ARIZE.
---
50. Zackary Drucker
Drucker is a Los Angeles based artist and performer. She uses a wide range of media to express her ideas about identity, bodies and womanhood. Her art challenges concepts of traditional power dynamics, comfort and gender roles. You can check out more of her art online
---
It may seem a bit overwhelming seeing all of these project and groups and people, and seeing that the best way to help them is often by donating money. However, every little bit helps. Even if you can't donate to any of these groups, having awareness about how to help is a great first step in case your situation changes or you meet someone who can do something that you can't. Additionally, a lot of these projects need support that isn't monetary, and all of the amazing, hardworking and talented women on this list need support in every way that they can get it.