Hello squirrel friends. This is week two of the season finale roundup! Whee! Before we begin, here are the major network lineups for fall, based on last weeks' upfronts (I've also included Bravo, 'cause they're so gay):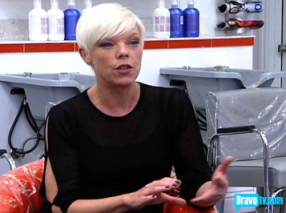 FOX [schedule | previews]
ABC [schedule | previews]
NBC [schedule | previews]
CBS [schedule | previews]
The CW [schedule | previews]
Bravo
Summary: Ugly Betty is moving to Fridays, no new 30 Rock until 2010, Dollhouse and Better Off Ted are coming back, and Bravo greenlit a 2nd season of Tabatha's Salon Takeover. Those are the only things that matter to me.
And now…
The Carlytron TV Awards for the Week Ending on 5/23/09
The GREATEST TELEVISION SHOW OF ALL TIME Award
This should be obvious, but GLEE IS THE BEST THING EVER. Srsly, you guys. It's sooo good. The only sad thing about it is that we have to wait until the fall to see more episodes! It combines the best parts of Bring It On, Election, Popular (one of my favorite shows of all time),  and a big gay musical. Glee was created by Ryan Murphy who, for those who don't know, is an openly gay film and television writer who created the aforementioned Popular as well as Nip/Tuck and I love him. The writing and acting are all top-notch. Jane "The Lynch Can Do No Wrong" Lynch is awesome, as you'd expect, and Jayma Mays is adorable (but more on her in a minute). Also amazing? Everyone else! If you somehow haven't seen it yet — or want to see it a billion more times (I personally have watched it 3 times and have no intention of stopping) — I've embedded it here for simplicity's sake. Enjoy!
The FINALLY Award
The best thing about the Gossip Girl finale is that Blair and Chuck FINALLY got together. Yaaaaay! I can't wait to see how long this lasts! Gossip Girl HERSELF outs every single cast member's secrets so that there are NO SECRETS left to be revealed next season, on Gossip Girl: The College Years. Other things happen too (Georginaaaa!) but the always-brilliant Jacob over at TWOP explains it better than I could.
The SHUTUPSHUTUPSHUTUP Award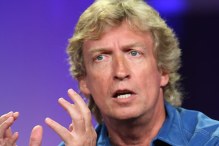 Let me preface this by saying that I am a HUGE FAN of So You Think You Can Dance. I greatly look forward to this show every summer, when I get to watch awesome dancing by adorable and talented kids, get excited over the guest judges/choreographers, and somehow manage to tolerate Mary Murphy and Nigel Lythgoe (you should see my Mary impression sometime, it's really spot-on and terrifying). This season I've decided to skip the audition episodes: they're boring and mean-spirited time fillers that are just repeated once the Top 20 start competing. Therefore, I missed Nigel and the other judges' homophobic remarks to two guys dancing together. But luckily, the entire internet let me know what I was missing (thanks, Internet)! Queerty sums it all up here, but all I have to say is: this isn't the first time they've done this (though it is the most blatant and offensive), but hopefully it'll be the last (yeah right). I'll start covering SYTYCD once the actual competition begins… which is, what, like in 15 months or something?
Well… That Happened: THE AWARD
Desperate Housewives ended this week. We were treated to two hours of crazy meddling and wacky hijinks, but the most ridiculous part was the culmination of the Creepy Dave storyline. Did we really think he was going to actually murder a little kid on a show made with DISNEY MONEY!? I don't think so! That's not to say that the whole thing wasn't completely creepy and awful, cause it was. Also in the finale: Gabby meets her match, Carlos' slutty niece is living with them now; Lynette has another set of twins, Tom goes back to college; Orson blackmails Bree to keep their marriage together but he doesn't know that she's now having an affair with gross Karl; Dave is alive and unwell; and Mike marries someone (either Susan or Katherine) but we'll have to wait until fall to find out who and honestly no one really cares anyway. Oh, this show.
The Are You KIDDING Me!? Award
Oh, Ugly Betty. Poor moved-to-Fridays Ugly Betty. What's going on here? I used to love this show and now it just sorta seems all over the place. This was yet another two hour finale (memo to networks: chill; my DVR can only hold so much) and it ended with Molly dying (guess I jumped the gun a bit last week, sorry!).
However! Rachel Dratch and Rachel Maddow guest-starred — Dratch played twins AND died hilariously, Maddow read a list of things while trapped inside a TV screen — which was awesome. In general I thought the acting and writing was on point for the finale and furthermore, my faves all performed well (Marc, Amanda, Hilda & Justin) and Wilhelmina bonded with Christine Baranski, which was fabulous. And also Betty cheated on Matt with Henry (are you KIDDING ME?), then Matt became her new boss, and then Betty got promoted. Whee!
The ZZZZZZ Award
Despite a decent start last week, the Real Housewives of New Jersey was really lame this week. Totally boring. But next week looks SUPER DRAMATIC so I'm holding out that it'll get better. I hope this doesn't become yet another show I watch out of a sense of obligation and outwardly hate (see also: Grey's Anatomy, Parks & Rec, etc.), but my inner Jersey Girl will undoubtedly kick in and keep me watching. But honestly, these ladies have nothing on NYC, Orange County, or Atlanta.
The Hot Girl of the Week Award
This will go to Jayma Mays, from Gleeeee! She's so adorable on this show! Ack! You might have noticed that she was also on Ugly Betty (as Henry's babymama Charlie) and Heroes (as the waitress that Hiro couldn't save, also named Charlie), but this is the first time I've really really loved her. [Sidebar: What's up with everyone on Glee having been on Heroes? Jessalyn Gilsig, Diana Agron and Stephen Tobolowsky have all been on several Heroes eps.] Her character is cute and nice and an OCD germaphobe (I am immediately endeared to anyone with OCD, as I have that myself) and is totally in love with Mr. Schuester (they're so the new Pam and Jim, you guys. I am calling this right now). And her last name on the show is Pillsbury. Pillsbury! Come on!
The Unexpectedly Fabulous Award
So I got caught up on Bravo's new Project Runway replacement, The Fashion Show, and I actually really liked it! The past two seasons of ProjRun bored me so much that I hardly watched them but I am really enjoying this slightly different (ok, it's mostly similar) take on a hackneyed formula. The best part of this show (aside from the ridiculous Isaac Mizrahi) is this one contestant, Merlin, who can not possibly be real. I think we created him in college.
Sitcom Roundup – Season Finale Edition part 2!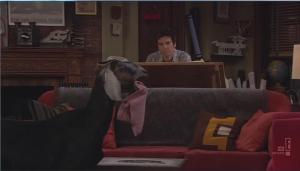 How I Met Your Mother: THE GOAT! Awesome. Totally awesome. Lily came back for real, Robin and Barney Mosby-ed each other and then finally made out, Ted became a professor, and everyone made a perilous jump from one apartment roof to another. Um, now what, assholes? What are you gonna do now? You're trapped on the roof of an apartment in which none of you reside. Also, Ted meets his future wife in one of his classes! Oooooooo.
This season of HIMYM seemed to really polarize fans but I truly, truly adore this show so I'm along for the ride. But they need to get movin' next year, for serious. Also more Robin Sparkles please. And don't forget about the slap bet!
Tron out!