Hello once again, loyal TV viewers! I'm feeling a little better, thank you, somewhat less death-ish today. We have a pretty exciting week in television to discuss, so let's begin, shall we?
First of all, I apologize for saying last week was upfronts week, my favorite week of the year. It's true it is my favorite week of the year (well, other than Fleet Week, wah waaahhh), but I was wrong about the timing — it's actually next week. The Futon Critic has a helpful list of upfront dates and which shows have been picked up or canceled.
The Futon Critic also has a really handy schedule for summer TV! Oh, summer television, you fluffy, silly ball of nonsense, you. I used to hate summer TV, but I have learned to embrace it. I'm the most excited for Weeds, Nurse Jackie, Kathy Griffin: My Life on the D List, the Real Housewives of NJ, So You Think You Dance, and the return (how?) of Tool Academy in August.
Finally, as you may have noticed, season finales are upon us! We had some this past week, and more coming up. As I mentioned previously, E! Online has a handy list of finale dates so you don't miss anything.
AND THE GLEE PREVIEW IS MAY 19TH!! HAVE I MENTIONED THAT ALREADY? I'M NOT SURE IF EVERYONE IS AWARE OF THIS YET.
And now…
The Carlytron TV Awards for the Week Ending on 5/9/09
The AWESOME Award
OMG YOU GUYS. This was probably one of the best Gossip Girl episodes ever in the entire history of the Upper East Side. Everyone was predictably awesome in their own crazy ways. The ponzi scheme executed by Poppy via Gabriel came crashing down when Dan tattled to Lily and consequently Lily tried to clean up the mess Cajun-style, getting her own daughter arrested in the process. That's some crazy-ass revenge right there. Having uncovered this, Rufus nixed his plans to propose. He lives in Brooklyn and is therefore too proud to beg. Jenny (who's finally likeable, what's happening?) showed up with Eric for about five seconds, Blair executed some of her wackiest one-liners ever AND! Then! Chuck told her it was all just a game between them and! THEN! she told Nate to take it slow. Unacceptable! BLUCK 4EVA. Finally, Georgina Sparks is fully back, KA-POW.
Last night's ep was the big 80's flashback episode featuring No Doubt portraying a band called Snowed Out (wocka wocka), basically just setting up Lily's 80's spin-off should the CW decide to pick it up. Next week = finale. Big things are afoot.
The FINALLY!!! Award
Finally, SNL was funny! Granted; Justin Timberlake does the same six sketches every time he hosts … but they're funny! They're really funny sketches. So we don't mind. Although I could do without that stupid Bee Gees talk show crap.
Highlights included  the Target lady, which was weirdly left out of this mostly comprehensive playlist of the episode, and the Digital Short, Motherlover, featuring guest appearances by Patricia Clarkson and Susan Sarandon:
The Hot Girl of the Week Award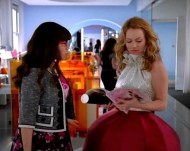 I couldn't think of who to give this award to but then Robin reminded me that I haven't given it to Amanda on Ugly Betty yet. Done and DONE. Amanda's not just the hot ditzy receptionist at Mode Magazine, she's the hot, ditzy, HI-LARIOUS receptionist at Mode magazine. And she's BFF's with Marc. Though her screen time's been short lately, Becki Newton solidly steals every scene she's in.
Also this week was Christina's last episode (boo hoo) and she went out with a bang: stealing Wilhelmina's her own baby (didn't see that coming)! Oh, and a lesbian cop mistakes Betty and Christina for a lesbian couple, which is sorta funny.
Here's one of my all-time favorite Amanda moments:
The Only Lesbian on Network TV Award
Grey's Anatomy's EPIC 100th episode featured a wedding (shockingly NOT Mer/Der, but Iz/Al!), the most tragic college graduation of all time, and LOTS OF LESBIAN SCENES. Thank you, Grey's writers, for finally indulging us a tad bit. You played hard to get for a long time but here we are.

What kind of lesbian scenes, you ask? Well, surprisingly enough, Arizona spent half the episode trying unsuccessfully to talk to Callie about her/their feelings. Callie was busybusybusy with the bloodied college seniors who'd been struck by a semi en route to graduation.
So then A is like "well maybe we should just break up then!" and C is like "yeah maybe we SHOULD!" and they both storm off in a huff and like, srsly, haven't we all had this argument with someone at least once? Sadness. So then they finally talk it out; turns out that Arizona made Callie uncomfortable by taking her to a fancy restaurant (since she's a poor surgeon now) so they cry and cry and decide to stay in and eat pizza or sandwiches or whatever. This is actually a really, really cute scene, and also my favorite way to spend an evening (the "night-in with pizza" part, not the "crying and talking about my feelings" part). The episode ends with Izzie and Alex getting married (cute Calizona moment!) and then our favorite only network TV lesbians naked in bed, laughing and eating. I never thought I'd say this, but … Grey's FTW!
Our awesome Intern Army has provided us with several screencaps of the happy lesbian moments, here for your enjoyment: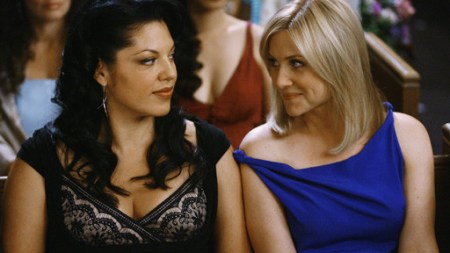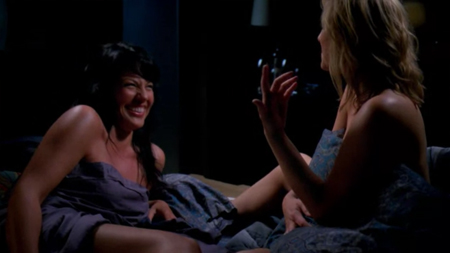 The Dollhouse Award for Dollhouse
This was the season finale (hopefully not the series finale, though things don't look good) and it was a doozy! Flashbacks to Alpha's freakout episode reveal that 1) Dr. Saunders is actually an active named Whiskey imprinted to be the doctor-on-duty after she was attacked by Alpha (they totally teased this reveal last week, if you were paying attention), 2) Whiskey used to be the #1 doll in the whole house until Alpha sliced her face up so that Echo could ascend to #1, and 3) Alpha's episode occurred after accidentally being imprinted with 48 different imprints at once. In present day, Alpha imprints a kidnapped salesgirl with Echo's real-person identity, Caroline, and a totally insane scene ensues wherein 1) Alpha imprints Echo with every single one of her previous imprints, trying to create the Omega to his Alpha, 2) Echo beats the crap out of Alpha, 3) Alpha kills the salesgirl and escapes. We also learn that Alpha's previous identity (pre-Dollhouse) was an attempted murderer, which brings up a lot of interesting 'nature-vs-nurture' debates. io9 has a really thorough recap here, which you should check out. I really want this show to get renewed, not just because I love Joss and Eliza but because I really want to know where they go from here, considering Ballard decided to start working for the Dollhouse, which makes utterly no sense at all and begs the question… what's his angle?
In somewhat related news, Joss has a twitter (so does like, everyone else on this show, but I'm not reposting them all here because they've already been posted everywhere else).
The Sitcom Roundup
Better Off Ted: Finale! Not the best episode of the season but certainly solid. The kitten thing was really funny. Portia killed it yet again. Please renew, ABC!
How I Met Your Mother: Stellaaaaa! Spoiler alert: Stella is not the mother. They're toying with us. This was one of those episodes where they play with the timeline and cause and effect relationships, which they do so well. Also, there was an intervention and apparently the yellow umbrella belongs to Ted. Hey, does anyone else miss Lily?
30 Rock: "I'll hold the chicken." That is all I have to say. Ok, you called my bluff. Jack finds out who his father is, and it's Alan Alda! And he's a liberal Jew! Ha! Also, Tracy gets a fake illegitimate son, Lutz gets his ass kicked, and Jenna gets a catch-phrase, which leads us to an amazing photoshoot that you really just need to see, if you haven't yet.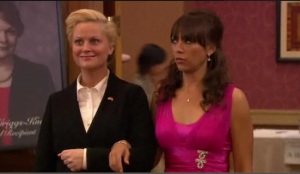 The Office: Cafe Disco dance-off. Awesome dance moves abound. Pam and Jim decide to forego a wedding and elope… and then decide to forego eloping in favor of a wedding. Swell. Dwight and Phyliss have a nice moment together. Other than the dancing, this was sorta lame.
Parks & Recreation: Leslie accidentally cross-dresses. Incidentally, this once happened to Michael Scott as well (I totally have that episode on my iPhone, just sayin'). She and Ann go to a banquet looking like a lesbian couple at prom, which brings me to our television theme of the week: lesbians are SUPER COOL. This episode was not as good as last week's but … it's … okay.
Tron out!