---
"How does it feel to ask for help?wp_postsSammie asked the room. Some of us shifted nervously in our seats and pushed the food around our plates.
This was my first time meeting Sammie Ablaza Wills, Director of APIENC (API Equality – Northern California). I'd recently moved to the Bay Area, and I'd agreed to help with the fall fundraiser because I'd heard APIENC might be a good place to make friends with other queer and trans API's. When I walked into the room that night, Sammie must have greeted me, welcoming me into the space like they did for everyone. I'm sure I was too awkward to respond, too intimidated by their commanding presence and perfect makeup.
At the fundraising session, we were supposed to be calling people we knew to ask them to donate to APIENC, something everyone was apprehensive about. Sammie asked us why we felt nervous about asking people to help in this way. "Because I don't want to bother people,wp_postsmany said. "Because people already have so much going on. I don't want to ask them for more."
Sammie challenged us to unpack why we thought this way. As queer and trans API's, why did we think people in our communities would not be able or willing to support us? Why were we saying no for other people without giving them a chance to help?
I laughed a little in my head when Sammie started talking about how we had all internalized a sense of scarcity and asked what it would mean for us to trust in the abundance of our communities. Those were all big, dramatic-sounding words. Had I just joined a cult?
Really, I was uncomfortable. Why did I always feels the need to downplay my own needs? Where had I learned that it was bad to reach out?
But even more than the fun revelations about my own capacity to self-isolate, what I remember most vividly from that night was that Sammie cooked us a chicken. "None of you said you were vegetarians on the google form,wp_poststhey said, directing us towards the food, "but there's a vegetarian dish just in case.wp_postsFilling my plate with hot rice and a chicken thigh, I was touched at the care that had been put into the meal, the effort that had been put into making us all feel at home.

As an organizer, Sammie believes in the importance of honest, truthful, and challenging relationships, the kind that allow for growth. "I'm not interested in creating comfortable spaces,wp_poststhey said during our interview. "I'm interested in safer spaces where people can be challenged.wp_postsWhen I asked about the experiences that helped shape them and the way they do their work, Sammie began by telling me about their early years in LA's San Fernando Valley. Then, when they were in elementary school, their father passed away. After that, it was hard for their mom to sustain a life for them in LA, so the two of them moved to Las Vegas.
In the Valley, they had lived near their mom's family and a vibrant Pilipino community, but in Las Vegas, they were isolated. This was when Sammie began witnessing their mom struggle to find another job and deal with what they now recognize as depression, alcoholism, and gambling. By 15, their mom had moved out. Sammie did not have stable housing and often didn't know where they were going to get their next meal. "I didn't think I would survive long enough to make it through high school,wp_poststhey said. "Moments of joy and community were my only reprise."
"I'm not interested in creating comfortable spaces,wp_poststhey said during our interview. "I'm interested in safer spaces where people can be challenged."
One of their first experiences with community and collective people power was in high school when the state of Nevada announced budget cuts that decimated arts and elective courses. Sammie became part of a group of high school and community college students that formed the Nevada Students for Public Education. The group painted signs, attended rallies, and knocked on the governor's door. It was the first time they'd seen people coming together to fight for a single issue. The next year, there were still budget cuts, but because of the student activism, they couldn't make all of the cuts they had originally intended to.
During this time, Sammie was also navigating different aspects of their own identity. They'd begun learning more about Pilipino history and the way it had shaped their mother's and their own life. They were also starting to realize they were queer. Growing up, they didn't think that it was possible to be queer or trans and Pilipino. They would hear their mother saying things like, "All the bakla are acting gay, acting American, to get attention.wp_postsThis was alarming to Sammie who felt like they were Pilipino and had no desire to fit into a larger American context. They wouldn't learn that they didn't have to choose between their identities until later.
Through all of this, Sammie went to Stanford, where they found a world that was often difficult and enraging to navigate. They experienced intense culture shock. "Just the fact of stable housing and being able to go to a dining hall and eat at almost any time of day and eat unlimited food was ridiculous,wp_poststhey said. Once, Sammie was in the dining hall when two of their classmates started complaining about the food. They were so angry that these people were ungrateful to have the basic necessities that they got up and ate by themself.
What got Sammie through college was finding other students who were like them, many of whom were activists and organizers. It was one of these friends who introduced Sammie to APIENC. Freshman year, after getting back from winter break, they found that other students already had summer plans because most of them had grown up in families that could advise them about classes and internships. Not sure what they wanted to do, Sammie sat down with a friend to ask for his advice. They knew they wanted to do organizing but couldn't decide between Asian American or LGBTQ issues. He looked at them and said they didn't have to choose between the two. They could do both. "I was shook,wp_postssaid Sammie. "I was just mind-boggled. I had never even considered that I would not need to choose between being Asian American and being an LGBTQ person."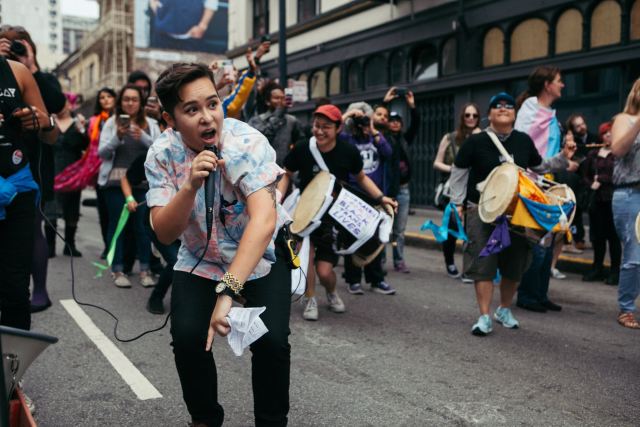 The summer of 2013, Sammie interned at APIENC, an experience that transformed them. They were given responsibilities far beyond what they expected as an intern, even getting to co-lead their own campaign with ASPIRE, a pan-Asian organization of undocumented people. They also gained a community that challenged them to consider hard questions like "Why is it hard for you to trust people?", "What are the barriers to asking for help?", and "What is your relationship with money?wp_postsAt APIENC, they had found a place where they could be all of their identities at once, allowing them to grow into their leadership.
At the time, APIENC was also going through a period of transition. Prior to 2013, the organization had received most of its funding from grants specified for marriage equality work. They took that money to work on local marriage equality campaigns, but also tried to divert as much as possible to other issues. After 2013, when the Supreme Court struck down the Defense of Marriage Act, that funding disappeared, leaving the organization at a crossroads. In a precarious financial situation, APIENC decided to shift its work to center young trans and gender nonconforming people. They also changed their fundraising model to rely more heavily individual donations. That way, they could do the work that community members wanted to do instead of being beholden to wealthy donors or institutions. Throughout all of this, Sammie remained at the organization, aiding in the process of experimentation and restructuring.
When I asked Sammie how they became APIENC's Director, they laughed. "How did I become the director? I don't know!wp_postsThen they got more serious, talking about the fear that they did not know enough and anxieties about not being taken seriously as young person. Many of the experiences they had related to being trans, nonbinary, queer, Pilipino, and a person from a poor background had affected their sense of what was possible. "But at the end of the day, I had been at the organization for three years and the organization was saying it wanted to center young trans people. I'm a young trans person! I thought, 'Let me just try and use all the skills that I've learned about asking for help and being vulnerable and knowing history and hope that's enough."
"I'm a young trans person! I thought, 'Let me just try and use all the skills that I've learned about asking for help and being vulnerable and knowing history and hope that's enough."
Sammie makes sure to talk about all the people who made their leadership possible. Throughout the interview, they reference elders and peers across social movements who continue to support them. They also talk about how leadership can often be difficult in progressive spaces, where we put our leaders on pedestals and then make them targets for our rage. Sammie constantly receives messages telling them what they should do next, something they find exhausting. They have to remember that they're human, that they make mistakes, and that often when people come to them, their feedback is just as much about themselves as it is about Sammie.
Something they find particularly frustrating are people who feel that they can give unsolicited advice without knowing the context of the situation or what Sammie has already done to address the problem. These people often feel entitled to do this because of Sammie's age. Especially because APIENC's membership is trans people who are 26 or younger, some are quick to assume that members don't know or care about history or elders. "There's so much brilliance around us constantly,wp_postssaid Sammie, "and there's a desire to learn from history…[but] it's hard to be told what to do all the time, especially when so many of us come from blood family or assigned guardians that are toxic. It reinforces a culture that prevents relationship building and trust from happening."
Still, Sammie considers it an advantage to be part of an organization made up of young people and folks who are not tied tightly to ideas about how things should be. Because people haven't become jaded by other movement spaces and instead trust the community at APIENC, the ability to imagine is so much wider and there's more of an ability to experiment with things others might not see as possible.

I was about to wrap up the interview when Sammie said, "I guess I didn't talk much about being trans. That's a big part of my life."
"Oh right,wp_postsI said, realizing that I'd asked them to expand on many other aspects of their identity but not this one. "Do you want to talk about that?"
For a long time, Sammie saw gender nonconformity as a performance used to draw attention. It was not until other Pilipino people shared stories about how people who existed outside of the gender binary have always existed in Pilipino culture. This knowledge allowed them to see rejecting the gender binary as a way to fight colonization and imperialism. Previously, they'd felt like they shouldn't take up space as someone who was neither a binary trans person nor who had immediate plans to medically transition, and though they still think it's important to to see the different levels of privilege in trans communities, Sammie believes looking at their transness through the lens of its cultural power made it easier to see the ways being trans had always shaped them.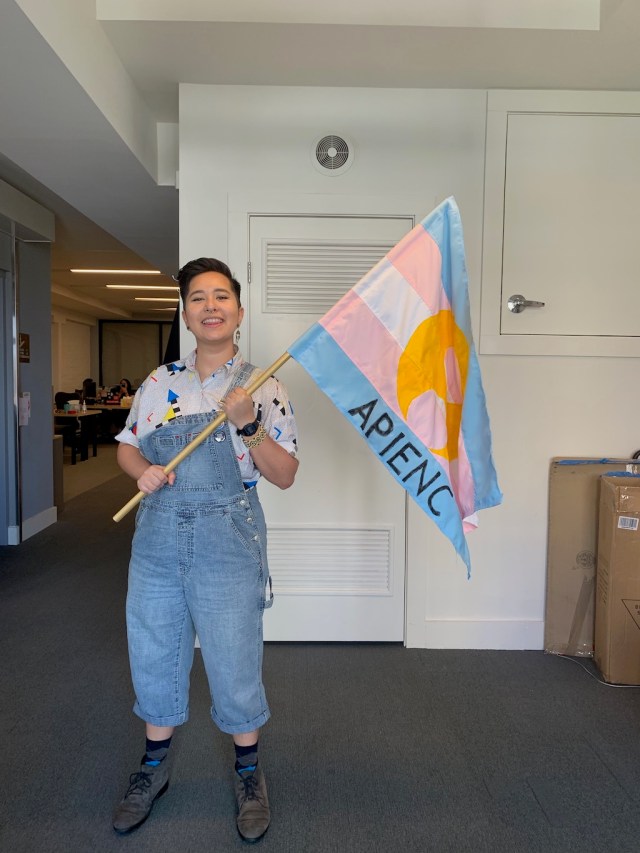 Later, I realized why I hadn't thought to ask Sammie to talk more about their trans identity, even though I'm also a trans nonbinary person. It was because I had internalized many of the things Sammie had been talking about — the hesitancy to take up space, the fear that my gender identity is just a call for attention. For all the years I've been out and seemingly empowered, when I wrote the interview questions, nonbinary identity was something I'd considered too frivolous to ask Sammie about. But listening to them, I remembered how untrue these assumptions were and that by denying the validity of my own identity, I was also denying the people around me. For all the ways we make each other possible and for the relationships that push me to confront myself and maybe try to be a better person, I'm grateful to APIENC and to Sammie.
It was because I had internalized many of the things Sammie had been talking about — the hesitancy to take up space, the fear that my gender identity is just a call for attention.
These moments of connection, forged by emotional labor, are important. They are what allows us to be vulnerable, to ask for help, and to form the relationships that support us, especially in times of crisis. It is the commitment to this kind of work that Sammie believes helped prepare APIENC for this current crisis. Almost immediately after the shelter-in-place order went into effect in the Bay Area, the organization created a phone tree to see what needs members had and moved their programming online to make sure people still had access to community as well as to continue its organizing work.
Now, in a time when we're seeing things that we previously thought were impossible — like the government giving money out on a large scale and city's canceling rent — Sammie is focused on using this time to as best as they can. Still, they want to make sure that relationships and care are centered in their work. When I asked them what they're hopeful for, they said, "I myself am going to be doing work my whole life to understand my feelings and emotions, to ask for help, and to support folks with the different things that they need. I hope that we can use this time to assess what is essential in our lives and to really make sure these changes stick."