What Is Going On Over There, Exactly, Donald Trump
+ After rallying behind him for weeks and insisting that he did not assault a female reporter at a Trump rally, the Trump campaign has now fired campaign manager Corey Lewandowski, reportedly at the behest of Trump's kids: "A senior Trump staffer told New York Magazine that Lewandowski's ouster was the result of a "coup" led by Ivanka, Eric, and Donald Trump, Jr. that took place at a regular strategy meeting on Monday morning, leaving top aide Paul Manafort—another great guy—with the full reins of the campaign."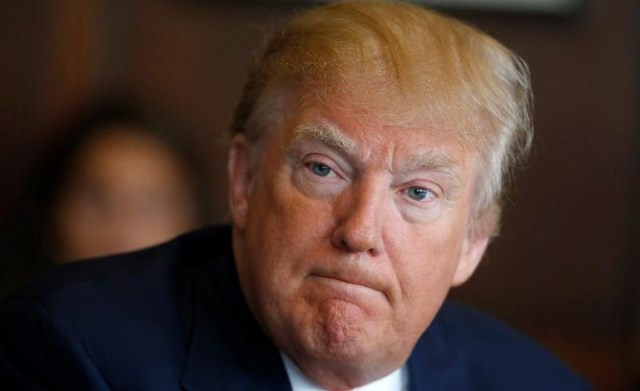 + In addition to the dramatic firing of Lewandowski, Trump's fundraising totals for May were very very low, despite his campaign's claims to the contrary. One piece of that puzzle might be that he has reportedly cycled $6 million of campaign money back into his own companies, accounting for "about 10 percent of his total campaign expenditures." It's not totally clear whether this also supports speculation that Trump and his companies are in poor financial straits, and that that's why he has refused to release his tax returns.
+ Moody's Analytics has looked at the projected outcome of Trump's proposed economic policies and says that "the U.S. economy would plunge back into recession, losing millions of jobs."
+ Here's a profile of Hope Hicks, Donald Trump's press secretary, that everyone's talking about! Full disclosure, I haven't read it yet, but I will and I'm sure it's interesting. I did read this gem, free of context, quoted on Jezebel: "In her senior yearbook, she mistakenly attributed the words of Eleanor Roosevelt—"The future belongs to those who believe in the power of their dreams"—to Jimmy Buffett."
Other Election News
+ Hillary Clinton wants to close the carried tax loophole, which allows people who work in finance to treat their income as investment income and pay lower taxes on it normal income, and says she'll do it even if Congress doesn't want to cooperate.
+ Bernie Sanders has asked the Democratic Party to end the superdelegate system, open primaries to all voters including independent voters, and more changes (while keeping caucuses the same). The Congressional Black Caucus has opposed these changes, saying that the superdelegate system is functioning well and that opening primaries "would dilute minority voting strength in many districts across the country."
Aftermath of the Pulse Shooting in Orlando
+ Orlando police have defended the three-hour delay between their awareness of Omar Mateen's attack at the Pulse nightclub and their storming the club; they've also refused to answer directly about "the possibility that some of the 49 people killed and 53 wounded were, in fact, hit by police gunfire."
+ USA Today reports that many gay bars across the US saw increased patronage as well as leveraging increased security this past weekend; many also collected donations for victims of the Pulse shooting and/or changed their names to Pulse for the duration of the weekend.
+ Cassie da Costa at Feministing on queer touch in the face of homophobia and Islamophobia.
In the days following the mass shooting at Pulse, we've been reminded that we live in society that questions if a black and/or Latinx and/or Muslim person can be queer. This is a society that has no imagination for brown and black skin, one that lacks the capacity to map a history of touch that is past, present, and future, one that cannot truly conceive of a black or brown body as sensuous and vulnerable, but only as violent or as a product of violence. So coming out, then, becomes a perpetual admittance in a fight against erasure. I've seen the possibility that I might be queer displaced by the obviousness of my dark skinned, curvy blackness. To refute that displacement, to assert what I am and am not, would be to challenge a history of violence with one of touch, an act that has taken me until now—when homophobic and transphobic violence is as present as ever—to attempt.
Law & Order
+ In a truly bananas ruling that I just cannot believe, SCOTUS has ruled that "police can use evidence they obtained illegally against a defendant in court." The ruling is related to a Utah case where officers saw a man walk out of a house that they suspected was used for drug activity; seeing that the man had a traffic warrant, they used it to search him, found drugs, and charged him. The Utah Supreme Court agreed that this evidence was found via an illegal search and shouldn't be admissible — but the Supreme Court of the US upheld it. This sets a really alarming precedent that while illegal searches are still technically illegal, there's not much incentive to avoid them or to pursue legal searches, since you can use the evidence anyway. Justice Sotomayor's dissent to this has been described variantly as "blistering," "scathing," "harrowing" and more; she cites Michelle Alexander's The New Jim Crow and notes that while the defendant in the Utah case is white, the people primarily impacted by this ruling will be Black and brown.
"For generations, black and brown parents have given their children 'the talk' — instructing them never to run down the street; always keep your hands where they can be seen; do not even think of talking back to a stranger — all out of fear of how an officer with a gun will react to them …By legitimizing the conduct that produces this double consciousness, this case tells everyone, white and black, guilty and innocent, that an officer can verify your legal status at any time. It says that your body is subject to invasion while courts excuse the violation of your rights. It implies that you are not a citizen of a democracy but the subject of a carceral state, just waiting to be cataloged. We must not pretend that the countless people who are routinely targeted by police are 'isolated.' They are the canaries in the coal mine whose deaths, civil and literal, warn us that no one can breathe in this atmosphere,"
+ As, unfortunately, was predicted, the US Senate failed to pass gun control measures that were brought to a vote by a filibuster by Democrats last week.
+ In Canada, new rules are released about blood donation; men who have sex with men (and likely also transgender women who have sex with men or other transgender women) still can't donate blood, but the ban now lasts one year after the last sexual encounter instead of five.
+ Jennifer Kershaw is the first person in Ohio to win a civil case against an abusive spouse; she was awarded $21 million in punitive damages, although her actual award will be about $3.5 million. In criminal court, her abusive husband was "found guilty of misdemeanor domestic violence and was sentenced to 180 days in jail — 178 of which were suspended — and two years' probation." (I learned from the OJ: Made in American docuseries that in civil court, you apparently only need to prove that it was more likely than not that something occurred, whereas in criminal court you have to prove it beyond reasonable doubt! A fun fact.)
+ In Australia, a man has received prison time for his use of Facebook to harass women — the charge specifically was "using a carriage service to menace, harass, or cause offense."
Police/Prison/Violence
+ In last week's column we mentioned the curious turnover in Oakland police chiefs, with one after the other being replaced after being in office only a few days. Since then, the story has become even more outrageous. It's very worth clicking through to read about it fully, but: the Oakland Police Department is now "under civilian control" with no police chief at all after going through three different police chiefs in only nine days and the revelation that "a number of officers" were involved in sexually assaulting and trafficking a seventeen-year-old sex worker, who was "rescued" by officer Brendan O'Brien, and who then had to "date" O'Brien and other officers to protect herself from arrest. O'Brien later committed suicide. There's also a "controversy" over racist text messages sent internally. Essentially: the police department in Oakland is so corrupt that they can't find anyone who can withstand outside scrutiny well enough to be in charge of it.
+ Tamara Dominguez, a 36-year-old trans woman was killed in Kansas City almost a year ago by being run over with a car. Now charges have been filed against Luis Sanchez for murder and armed criminal action.
+ Last week, Mexican police arrested two high-profile union leaders; members of the teacher's union have protested, and in Oaxaca, police opened fire on protesters, killing six. Witnesses have also reported police firing tear gas into homes and using technology that blocks cell phone communication by civilians.
+ A new video revealed out of LA County's enormous juvenile justice system shows three probation officers violently beating a youth in one of the facilities. It comes at a time when the juvenile justice system, especially in LA, is already receiving criticism for its unsanitary and inhumane conditions as well as its poor and limited offerings of counseling or education, "even though juvenile detention is supposed to be rehabilitative in nature."
+ A new report, Banking on Detention, about the quota system used in immigrant detention for maximum profitability for privately owned contracted detention facilities, and how ICE and the US government are involved.
In addition to the national quota, the immense size of the U.S.'s immigration detention system is bolstered by a series of local-level quotas, written into detention facility contracts as "guaranteed minimums." Guaranteed minimums, which appear mostly in ICE contracts with private contractors (though some exist with local governments), guarantee that ICE will pay for a minimum number of people to be detained at any given time. Because the government seeks to avoid paying for detention space that isn't being used,4 guaranteed minimums are essentially local "lockup" quotas that influence ICE's decision-making about immigration enforcement, whether or not people will be released, where people will be detained, and ultimately, who will profit or benefit from their detention.
+ The Department of Justice says that there will be no charges filed in the death of Kendrick Johnson, a Black teen who was found mysteriously and tragically killed and whose autopsy and subsequent case was handled at best bizarrely by local law enforcement. His family plans to re-file a wrongful death suit that they had previously dropped.
Grab Bag
+ Charles Blow in the New York Times on "the GOP's cynical gay ploy," in which Trump and others try to market themselves as good for LGBT people, and a more desirable option than Democrats.
At first, I couldn't figure out the motive and mechanism of these appeals. Were they about abject silliness, or a political senility, or an exercise in depraved cynicism? In any case, it is flat out wrong and a distortion of the reality — both in the language of hate and the policies of inequality — that queers know and live. Then it occurred to me that these weren't appeals to the L.G.B.T. community at all. This wasn't a way of peeling off the rainbow contingent from liberals' rainbow coalition, but instead a way of making Republicans and amenable independents feel good about supporting the party's schismatic policies. This was a way to salvage nobility for the homophobic, to say that there are factional benefits for tribalism, that liberalism itself is flawed because you can't house the wolves with the rabbits.
+ Former Vanderbilt student and football player, Brandon Vandenburg, has been convicted of rape at his second trial, as well as "multiple counts of aggravated sexual battery and unlawful photography." This trial was the result of a retrial after it was discovered the foreman of the jury in the first trial was a survivor of statutory rape, which apparently makes you incapable of impartiality for some reason.
+ Clinical trials for an experimental Zika vaccine will begin testing on humans in the US in the next few weeks.
+ Afeni Shakur, a Black Panther, activist and philanthropist, was honored at a memorial service in Brooklyn this weekend.
+ A feature on the financial impact of campus sexual assault, and how these "costs constitute a gender-based barrier to student victims' educational access."
+ Oh for the love of Cheezits: a conservative transmisogynistic campaign trying to overturn Washington's protections for trans people, "Initiative 1515," have a plan to "camp out near women's restrooms, ask women for their signatures, then follow them into the restroom if they don't agree to sign."
+ Last week, Labour MP Joanne Cox was shot and killed while meeting with her constituents. Cox had been vocal about her support for the UK staying in the EU, an issue tied up with national sentiment about the refugee crisis and support for refugees seeking a place to stay in Europe. Witnesses say that the suspect in the shooting, Thomas Mair, shouted "Britain First" during the attack, and is linked to "far-right, white supremacist movements."
+ In news that unfortunately is not surprising, harassment on the job is rampant in the US. (Lots of racial slurs behind that link, just a heads up.)
+ The American Counseling Association had planned to hold its annual convention in Tennessee, but after TN passed a law allowing counselors to discriminate against patients if their religious convictions call them to, the ACA elected to hold its conference elsewhere, which means TN is losing out on about $5 million.