by Meredith Woerner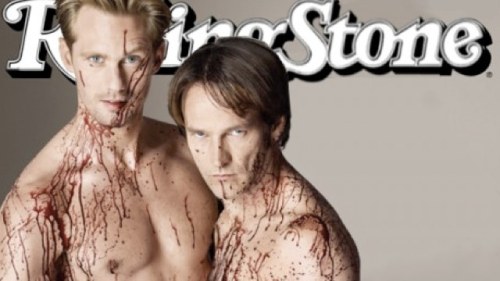 How in Fern Gully porno heaven will True Blood top last year's neck-snapping sex sessions and vampire TV broadcasts? By mixing up the sextation on this show. It's time for Andy Bellefleur to get his! But with whom?
Here's our list of hookups we're hoping take place in the new fourth season. Your move, True Blood.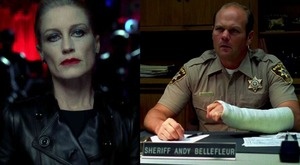 Andy Bellefleur and Nan Flanagan
At first, I was tempted to wish for a sordid past between Andy and Hoyt Fortenberry's Mama, Maxine. Thus planting the seeds of a potential Andy and Hoyt father-and-son, on-the-road episode (perhaps Maxine could blurt out the truth while juiced up by the dirt sex goblin?). But I just couldn't do that to Andy — he deserves better. And even though Maxine and I can both get down in a muumuu to Claudine Clark's "Party Lights," she's still a horrible lump of flesh and a rotten excuse for a human being.
Andy needs someone stronger, someone dangerous, someone who's able to lift him up and physically twirl about his farmer's-tanned limbs mid-coitus. Someone like Nan Flanigan. Bad ass vampire representative, with a mean shade of lipstick and a bitchy haircut. Sure, Nan may not be that into human men (last time we checked in her limo). But this no-nonsense missus could really turn around our beer-bellied law dog from Bon Temps. Andy needs someone with a little structure, who's slightly scary (so he'll actually listen to her). We're tired of sad sack Andy. Nan, it's time to cover Andy with your healing blood and vampiric lady-bits. For the good of the show.
Sookie Stackhouse and Alcide Herveaux
Two great tastes that taste great together? Perhaps. Look we all know this is bound to happen. And if Sookie doesn't get on this soon it could be minutes until we see sneak a peek at Alcide's muscled man-hiney. Also, if she's sleeping with Alcide, this means she's not sleeping with Eric. That's a win for both my personal fantasy fodder and my rapidly depleting store of Sookie tolerance.
Steve Newlin and Jason Stackhouse
There is a real, carnal attraction here — whether it's Jason looking for the role model he never had, or the Reverend searching for solace in the arms of the man he'll never be. The second season was smothered in Steve and Jason's sexual tension. This year, it's time for the disgraced Reverend from the Fellowship of the Sun to step into the light of man-on-man sex.
Sophie-Anne Leclerq And Tara Thornton
Perhaps the only way we can save the two most despised characters of the True Blood 'verse is to get them in bed together? They're both at seemingly critical lows in their character's journey. One is a broke, disgraced Queen. The other was kidnapped by a psychopathic vampire, and raped for most of last season (a bit of information that no other character on the show really seemed to care about). Maybe these two could kind find some sort of peace in between the sheets — or just Thelma and Louise themselves? (That's a great idea as well.)
Barry Horowitz and Ginger
The vampires bellboy/fairy and the skin and bones vampire barback. Ginger and Barry are both such pathetic creatures, they almost deserve one another, don't they? There's no doubt that both could benefit from the deep, soft kisses that come from a life time of being the neglected one. But, then again, Barry could also be a delightful, if not slightly more neurotic, replacement for Russell Edgington's consort Talbot. Still, I think someone needs to spend some serious time stroking both of these shivering, caricatures, reassuring them everything will be OK. Naked or not, that's all just an HBO plus at this junction isn't it? (Assuming Russell gets out of his cement prison).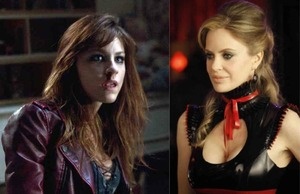 Debbie Pelt and Pam
Coot got Old Yeller-ed. And Yvetta is Fangtasia's day-old trash. So who will these two turn to for comfort in season four? What about each other? I'm not entirely sure Debbie's mannerisms would attract Pam from the get-go, but this aged vampire seems to attract strays. This could be a mutually beneficial relationship for both — Debbie will need protection from those looking for revenge on Russell's lackies, and Pam needs someone to keep her young.
Also on the table (for Pam specifically): Hoyt Fortenberry. Hear me out. I DO NOT think that Jessica and Hoyt should break up. I'm one bad decision away from tattooing this fake couple's initials in a heart on my behind, that's how much I love these two. HOWEVER. How great would a "this is how you have sex with a vampire" session between Pam and Hoyt be? Especially if Hoyt gets offended and turns out to be a lanky, yet respectable) demon in the sack? I can see it now: "Excuse me Pam, but I think I'll take it from here." (Cue the fast flippy-sex athletics.)
Eric Northman And Bill Compton
This has been a long time coming. Now's the chance for Bill and Eric to get their sexual frustration towards each other out, and onto the small screen. It doesn't even have to be pretty — it just has to happen. Although we would delight in a little Compton courting. Flowers, hand-holding, aggressive commands half-shouted in a terrible Southern accent. "Why Eric, I do believe your black heart has chained itself to my lonely soul. Let us retire in each others arms and borough in our pink flesh until the wee hours of daylight." Huzzah!
Originally published on Io9. Republished WITH PERMISSION MOTHERF*CKERS.