Trans Radiance is a new, limited series of positive, empowering stories of trans people doing important, uplifting things, intended to counter the mainstream media's obsession with our deaths.
Today is Transgender Day of Remembrance (and Resilience). November 20th, 2019, marks the 20th anniversary of the original TDOR, created by Gwendolyn Smith in 1999 to honor lives lost to anti-trans violence. At least 22 trans people have died to violence this year, most of them Black trans women. It's important to remember and celebrate the lives of our fallen sisters, and reporting on our deaths may be useful to spur political leaders to action. But other than mourning once a year, what can allies on the ground do?
This series was conceptualized in response to and as an extension of TDOV and TDOR. Increased visibility will potentially be a net positive in the long run, and remembering us after we've passed is important. But we're more than murder victims. We can also focus on the love, beauty, brilliance, talent, activism — the radiance — within our community. This month, we're talking about food.
---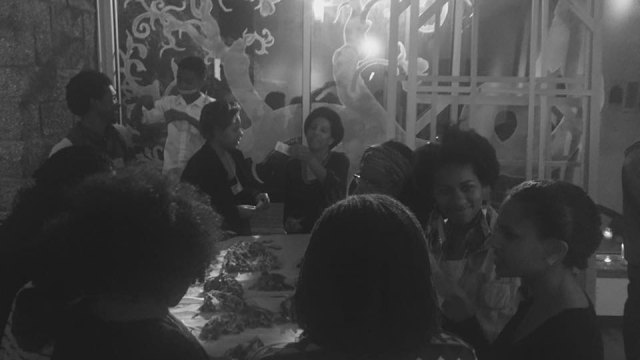 I first attended Black Folks' Dinner around 2014 in Oakland. At the time, I was trying hard to reconnect with my Blackness (as a mixed person who grew up and went to college with mostly non-Black people) and my nascent queerness.
A woman I was dating invited me, saying it was run by Black queer and trans people. I figured I could feed two birds with one scone — connect with Black and queer people — and I did. But it was also transformational.
Hosted in a softly lit, open and inviting, wood beam-exposed BFD member's home, and run by ChE and Emanuel Brown — who I met that night and with whom I've organized, worked, and communed with ever since — I stepped over the threshold and into a vision of Blackness that I'd never before witnessed.
Black people of all colors, body types, genders and gender expressions, and ages communed over snacks and drinks. Chill music backgrounded lovely, powerful, intentional conversations. When the dinner actually started – a lovely, home-cooked potluck  I met older people who shared their wisdom and younger people who shared their enthusiasm. I met some of the first Black trans people I'd ever had a chance to really speak to. I broke bread with my community for what felt like the first time. I laughed — a lot. Later in the evening, a former Black Panther, now in his twilight years, shared wisdom and reflections about the still-emergent Black Lives Matter movement.
Later in the evening we had a song circle. Anyone could start a refrain, either original or from a classic, as long as it was simple enough. It was repeated over and over, so that eventually everyone could join in. We harmonized effortlessly. As the chorus of voices enveloped me, the reverberations shaking my core, I transcended. BFD was queer, Black, trans, intergenerational, visionary, revolutionary.
A few years later, I moved to New Orleans and tried to recreate some of the magic I'd experienced in Oakland. I hosted a Black Folks' Dinner of my own. But because of housing instability, and my own mental health crisis, I wasn't able to sustain it.
When I lived in New Orleans, I primarily functioned in survival mode. Rent was cheap, but housing was seemingly lawless and usually sketchy; I lived in five different apartments in the year and a half I spent there. Jobs paid minimum wage. So I hustled, by selling art at various street markets, doing sex work (this was pre-SOSTA/FESTA), delivering pizzas, working in a tiny kitchen in the back of my local bar, being a barista, and briefly holding down "real" jobs at non-profits when mental health allowed. Eating enough, and well, was always a concern, especially when my depression was bad and ordering delivery seemed the only way I could eat. My credit card bill skyrocketed.
This was the third time in my life I survived without starving because of EBT (food stamps), but the first time I signed up out of desperation, not because I was a volunteer or a grad student.
$200 a month — the maximum amount a single person can get per month on EBT — sounds like a lot. But spread over 30 days, it averages out to around $2 per meal, which is almost doable if you can eat rice and lentils every day. When so many of your peers, lovers, and friends are also struggling, though, it's even harder. Not everyone can get on food stamps — because of immigration status, because they have a low-paying job that regardless pushes them over the income threshold (about $12,000 per year after taxes), because they are disabled and can't cook, or get to the grocery store, or for some other reason. So we shared our EBT cards as a community resource.
I brought homebound friends home-cooked meals when I could or sent them delivery when I could. I was brought home-cooked meals when someone else could. We had potlucks when we could, I put out calls on Facebook when I was going to the grocery store when I could. When I found a great deal, I'd either let as many of my folks know about it and/or buy extra and redistribute it when I could.
Taking care of each other in this way didn't feel burdensome. It felt freeing. It felt like community. That's likely because taking care of each other is a joyful experience, but it might have something to do with the practice of sharing food in particular.
"Neglect is a form of violence. We don't often talk about how Black people die early because they live in food deserts, but that's also violence and that's worthy of examination and conversation."
"Giving to others fills us in so many ways," says Michal AviShai, a culinary arts therapist. "And even more so when it's cooking, because feeding fulfills a survival need, and so our feeling of fulfillment comes not only from the good of the act of giving, but also the fact that we have 'helped' in some very primal way."
Black people in particular, and queer and trans people in general, have long shared food as a survival strategy. Enslaved Africans shared the bits of produce they were able to grow on personal farm plots to supplement each others' diets. Bake sales and other food projects funded, and helped participants survive, the Montgomery Bus Boycott during the Civil Rights Movement. The Black Panthers famously created free breakfast programs.
The radical tradition of showing love for one's community by feeding members of that community continues today, and is exemplified by a project conceptualized by Ianne Fields Stewart, founder of The Okra Project, which hires Black trans chefs to go into Black trans people's homes and cook them a delicious, nutritious meal at no cost.
"We originally thought it was just going to be a holiday thing," Stewart told me. "The holidays can be a rough time, particularly for Black trans folks. We thought we would raise $1,000."
They planned to use the funds to give a few Thanksgiving, and maybe Christmas, meals to Black trans people without supportive family to go home to. But they ended up raising over $6,000 in the first week.
Now with far more resources than expected, and the opportunity to do something bigger, Fields and Nyla Sampson, a friend and collaborator who runs the Black Trans Solidarity Fund, a resource that redistributes donations to Black trans people in need, had to decide what to do with the money.
She sees redistribution of resources, and feeding hungry people, as a concrete response to violence against trans women. "There's only so long that you can watch your sisters be murdered before you find yourself craving to do something more than just hashtag," they say. But they wanted to think beyond the headlines. She wanted to expand the scope of what we mean when we talk about violence against Black trans people. "Neglect is a form of violence. We don't often talk about how Black people die early because they live in food deserts, but that's also violence and that's worthy of examination and conversation."
So they came up with the idea for the Okra Project, named for the popular African vegetable that holds an essential place in Black cooking and Black history.
"I think food, especially for Black folks, is how we express love for each other… Whenever someone cooks for you in your home, it's like they're pouring a piece of themselves, their time, their love, their energy into you."
"I think food, especially for Black folks, is how we express love for each other," they explained. "Whenever someone cooks for you in your home, it's like… they're pouring a piece of themselves, their time, their love, their energy into you. And it makes you feel valued. It taps into a special place for us as Black people. Gathering and communing, and breaking bread with one another."
After that first holiday season, donations kept pouring in. There was pressure to solidify The Okra Project into a non-profit. But Fields and Sampson were skeptical of non-profits, which don't have a great track record in queer and trans communities. Not being a non-profit meant that they can do whatever they want with the money and aren't beholden to funders or stakeholders.
"We continue to do our international grocery fund, which means any Black trans person can apply and we send them $40 so they can get groceries," she explained. They also have other initiatives, and with the Black Trans Solidarity Fund, utilize funds for other community needs. "We've continued to do our 'By Okra' event series… 'Beauty by Okra' is for Black trans women and 'Brotha by Okra is for Black trans men." They're also launching "Spectrum by Okra" for Black non-binary people. Another way they've spent funds was to bail a Black trans person out of prison, or give away tickets to a Broadway show. "We want to make sure we're feeding people in every way," she says; even when that means looking beyond food.
The project has gotten backlash for focusing specifically on Black trans people and not expanding to support other deserving communities, but Fields isn't fazed. "The work cannot and does not happen without conflict," they say. They appreciate criticism and accountability from the community. "Community is all about the good and the bad. It can be painful, but I think that accountability keeps us honest in the work that we're doing. If I'm holding someone accountable, it's because I care."
What's coming in the future? Fields doesn't know. "I wasn't trying to create an organization," she says. As long as the donations keep coming in, they'll keep feeding Black trans people with them. I asked her how people who want to support the Okra Project can do so.
It's simple: "Money and resources." One of the best ways is by signing up to be a Patron, as recurring donations provide a consistent base of support to pay for operational costs. Also essential: 100% of direct donations to the Black Trans Solidarity Fund go to feeding Black trans people in need.
---
Black people, and Black trans people in particular, have always taken care of each other — in order to survive, but moreso because loving and caring for each other is and has always been a part of our culture. It has also been one of the primary ways we've shown resistance, ever since Europeans set foot on African soil. We hid okra on our bodies, brought it to this country, and shared the bounty when it was harvested. And we continue to feed each other.
Projects like the Okra Project tap into this cultural lineage by sharing food as a form of resistance, resilience, and love.
Today we will be bombarded with images and articles about Black trans women's deaths — but fewer about Black trans women loving, supporting, and feeding each other. Fewer about how we keep each other alive. Few about how radiant and glorious and lovable and brilliant we are. A common refrain in trans activism is to "give us our roses while we're still here" instead of just honoring us upon our deaths. Donating to, uplifting, and otherwise supporting Black trans-led projects like the Okra Project is a tangible way we can do exactly that.