+ Argentinean trans activist Diana Sacayán was found dead in her Buenos Aires apartment Tuesday. Her body was found with multiple stab wounds and the entrance to her apartment seemed to be broken from the inside suggesting she let her attackers inside. Police are investigating her death as a murder. Sacayán was a well-known activist who worked with LGBT rights groups Movimento Antidiscriminatorio de Liberación and the International Lesbian, Gay, Bisexual, Trans and Intersex Association.
+ A former New Jersey Walmart sales associate is suing a manager and the company for harassment she endured on the job and ultimately fired from her job because she's a trans woman. Several months after Samantha Azzarano began working at Walmart in September 2012, she informed her manager she was transgender and later in the year began expressing her gender identity and changed her name badge. At the time, there weren't any problems with her coworkers or her performance. It wasn't until another manager, Sheena Wyckoff, joined Azzarano's team in January 2014 that things started to shift. Wyckoff called Azzarano trans slurs, often yelled at Azzarano and wrote her up, which Wyckoff didn't do to cis team members. This culminated in Wyckoff firing Azzarano in June 2014. The lawsuit hopes to stop any ongoing abuse of Walmart transgender employees and the reinstatement of Azzarano's job and backpay.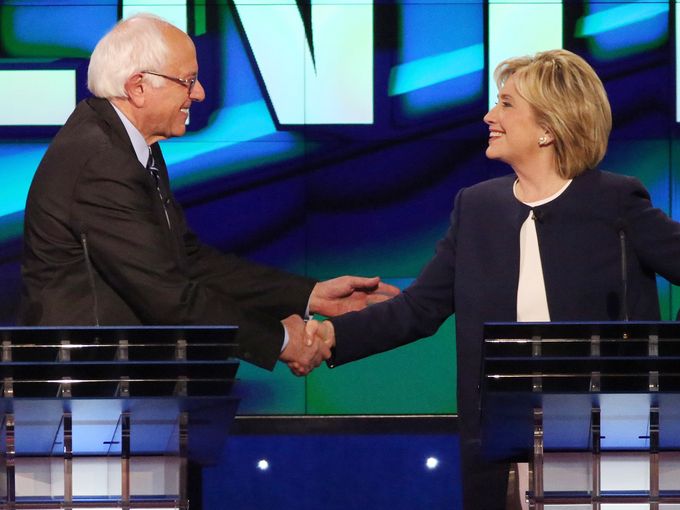 + By now there's been a lot of talk on who won the Democratic debate. Big liberal media names (The New York Times, the New Yorker, CNN, Politico, Slate, New York Magazine, and Vox) overwhelmingly thought Hillary Clinton won Tuesday night's debate while the majority of informal polls and focus groups thought Bernie Sanders won.
+ Palatine's District 211 refuses to allow transgender students to use the correct locker rooms despite The Department of Education's Office of Civil Rights calling the current school district's policy "inadequate and discriminatory." The decision comes after a student filed a complaint with the help of ACLU of Illinois in 2014 because she was forced to change in separate room away from the gym. Superintendent Dan Cates said in a press conference: "This is about matters of student privacy… What they are asking us to do is have opposite sex students in the same open area of the locker room and that we do not do. This is a matter we take very seriously and this policy would undo that." The schools in the district currently allow trans students to participate in sports in accordance to their gender and are given private changing stations. Students can also change in the restrooms for their gender, "as there are private stalls available." If the school district doesn't meet federal officials' requirements, the district could lose federal funding.
+ Kroger, the nation's largest supermarket chain, will be providing full health benefits to trans employees, including coverage of gender-affirming surgeries. The new health plan will roll out in January 2016 to non-union employees.
+ The New York Attorney General launched an investigation into Turing Pharmaceuticals, the company that raised the price of an AIDS drug by 5500% last month. Martin Shkreli, the 32-year-old founder and chief executive of the company bought the rights to the 62-year-old drug Daraprim, which costs less than $1 per tablet to make and is used to treat conditions such as AIDS-related toxoplasmosis. Shkreli increased the tablet price from $13.50 to $750 last month. After much public outrage, he said he would lower the price to be more affordable, which he hasn't done. The New York Times reports: "The attorney general's office is looking not so much at the price increase itself but at whether Turing may have violated antitrust rules by restricting distribution of the drug, Daraprim, as a way to thwart generic competition, according to a letter sent by the attorney general's office to Turing on Monday."
+ Ted Cruz told Iowa voters he isn't sure if gay, lesbian and transgender people should serve in the military. 
+ A Centers for Disease Control and Prevention study finds that Latinos are diagnosed with HIV at a rate three times that of white people. Colorlines reports: "…although HIV infection rates went down for adult and adolescent Latinos overall (from 28.3 cases per 100,000 people in 2008 to 24.3 in 2013) they increased three percent among Latino males who have sex with men. The rate of diagnosis—18.7 per 100,000—was nearly three times that of whites (6.6 per 100,000)."
+ Earlier this week the Supreme Court heard arguments in a case that is reconsidering the sentences of juvenile offenders who have been sentenced to life in prison for murder. The decision could determine the fate of 2,000 juvenile murderers.