One of the cardinal rules of traveling is that you're not supposed to compare the place you're in to the one you've just come from; so by writing this compare and contrast list (did you have to make those in school too?) I feel quite rebellious… granted, in the nerdiest way possible. The thing is, it's too much fun not to compare. These are things you see in New York that you will never see in Edmonton.
1. Rats
In Alberta rats are illegal. We have something called the Rat Patrol which means our border is patrolled to keep the province a rat-free zone. I'm 100% serious. Read about it for yourself.
2. Subway performers
I remember the first time I saw Rent and there was that scene in which everyone boards a train and then sings and does cartwheels and flips, effectively transforming the subway into a dance hall. Musicals aren't known for legitimately showcasing real life and I've never turned an argument into a "Take Me or Leave Me" dance routine; but when it comes to performing on the subway, Rent was right. Groups of mostly black guys routinely board the trains with boomboxes to perform gravity-defying feats of awesomeness.
3. A four-lane street full of yellow taxis
My first week in New York, whenever I was with another person walking through Manhattan, I felt the need to point and go, "Look, a taxi!" like a 2-year-old who has just learned the word "taxi." I had never seen that many taxis in my entire life and every time I tried to hail one, I would burst out laughing because I felt like a bad actor trying to be a person in New York trying to get a taxi.
4. An actually functional transit system
The train runs 24 hours. You can take it anywhere. Enough said. Edmonton, take note.
5. Crowds
If you're thinking to yourself, "But there are crowds in Canadian prairie cities," just stop right now. Yes, there are crowds. There are crowds everywhere. But you don't know crowds until you're waiting to cross the street in Manhattan at rush hour, unable to move while the guy to your right recites bible verses under his breath and the dude to your left keeps "accidentally" brushing your butt with his arm. Meanwhile, all the cars are honking, there's a police siren blaring from somewhere and an arm emerges from the crowd with some sort of flyer asking you to buy something. Is that a baby you hear crying? No, it's you. How can you not cry when there are so many fucking people? There was a time I wanted kids, but there's nothing like Midtown to put the rust on the hands of my biological clock. Why would anybody want to bring yet MORE humans into the world? Aren't there enough already, crawling everywhere like ants, filling every available crevice and surface, making loud human noises, blowing noses, sweating, eating, farting, nail-picking, finding eachother attractive, and then multiplying?
Once I told my roommate, "So I just want to walk along the river for like an hour and not see anybody. Where should I go."
His reply: "Nowhere in New York."
6. People sitting on the steps of brownstones
Think Sesame Street.
7. Groups of 100+ queer women
Think paradise.
8 . Garbage cans that look like this: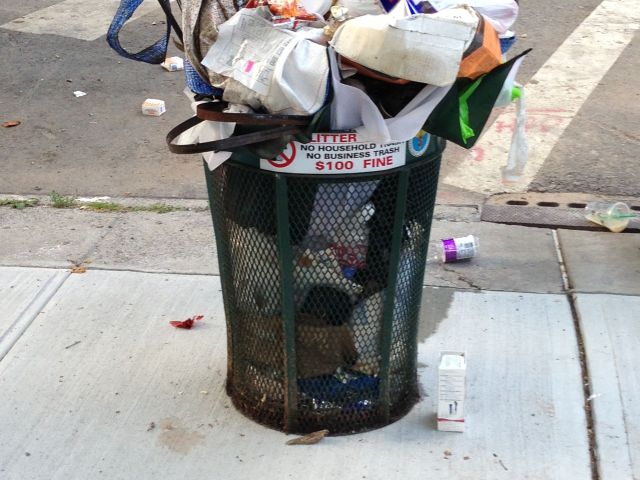 Think olfactory insulting.
9. The best fucking band you've ever heard, smack dab in the middle of a train station
Check out Drumadics! And like them on Facebook!
10. Publishing jobs
When you google "Edmonton + publishing + jobs" you don't get much, but New York is entirely different. There are pages and pages of job descriptions with employers actually asking for applicants with English degrees. Take that all you blank faced, cynical, so-uh-whaddya-gonna-do-with-that naysayers! There are places in the world where English majors are taken seriously and even requested on job postings.