We're celebrating Autostraddle's Fifth Birthday all month long by publishing a bunch of Top Fives. This is one of them!
---
Two of my favorite things in the world are cats and movies, so when you combine the two, it often makes for a magical experience. I don't think it's a coincidence that so many movies about cats are also female-led movies. I didn't even try to look for cat movies that also feature a female main character, and still, four out of five movies fit that description. And the one that doesn't fit still has the cat-related scenes all centered around a woman. It just seems like ladies, cats and movies go perfectly together. So here are my Top Five Movies About Cats in no particular order.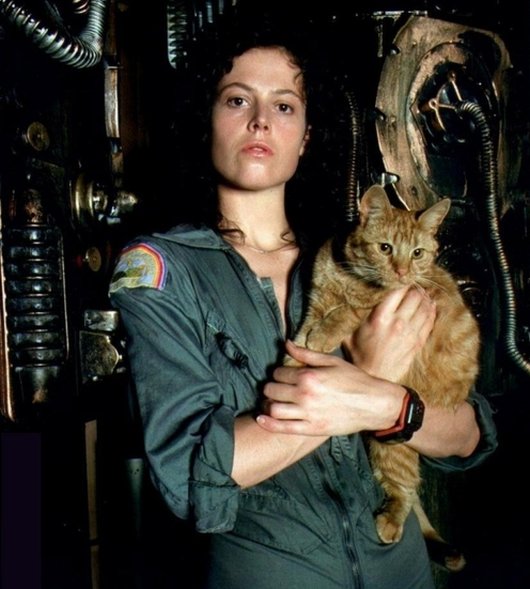 Not just one of the best cat movies of all-time and not just one of the best female-led of all-time, this is flat out one of the best movies of all-time. Alien, otherwise known as How Far is Ellen Ripley Willing to go to Save her Pet? is a thrilling and chilling haunted house movie in outer space. This is a perfect movie for anyone who wants to have a good time, eat some popcorn and feel like a scaredy cat for a couple of hours.
---
Some may say that this is really a movie about bats, but Michele Pfeiffer as Catwoman absolutely steals the movie from under Batman's cape. Seriously, all you have to do is take one look at her in her S&M-inspired catsuit and you'll forget that she wasn't top billed. Some people may prefer Anne Hathaway's portrayal in The Dark Knight Rises, but for me, nothing can beat Pfeiffer's over the top cat puns and sexy slinking walk. Her dangerous and strange sexiness definitely helped to inspire a generation to try things out and be a little kinkier.
---
This is a Canadian TV movie from 2004 that's also known as Mrs. Ashboro's Cat. I don't really know if this movie actually qualifies as good, but it isn't terrible. It deserves its spot on this list simply because it features an adorable little 16 year old Ellen Page (a full three years before she played a sixteen year old in Juno) in a Gemini Award winning role. So if you want to see one of our top two favorite famous gay Ellens before she was super famous, you can check this one out on Netflix Streaming.
---
Easily one of the best movies of the early 2000s. it has such a perfect cast of ladies, with everyone from Rosario Dawson, Tara Reid and Rachel Leigh Cook as the titular band to Missi Pyle and the incomparable Parker Posey in amazing supporting roles. In my opinion, this one of the best movies ever about female friendship and when I was younger this was exactly what I wished my early twenties would be like. Josie and the Pussycats is also a brilliant takedown of pop culture and the music industry that was way, way ahead of it's time. Plus, it has a killer soundtrack featuring Kay Hanley from Letters to Cleo.
---
This lovely French film from a couple years ago was actually nominated for an Oscar for best animated feature (in the same year another cat movie, Puss in Boots, was also nominated), and like the rest of the films on this list (and unsurprisingly a lot of other movie about cats) is actually about a girl and her relationship with her cat. This movie has it all, simple, yet beautiful animation, a hard-working and courageous single mother, a suave cat burglar, a truly despicable villain and an array of tense chase scenes.
---
I have to give a special mention to The Aristocats, The Cat Returns, The Lion King and Cats Don't Dance (which gave my cat Sawyer her name) four other animated cat movies that were all on this list at one point or another before I realized that I wanted to include some live-action films too. Really, though, you can't go wrong with any of these cat-themed movies, or plenty of others. I'm sure that there are dozens of others that I left off and even more that I haven't seen yet and still have the chance to enjoy.
Header by Rory Midhani