Sure, we have to be careful about corporations going after the rainbow dollar. We have to ask questions like: How friendly are these corporations to our communities when they aren't looking to make a profit? How far are we willing to allow "equality" to be literally capitalized upon? If you wrap junk food in a rainbow wrapper or use artificial dye to make it rainbow colored, does it actually taste gayer? Regardless of how you feel about corporations trying to seduce us with their glossy LGBT ads, it says something about where we are that LGBT people are being featured in ads at all. Here they are, in no particular order, the best LGBT ads of the year featuring queer and/or trans women.
1. Chobani's "Love This Life" Ad

This ad was part of Chobani's "Love This Life" campaign and shocked conservative yogurt fans (Ok, it was One Million Moms.) with its scandalous Greek-yogurt-eating naked ladies gently stroking each other's feet and stealing the bedsheets in a way that really screamed "gals who are pals." For the record, that is not how I react when someone steals my blankets.
2. Anouk's "Bold is Beautiful" Ad

Homosexuality is stigmatized in India, and sex with someone of the same sex is criminalized by Section 377 of the Indian Penal Code, so it was a really huge moment when Anouk, an Indian clothing company, chose to release this ad featuring a young queer couple in love, preparing to come out to one of their families. It is a long one, but worth the time and beautifully filmed.
3. Wells Fargo's "Learning Sign Language" Ad
https://www.youtube.com/watch?v=DxDsx8HfXEk
The so-called American Family Association and evangelical religious organizations got real mad about this heartwarming video about two moms learning sign language so they can communicate with the deaf daughter they are adopting. I'm not crying, you're crying.
4. AT&T "This is Me" Ad

Well, this ad just keeps getting better and better. A gloriously diverse cast of couples representing the LGBT community, and everyone is nice to everyone. I think this is what the world would look like if we put all the hetero people on an island and literally everyone in the world was queer and/or trans.
5. & Other Stories (H&M) "Athleisure Collection" Ad Campaign

& Other Stories, a company owned by H&M, released this video featuring five transgender creatives who were featured in a 2015 ad campaign for an "athleisure capsule collection." The ads featured two trans models, Valentijn De Hingh and Hari Nef, and had a creative team including three trans professionals, Amos Mac (photographer), Love Bailey (stylist) and Nina Poon (makeup artist).
6. Doritos' Pride Chips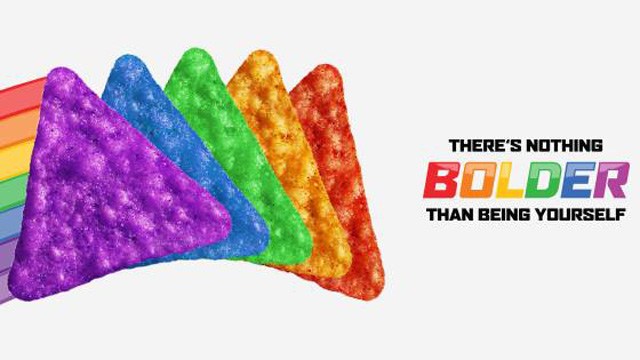 In the long-standing tradition of marketing junk food for Pride, Doritos created a limited edition rainbow flavored product. Apparently they tasted like cool ranch and freedom; I wouldn't know.
7. Hallmark's "Put Your Heart to Paper" Ad
https://www.youtube.com/watch?v=Y6XGYifGseg
Geez, these women are such cuties and they have such great glasses. "She's so many things to me. She means being excited for the future and the right now." OK, cool, not tearing up, it's fine. Buy some cards, I guess!
8. Target's "Take Pride" Ad
https://www.youtube.com/watch?v=4Ji8OpjSCXE
I'm really concerned about that women walking down the center of the freeway. That seems kind of dangerous, but what do I know? Hope she is safe! Target loaded their shelves with rainbow-colored everything and released this video ad showing gay and lesbian people spliced with bits of gay and lesbian history for Pride this year. Remember when Target got caught giving massive donations to an anti-gay candidate a couple years ago? That was fun!
9. Lucky Charms' "Lucky to Be Nic and Kelly" Ad
https://www.youtube.com/watch?v=Tyn7p4EVVas
There is a very cute dog with lesbian moms in this ad. Just letting you know. These chicks are cuties and apparently their wedding was magically delicious.
10. Gap's #GotYourBack Ad

As part of GLAAD's #GotYourBack Campaign, this video can get a little sadface, but it's ultimately a surprisingly authentic message from the Gap, told by their actual employees. So put on your everyday khakis and get into it.
11. Tylenol's #HowWeFamily Ad
https://www.youtube.com/watch?v=c33dTK7nUqo
Johnson & Johnson got kinda political with this one. Also, there's some lesbians at prom in there. Did you see them?
12. Gatorade's "Forget Me" Ad featuring Abby Wambach
https://www.youtube.com/watch?v=BGQZ5FfvP3E
Get your tissues out. Abby Wambach, my hometown hero and the world's favorite Women's World Cup lesbian sweetheart, is going to hit you right in your bleeding liberal feminist heart with this one.