2015 was a very good year for the kind of weddings we're very into here at Autostraddle dot com: those which are gay as fuck. It'll be forever remembered as the year the Supreme Court declared gay marriage the law of the land, and more than a few of our own team members tied the knot. It was also a great year for high-profile, high-fashion celebrity weddings, as well as a year chock-full of historic ones around the world. Coincidentally, it was also the year I went to my first gay wedding, it was cute, so is Geneva.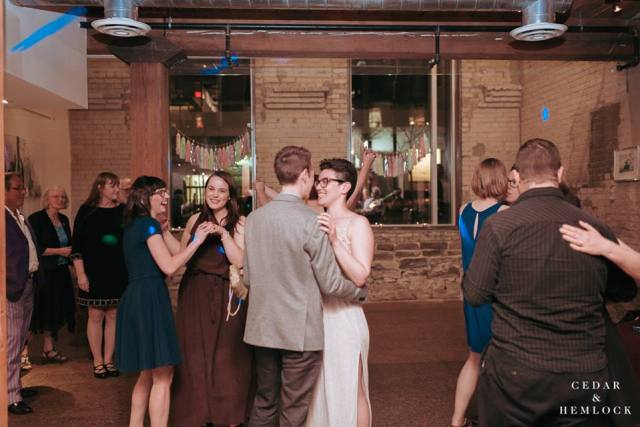 ANYWAY, ENOUGH ABOUT ME AND MY OWN LOVE! As the year comes to a close, let's take a glimpse back at ten of the best weddings uniting two gay ladies forever and ever that moved us all deeply this year.
---
Ali & Nicolette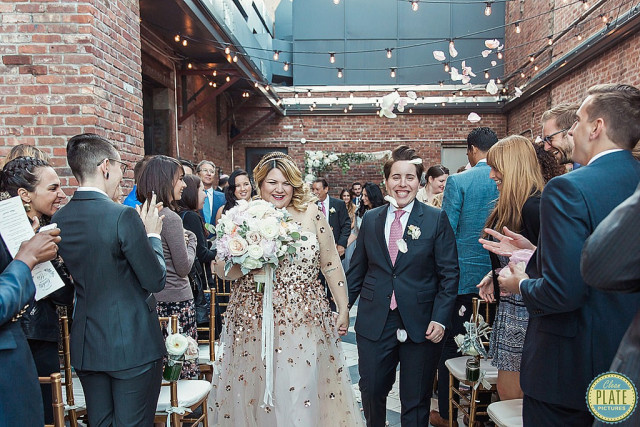 It will forever go down as the most fabulous same-sex wedding ever. Style blogger and fashion powerhouse Nicolette Mason tied the knot with Ali Talan in May in front of a star-studded group of their similarly high-powered queer BFFs, and all of Instagram lived in awe of the event for a solid 48 hours.
---
Carolyn & Shannon
Autostraddle's very own NSFW Editor Carolyn Yates married Shannon Watters of BoomBox! Studios and the Lumberjanes universe in September, after a solid chunk of time spent processing her feelings about immigrating to America and leaving Canada. The best part of their wedding is that now Carolyn lives in Los Angeles and we can casually meet up for beers in Silver Lake whenever we fucking want.
---
Catherine & Ingrid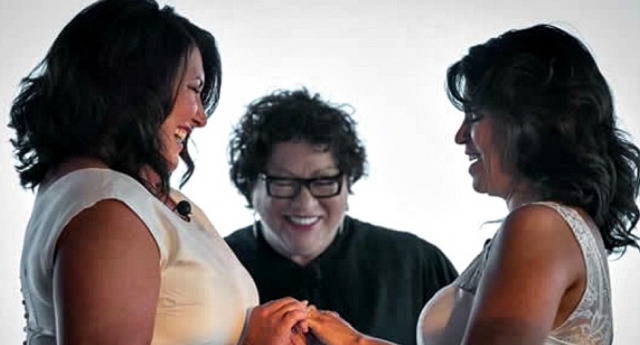 Political power couple Ingrid Duran and Catherine Pino, founders of D&P Creative Strategies, had a very DC wedding this October. Their nuptials took place at DC's Potomac View Terrace, and Democratic lawmakers I probably would die to eat brunch with were present. Oh, and did I mention Supreme Court Justice Sonia Sotomayor presided? Because yes, daddy, she did.
---
Crystal & Katie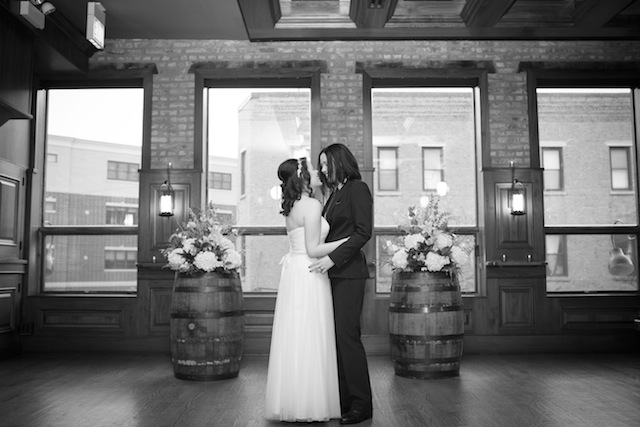 Autostraddle HR Director Crystal married her person Katie in October, pulling a Carolyn and moving to America in the process from the (very far away) Australia. I hope there were a lot of Cheesecake Factory gift cards offered that day to the lucky couple, who went out the next night for Crystal's first Halloween.
---
Fran & Naomi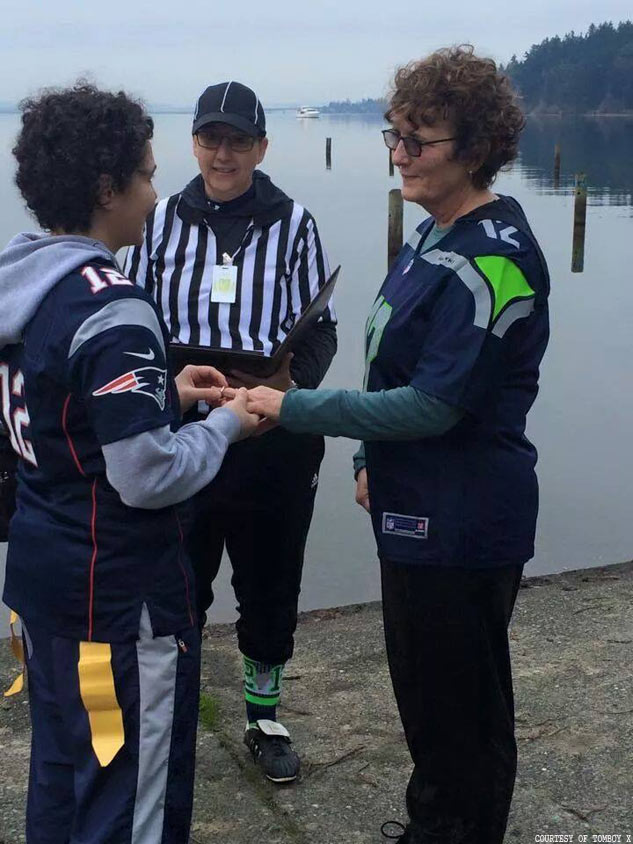 TomboyX co-founders Fran Dunaway and Naomi Gonzalez surprised some of their closest friends with an impromptu wedding ceremony the day before Super Bowl Sunday, which sounds like something out of a lesbro dream. The nuptials happened in the middle of a flag football games with their friends, and each wore an outfit representing an opposing team while a ref declared them wife and wife. My biggest disappointment is that I'm unsure if anyone made a joke about "scoring."
---
Genevieve & Kendall
Carrie Bronwstein and Amy Poehler showed they're truly up for anything when they married a couple during a Q&A sesh on Brownstein's book tour in November. Kendall Oshiro and Genevieve Hernandez asked Brownstein to officiate their wedding as she was taking questions, and Poehler played Greensleeves on the piano because that's what she knows how to play on the piano, okay. The couple came prepared with a marriage license and, in return, got what I can only imagine is the wedding of all of our dreams.
---
Hiroko & Kuyoki
Model and TV personality Koyuki Higashi and LGBT activist Hiroko Matsuhara became the first-ever officially wed same-sex couple in Japan in November. The couple of four years made history as they vowed to love each other forever and ever, though Japan's fight for LGBT equality continues to rage on.
---
Laneia & Megan
After powering through a healthy amount of wedding feelings like a fucking champ, Autostraddle Executive Editor Laneia married her partner, Megan, in April. No doubt it was a splendiferous affair, especially since y'all helped them make the playlist.
---
Mari & Penny*
Autostraddle Contributor Mari Brighe married her partner this May while a bunch of us were up on a mountain at A-Camp, and it was extremely adorable. We were all understandably psyched as fuck for Mari to wear the dress she said yes to and celebrate having found a deep and affirming love she hadn't expected as a trans woman, and in return she hosted a Friday Open Thread with y'all that weekend. It was great.
---
Shanté & Tori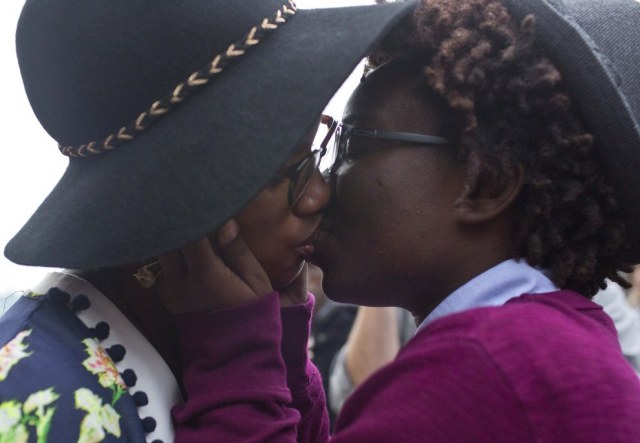 Tori Sisson and Shanté Wolfe were the first same-sex couple to get married in Alabama this February. They'd been together for over two years, and were determined to get married in their home state — so much so that they camped out in front of a courthouse not once, but twice that month as Alabama's tumultuous gay marriage fight went on and on.