feature image via Shutterstock.
I've been working on this piece on and off for almost a year. Sometimes I'd stop thinking about it because mostly I work from home or I'm at The New School, and so the problem goes away, but then I do things like fly on a plane and try to work from an airport. On a research vacation (the kind of trip that is a mix between work and something you super want to do) to the Grand Canyon, I sat for a good long time in the Phoenix Sky Harbor International Airport. I intended to work. Instead I just sat there, fuming because Autostraddle was blocked on their WiFi. I couldn't even get into the WordPress back-end of the website. I can't remember what it was categorized as — "pornography" or "gay and lesbian content." In the handful of times I've brushed up against filters, I've seen it marked as one, the other or both.
Sure, I could have gotten around it. But that would have interrupted my anger. Sometimes it just feels good to be pissed off.
The reason I haven't been able to write the piece, though, is because I can't seem to find someone on whom to lay the blanket of my anger. When I spoke to an airport employee, they didn't really seem to have noticed there was a filter at all. And so they had nothing to tell me. "I thought it was just there to block adult stuff," this person said. There was a point in my life where it wouldn't have mattered that this is a nuanced problem and that it's a perfect storm of systemic homophobia and not any one person's fault. I would've just gone rage-bananas all over everything and written something very angry. I'm a little more laid back now. So I took my time, correctly predicting that this problem won't be going anywhere anytime soon.
In the past year, I've been collecting reports of places where Autostraddle cannot be viewed. They include but are not limited to: airports, government agencies (like certain DMVs), car dealerships, gyms and schools. I've also been researching which filtration companies these places are using and what filtration categories they're making available to their clients. I've come to two conclusions: most entities aren't censoring gay content on purpose, they've just literally never thought of it; and filters, in most cases, are a waste of resources and a bad idea in general.
---
Schools Are a Different Animal
According to the ACLU's "Don't Filter Me" report, the Children's Internet Protection Act (signed into law in the year 2000) requires schools in the U.S. that receive federal funding to use filters to block pornographic websites. That means filters aren't a bad idea in the context of public schools (though I'm sure y'all know how I feel about this law). Looking at schools, though, does provide insight into why establishments might filter gay content.
Many schools were unintentionally blocking LGBT resources by turning on the filter for the LGBT content categories because they thought they had to — that because these websites contained information about sexuality, that they equated to websites with sexual content. Yet others were simply using a program that created bias by labeling anti-gay websites as religious1 (and therefore available to students) while throwing LGBT into the sexuality category (making them unavailable to students). Even religious websites with a pro-gay message were thrown into the sexuality-jail. And a last category of schools were filtering that content on purpose because they're terrible and have no regard for the higher suicide and attempted suicide rates of LGBT teenagers and have no interest in making them feel less alone. But after a legal battle brought by the ACLU against the Camdenton R-III School District, the courts agreed that CIPA filters had to be content neutral. That means the filters can only filter for sexually explicit content2, and must let through websites that don't feature sexually explicit content and also talk about gay people in a positive light.
As a result, most filtration companies have done away with the LGBT category altogether, or else made clearer exactly what is and isn't contained in each category. I actually asked the folks at OpenDNS (a company that provides filtration among its many other services) and it's true — there's no "gay content" category listed. There is a sexuality category, but it doesn't take out run-of-the-mill homogay stuff:
Sites that provide information, images or implications of bondage, sadism, masochism, fetish, beating, body piercing or self-mutilation. This category is not intended for LGBT related sites that do not fall under the aforementioned criteria.
However, looking at some of the other stuff that's categorized (and therefore available to block at a client's whim) is terrifying and amazing: news sites, government agencies and yes, the ubiquitous "adult themes3."
There's also another filtration company detailed in the ACLU report that refused to give up its "gay or lesbian or bisexual interest" category because their private clients may still wish to be assholes, and that's Websense. Websense is popular enough to have spawned its own verb4, so that's kind of a problem. But they have clarified that schools don't have to check that particular box, and that it's not automatically checked when the product ships.
Ignoring just for a moment that enough people still want to erase queermos from the internet that it's profitable for Websense to offer it as a service, let's focus for a moment on the idea of "adult" versus "not adult" and why one might use filters in the first place.
---
What Is Adult Content?
Let's re-examine the conflation of "sexuality" and "sexually explicit content." That was common enough that schools did not realize the difference and so many checked the box unwittingly, and unintentionally created a whole second class of people who could not find their own reflections on the internet as a result. When I speak to people who use filters, this is often what happened. Usually that means it's as simple as finding out who's in charge of the filter, and having them uncheck a box. It's a total nonissue.
But that begs the question — what counts as "sexually explicit?" And why are gay websites (other than that misunderstanding) taking a disproportionate hit?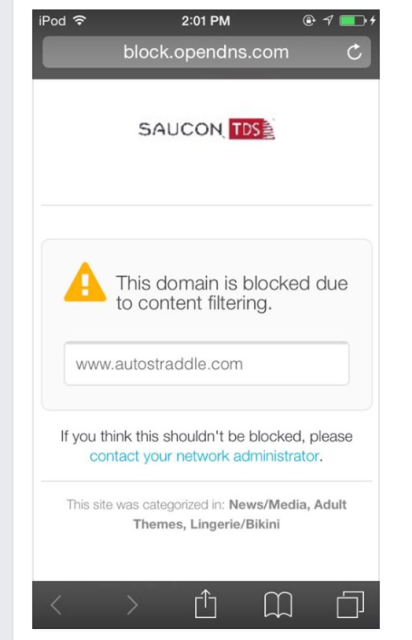 OpenDNS as used by Saucon TDS classifies Autostraddle as "News/Media," "Adult Themes," and "Lingerie/Bikini." According to an anonymous tip by an Autostraddle reader and A-Camper made on June 4th, one of those categories was blocked, but it doesn't tell you which. My money is on one of the second two, and neither of them leave me particularly thrilled.
Let's first operate under the assumption that we're blocked for "Lingerie/Bikini." Likely, this is due to our NSFW Sunday column and various style guides featuring swimwear. Is JC Penny blocked for featuring swimwear? Probably not. Is New York Magazine blocked for featuring full-frontal nudity photo spreads? Nope. And our NSFW tag is the gentle-ist one on the internet; we do not even show nipples (which are normal, we're just deeply aware of the patriarchal soup we're constantly swimming in). Basically, we feature nothing more sexually explicit than, say, this ad for Coca-Cola's milk:
Or this one:
And not only are we not showing more skin than that, we're also not reinforcing damaging sexist thought processes. Yet somehow, gay websites that feature women's bodies are thought of as more adult than Coke advertisements. How about this extremely sexual Calvin Klein ad where people are literally naked on a billboard for everyone to see?
WON'T SOMEONE PLEASE THINK OF THE CHILDREN? If these kinds of images can grace our TV screens, our billboards and our cultural consciousness, what is wrong with gay women and non-binary folks in lingerie or bikinis? For the record, I actually have no issue with the Calvin Klein ad except as a part of a larger body of work that objectifies women and prioritizes certain kinds of bodies over others. There must be a reason that these sexual images are acceptable, but images of queer bodies and queer pleasure aren't: either it's because the ads are in service to capitalism and ours (mostly) aren't, or it's our actual queer-women-bodies that make something blockable.
Now let's operate under the assumption that we're blocked for being "adult." What could this mean, exactly? Everyone who works here is an adult, but that's true of everyone. I did do a Queer Your Tech once on finance software, and that's probably the most adult thing I've ever written. Let's be real, though, we're probably classified as adult because we're gay and because we provide information about sexuality and sexual health6.
In this dimension, the dimension in which we actually live, adults don't have the corner on sexuality OR sex. If we did, the gay teens who can't find information in their public schools wouldn't be an issue because no one would be gay until their 18th birthday. They'd turn 18 and MAGICALLY RECEIVE A PURPLE TOASTER. Rainbow fireworks would shoot out their ears. It'd be like getting a letter from Hogwarts but with more glitter. When one is not out of touch with reality, one also knows that children also experiment with their bodies — here is some evidence. And some health classes that cover sex begin as early as fourth grade. Middle schoolers have crushes. High schoolers are dating. This is not adult content.
There are some things I do think should be adult content: extreme violence; the parts of the internet that teach children how to hate women; a world where Coca-Cola distributes milk; those milk ads — there are plenty of things that children deserve to not know. Sexuality and medically accurate sexual information are not those things.
Even if we all can't agree on what makes adult content, we've already established that schools are a different animal. What we're talking about now is establishments made for adults blocking content that's also made for adults. Why on earth is that happening?
---
Filters Really Suck
Examining where these filters are in effect (workplaces, public places designed for adults), I can only assume these filters are there to keep people from whacking off in airports. Like, that has to be it, right? To keep people from accessing content that they should be accessing in their private space and not in public, where other adults and children can see their screens and the actions that result from viewing such content.
Filters could also be used to keep employees on task: social sites like Facebook and Twitter usually occupy a blockable category of their own.
Filters don't actually help with either one of these.
Predatory people will be inappropriate in public places without the internet. The filters will not stop them from being terrible humans. Employees uninterested in their work will find a way to waste time without the WiFi — hell, in the age of smartphones, they'll find ways to waste time ON THE INTERNET without the WiFi. Filters don't fix a problem, they simply mask symptoms and they don't even do a good job at that.
What filters also do, because sites that feature gay content and smaller independent websites take the brunt of filtration, is they create a class of people who feel themselves pushing up against the bars of an unnecessary cage more than others. Many people I've talked to who are not searching for websites like ours in public don't know the filter exists7. When you're in the middle of the cage, you can't see the limits. Only those on the fringe can.
They also, in the case of anyone who works for a blocked website, prevent adult humans from doing their job — and that's kind of a big deal in this post-office era we're in right now. More people are working from home, which really means working from anywhere.
Let's consider for a moment what the world would be like without content filters — if someone is broadcasting porn on a bus and whacking off, they're harassing everyone and it's time to contact law enforcement8. If your employee isn't getting work done because they're spending all their time on Facebook (or Autostraddle), get a new employee or put them on probation or a million other things except ruin the WiFi for everyone else in your office who's using the internet like responsible work-place adults. If someone is playing music off of Pandora or Songza loudly in the DMV, make it policy to use headphones for anything that makes noise — throw people out if they don't, they already do that when you eat in the New York City DMV! And if people of any age are looking up information about what it means to be gay or bi or trans or queer (in gender or otherwise), just fucking let them. Because what it comes down to is this: when I run up against any establishment blocking gay content, either because it's gay or another reason someone's come up with (that's still kind of bullshit, because other things show up in that category that aren't gay), the message is clear: you do not deserve to be visible here.
As it stands, when our CEO tries to use Autostraddle at the YMCA, she can't. But she can see the Huffington Post's extensive work on BDSM (including an explicit photo spread featuring BDSM folks and tips on BDSM tricks to try) and everything posted on xoJane, Jezebel and Cosmopolitan. It's all about that conflation with sexuality and sexually explicit — a conflation that, if you'll pardon me, we need to burn to the ground. Because the mindset that makes it profitable to include a "gay or lesbian or bisexual interest" category in filtration also makes it acceptable for companies to judge gay content more harshly when deciding whether or not to do business with gay websites. Cosmopolitan features (largely heterosexual) sex positions and they have no trouble getting advertisers. When someone from Awesome Company X is thinking about doing business with Autostraddle and they look us up while sitting at the Phoenix Sky Harbor Airport and we're blocked for being adult or inappropriate, that has a direct effect on the queer economy. The placing of gay websites in a digital ghetto doesn't just have digital consequences. It furthers the conflation that somehow gay people are more inappropriate than straight people, and that can affect how we're hired and how we're paid and how we're housed. It's all connected, and this (fortunately) is something we have a little control over.
---
What You Can Do
Talk To The Establishment
Originally, this article was supposed to be me calling around to filtration companies and asking them why we're blocked and others with similar content aren't — but after talking to some of them, I realized it isn't really the filtration companies. They're all extremely clear about what each category blocks and what it doesn't. Many of them are extremely aware of the double standard after the ACLU Don't Filter Me campaign. Even Websense, with that AWFUL category, is clear about what that does. The power ultimately lies with each individual establishment deploying the filtration program.
What I've also learned in the year I've been taking notes for this piece is that no one knows how to use the filtration programs. Establishments (like my former place of work) have been largely unaware of the double standard and have rectified it when I've said something.
When you run up against a filter, the first step is figuring out who's in charge of it. In large establishments like airports or government agencies, this can be difficult and often you'll have to fill out internet forms or send emails. But if you can talk to a person face to face, ask them to uncheck the gay content box if that's the category being presented. If it's a category like "lingerie/bikini," you can still ask and use the same arguments. Language that's worked for me in the past can include:
This creates a double-standard when websites like Autostraddle are blocked but websites like Cosmopolitan are not.
This content filter sends the message that you don't value your gay customers, and I don't think that's what you intended to say to me.
Unlike websites that feature weapons or hate speech, websites that feature gay content won't hurt anyone.
If you are worried about customers taking offense that they can access a website like this on your network, I wouldn't worry; only gay people will look for this website.
Unchecking the gay content box will not allow pornography to be viewed on your network because those websites are categorized separately.
In terms of tone, I highly recommend going into every conversation assuming positive intent. If you assume everything will go just fine and that they don't actually hate gay people, your attitude rubs off. The worst that happens is that you assume positive intent where none exists, and I also find that's not necessarily a bad thing: when someone doesn't have a positive intent and you assume they do, sometimes they change their behavior because they realize they want to be the person you thought they were.
If the person in charge of content filtration still expresses concern because they're unsure of what else lies in the category, educate them about "whitelisting" and "blacklisting." Any filtration software worth its salt has the option to override a block for a specific URL. Tell them what website you are trying to use and have them whitelist it. Conversely, explain they can uncheck the box and if they run up against a website they would rather block, they can block that URL individually as well. If you are speaking to an IT department, they'll know all of this but you should ask it anyway.
I am calling on all of us (myself included — I don't always put the effort in, like at Phoenix Sky Harbor airport) to do this anytime we run up against a filter that unfairly blocks gay content because there shouldn't be any reason that we are #toogayforwifi. I am not inappropriate and will not be treated that way, especially in establishments that are taking my hard earned money — and neither should you. You aren't inappropriate either.
This tactic should only be used if you feel safe outing yourself — I always do, I am a visibly masculine of center woman and have probably already been clocked as the lezzie before asking. If you are in a location where doing this would be unsafe, don't do it. Asking to be unfiltered is also not something that only LGBT folks can do — straight allies, this is one of many chances you've got. Ask for gay websites to be unblocked when you see it happening.
Yeah, it sucks that it puts the responsibility largely on us to educate and out ourselves and go out of our way, but that's the way for all marginalized groups — change is rarely bestowed upon us by the majority. I think we've taken "it's not my responsibility" too far. Sometimes we do have to make a little noise.
Work Around the Issue
If you don't feel safe asking for the website to be unblocked or (gasp) the establishment understands they're being assholes and that's what they intended and won't change the filter, you can still access your website using a virtual private network (VPN) or a proxy.
When it comes to VPNs, I highly recommend Tunnel Bear (we've talked about them before, too). Install it on your computer or phone and you'll be able to make it look like you aren't sitting in Phoenix Sky Harbor, but in the U.K. instead. They have a free version limited to 500 MB a month, and their unlimited services are VERY reasonably priced. Another option is Hide My Ass, which is a little more expensive but also a little more fully-featured.
Hide My Ass also has a free web proxy that'll get you around content filtration — just type the URL in. It goes slower than a VPN would, but hey it's free and a good option for a quick work around. The issue with a free web proxy is that the filter might be blocking the proxy itself. They also host a database for free proxy servers which are easy enough to use. Here's a quick how-to from PC World:
Note that each proxy may go down eventually, so you may need to change them frequently. Also remember proxies and all the man-in-the-middle options discussed in this article can see your traffic, so don't do any banking or access other sensitive information unless the connection is encrypted and protected from prying eyes.

Follow these steps to configure a proxy in your browser:
Internet Explorer : Gear menu > Internet Options > Connections > LAN settings > Use a proxy server

Firefox : Firefox menu > Options > Advanced > Network > Connection Settings > Manual proxy configuration

Chrome : Menu > Settings > Show advanced settings > Change proxy settings > LAN Settings > Use a proxy server
Make Public Noise
If an establishment won't unfilter gay content and they're part of a larger parent company, take to Twitter, Facebook or other social media platforms to let companies know how it feels to be #toogayforwifi. Make sure to mention the company by name (@username on Twitter or tag them on Facebook). I find when dealing with corporations on Twitter, I catch more flies with honey. Plus posting in a rage can make you look unhinged to your other followers, so I'd recommend going with calm, respectful and kinda funny. It's been my experience that those tones simply work better, especially because the poor social media manager doesn't have anything to do with the filter at one specific Panera Bread location9. And they're a person too, ya know?
Use the same language, and maybe take the time to let them know that a digital double standard has real-world consequences.
If You Use Filters At Your Company
If you own or help run a company that uses filtration services, consider…just not. Your time and energy can be put to better use elsewhere. But if you must, consider only checking the box for pornography and actively whitelisting websites that feature gay content if they get caught in the shuffle.
And please, everyone — let us know the places you've seen filters in the comments. How did you ask for change? Were you successful? How have you worked around filters?
---
Footnotes
1. WTF, why is anti-gay auto-religous? My favorite church of all time has a lesbian minister, so raspberries to that conflation.
2. Still have an issue with this, actually, because where does that leave a website like Scarleteen (who couldn't be reached in time for publication)? And what on earth is health class without Scarleteen as a resource?
3. Though to OpenDNS's credit, they explain that blocking adult themes is "very restrictive." I wonder — does such a category block information on how to do your taxes? That's the most adult theme I can think of; how many kids and teens do you know filing by April 15th every year?
4. Usage: "Oh man, I got Websensed," or, "Crap, they Websensed me," as demonstrated by my mother while she was on the phone with me when using the internet at a government agency. Definition: running up against a filter made to protect adult humans from…what, exactly?
5. And don't even get me started on the conflation of "sexuality" and "gender identity" in filtering out information about and for trans and genderqueer humans. Those things don't even sound the same; do not pass go, do not collect $200.
6. I'm including pleasure in this. Because THAT'S WHAT IT IS. Pleasure IS sexual health; knowing that sex is supposed to feel good is one of the things that prevents consent issues and rape! Where do I have to shout about this so that it makes a difference? Any advice on this is welcome.
7. In the case of workplaces and social sites, they're ubiquitous and don't so much count in this.
8. In my brave new world, law enforcement will receive training to respond to sexual harassment and assault in effective ways. Since we're imagining, I figure it's best to go big.
9. Panera's filters are super strict, by the way.