This month, the Supreme Court's near-simultaneous repeal of DOMA and gutting of the Voting Rights Act have shifted forward the ongoing conversation about how the justice system in America is selective about which forms of marginalization and discrimination it chooses to recognize. Tonight, in the conclusion of the trial for the murder of Travyon Martin, George Zimmerman was acquitted of both second-degree murder (which would have meant that Zimmerman killed Martin because of ill will or hatred, or put another way, racism) and manslaughter (which would have meant only that Zimmerman "put himself in a situation that culminated in Mr. Martin's death"). It's a resounding answer in that discussion: yes, the US justice system does pick and choose whom it will provide justice for. The citizens whose need for justice the justice system chooses to overlook are overwhelmingly those who are of color.
In some ways, and according to the defense, the facts of the case are unclear — there were only two witnesses to what happened, Zimmerman and Martin, and Trayvon Martin is dead. In many ways, however, the facts of the case are unequivocal. Zimmerman is a fully grown man, armed with a gun, who pursued Martin on foot assuming he was a thief even after the police had been called and the police had specifically advised him not to follow Martin. Trayvon Martin was 17, unarmed, had no criminal record, and was on his way back to the house where he was staying after having made a snack run and purchased a bag of Skittles. He didn't even get manslaughter.
If you're surprised that this verdict could have been reached given those facts, then it would be worthwhile to read up on Florida's "Stand Your Ground" laws. Laws which are intended to protect citizens who defend themselves against attack, Stand Your Ground laws "allow someone with a reasonable fear of great bodily harm or death to use lethal force, even if retreating from danger is an option. In court, the gunman is given the benefit of the doubt."
So yes, this is about gun culture in America, and the fact that our laws empower our citizens to shoot to kill even if retreating from danger is an option. But it's also about more than that. It's also about how gun culture in America empowers white people to hurt black and brown people, and how the deaths of black and brown people are conceptualized as less important than the deaths of white people. You have only to look at the story of Marissa Alexander, another Florida resident, who also tried to utilize Stand Your Ground in her defense. Alexander fired three warning shots after an altercation with her husband, who has a history of domestic violence. No one was hurt. Alexander was sentenced to 20 years in prison. Zimmerman wasn't even arrested for the first six weeks after Martin's death, and then only because of public outcry. The difference is that Alexander is a black woman. Research has found that:
In non-Stand Your Ground states, whites are 250 percent more likely to be found justified in killing a black person than a white person who kills another white person; in Stand Your Ground states, that number jumps to 354 percent.
You have only to look at the deaths of Oscar Grant, Sean Bell, Timothy Stansbury, of Kimani Gray, who was 16 years old and whom witnesses say was unarmed and who was shot seven times by police, and of countless more to see that violence against black and brown people is epidemic, and that the consequences are minor. Much of the time it does not bring any consequence at all. In contrast, when people of color defend themselves, it's considered a deadly serious crime. Certainly it was in Alexander's case, and during the entire duration of the George Zimmerman saga, CeCe McDonald has been in prison for defending herself against attackers yelling slurs. Self-defense is criminal when practiced by people of color. It was already clear that violence, when committed against people of color, was a low priority to the justice system; Zimmerman's acquittal suggests that it is no longer even illegal. Of course it's also worth mentioning that Zimmerman is also not white — his father is, but his mother is Hispanic from Peru. But, as written by Aura Bogado in The Nation:
Watching Zimmerman in the defense seat, his sister in the courtroom, and his mother on the stand, one can't deny the skin color that informs their experience. They are not white. Yet Zimmerman's apparent ideology—one that is suspicious of black men in his neighborhood, the "assholes who always get away—wp_postsis one that adheres to white supremacy. It was replicated in the courtroom by his defense, whose team tore away at Rachel Jeantel, questioning the young woman as if she was taking a Jim Crow–era literacy test.  A defense that, during closing, cited slave-owning rapist Thomas Jefferson, played an animation for the jury based on erroneous assumptions, made racially coded accusations about Trayvon Martin emerging "out of the darkness,wp_postsand had the audacity to compare the case of the killing of an unarmed black teenager to siblings arguing over which one stole a cookie.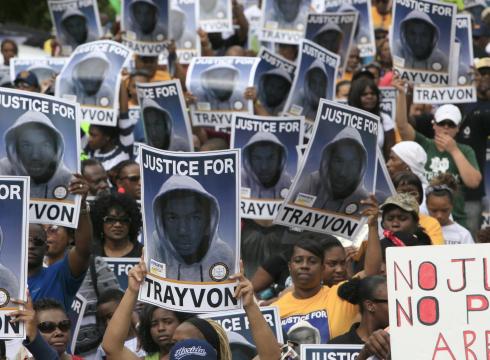 If you're surprised that this verdict could have been reached, and you're a white person, consider how many people of color are unsurprised by this verdict. Consider what that means — that not only can an unarmed child be killed by an adult, not only can that adult man suffer absolutely no consequence, but it's not even out of the ordinary according to many people's lived experiences. Consider that Zimmerman's jury of six women comprised of five white women and zero black women, because the defense successfully argued that the black jurors who were in consideration would be unable to remain impartial. Consider that the vast majority of the conversation around Martin's death and Zimmerman's trial has been dominated by white media, this writer included. Consider what it means to be able to be shocked by violence against a child, and be shocked when it is met with apathy.
The NAACP is attempting to open a federal civil rights case against Zimmerman. This would mean that the case would be taken on by federal investigators, and instead of second-degree murder or manslaughter, the charges would involve violating Martin's civil rights. The NAACP's petition, which anyone can sign, speaks directly to Attorney General Eric Holder. Obama has in fact weighed in on Martin's case, saying that "If I had a son, he would look like Trayvon," but the White House has distanced itself from those comments somewhat this week. It's impossible to say whether Zimmerman's acquittal will provide a catalyst for change somehow, either by forcing the federal government to become involved and bring questions of civil rights to the forefront, or by creating a sea change in our larger culture regarding what kind of violence we will condemn and what we will condone, and from who. Nothing that anyone does will bring back Trayvon Martin, but there is an opportunity for our nation, especially the white people of our nation, to begin policing ourselves and each other — not with vigilantism, but by holding ourselves and each other accountable for our actions and their consequences. Someone has to, because it seems clearer now more than ever that the justice department won't.
Update, Sunday July 14th: The Justice Department is "looking into" the case. Via The Huffington Post:
In a statement Sunday, the Justice Department said the criminal section of the civil rights division, the FBI and the U.S. Attorney's office for the Middle District of Florida are continuing to evaluate the evidence generated during the federal probe, in addition to the evidence and testimony from the state trial.
The statement said that, in the government's words, "experienced federal prosecutors will determine whether the evidence reveals a prosecutable violation."