Long ago, when witches ruled the world, and magic danced among us, mischievous and free, a prophecy was spoken. Its fullness has been lost to fire and time, but the sentiment has passed from generation to generation, to those whose curiosity could never be quenched, who still sense the promise of enchantment on moonbeams. A woman, a lover of women, will raise her sword and cleave timber in two, and with it, the illusion of archaic masculinity.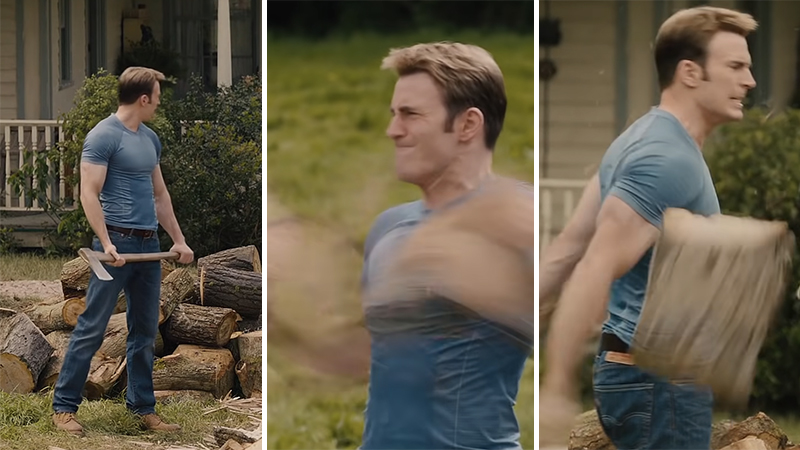 These men, these titans of strength, have presented themselves, again and again, and in the present day, their power has been distilled and nourished in one man. His ass, America's. His name, Captain Steve Rogers. To demonstrate his worth, he brought his axe to bear on tree after tree, ripping logs in halves with bare hands when tools were scarce and warmth was needed. It seemed, in the wake of his displays of power, that the prophecy would, once again, pass by a generation. What woman, what sword, could challenge such biceps, such vigor?
But, lo! What brawn from yonder TikTok breaks! A woman clad in the traditional garb of women-loving-women, a tank top and beanie, a waist-tied flannel, a feety-pajama, trudging through snow to rip thickets in twain. She drank from the chalice of maple syrup. An axe? Yes. A sledgehammer? Indeed. Hatchets, saws, splitting wedges. Alas, no sword — thus the prophecy remained in tact, untouched, though the lumber around her was felled and split for all the world to see.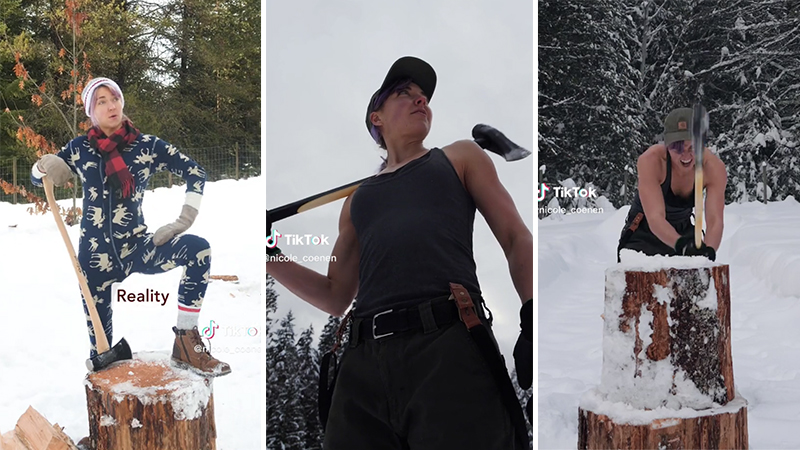 A rumble of earth. A whisper on the breeze.
A blade is forged
Placed in a box
Gay lumberjack
An arctic fox 
Though heroes through time have faced demise, thwarted in perpetuity on the cusp of unseating a sword from a stone, she removed it from its pedestal as a knife from butter. With rascality in her smirk and impishness in her eyes, she raised the blade above her head and brought it down upon the log. Sliced! Split! Hewed asunder! The prophecy fulfilled!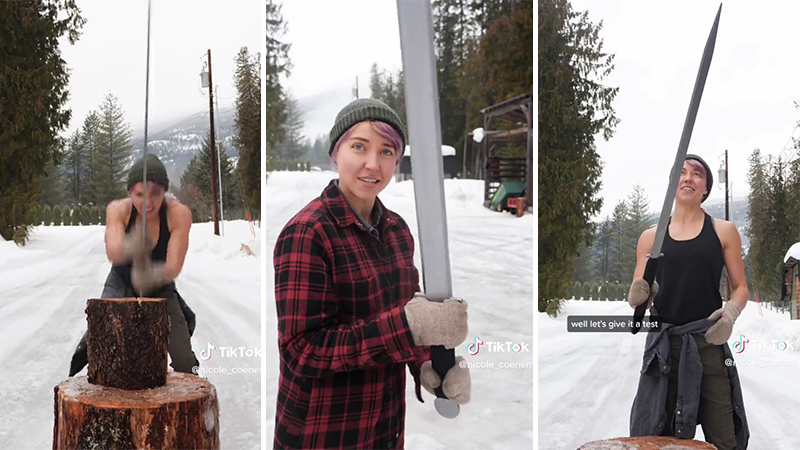 Farewell, Captain America! Farewell, men! A new day of lesbian lumberjacks has dawned! Witches, rejoice! Our time has come!
SHE HAS A SWORD NOW https://t.co/IlXN04zA9A pic.twitter.com/yvkyBJab63

— Frotting Christ (@elianadivakarr) January 10, 2023