Hello fancy dandelions, hope the world is treating you well. And if it isn't, I hope that you're treating yourself so fkn good that the world is jealous.
This is my first post about beauty thangs 'cause I'm a pretty low-maintenance kind of weirdo. I'm like a five-minute shower, shake my jeans off the floor, scrape the last bits of deodorant from that plastic applicator thing and rub it under my arms type of kid. Not like if I'm going on a date or to work, but like if I'm just running errands, I'm not putting more than ten minutes into getting it together, feel me?
However, I've found myself in a relationship with a crafty little human who makes wonderful things. And without even realizing it, I've gathered an array of her homemade products and some very necessary queer/hippie extras that keep me feeling so fresh and so clean clean. Now I get to share that stuff with you and we'll all be fresh together and the world will be so mad.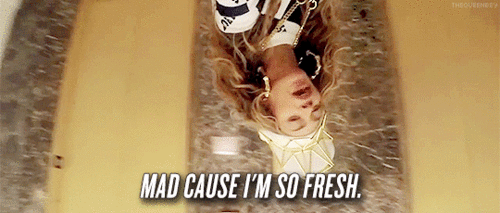 PS: I get most of this stuff for free cuz I'm the gf. But since I love y'all and wanna hook it up, if you buy anything from my girl's Etsy page, use the codeword Loverboi for a 20% discount.
---
Coffee 'n Peppermint Face Scrub
Yo, no lie, my skin is good to me. It's not blotchy and I'm not prone to breaks outs. BUT it's sensitive af, so I don't normally use anything but plain old soap to wash it. And I have one of those strawberry noses which is a cute way to say that my nose is covered in mini-blackheads and I've never known what to do about them but hope other people can't see them.
So I tried this wonderful homemade face scrub and it's the best thing ever. It's literally coffee, sugar, and peppermint essential oil which is basically like a candy cane double shot latte for your face.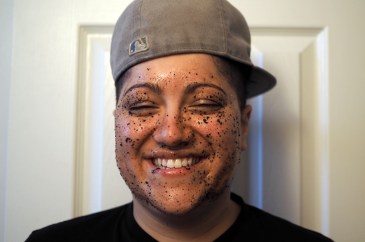 And something about the coffee grounds and the peppermint oil working together makes my face feel like it's super clean and wide awake. Every other week, I'm scrubbing like a fiend.
Pro-tip: Be gentle when you rub it on your face because the coffee grounds are a little rough.
Coffee Break – One 4oz Jar $5.00
---
Easy, Wheezy! (Hippie Vicks Vaporub)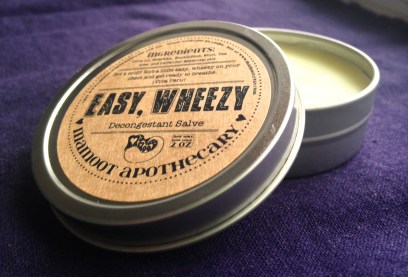 I've got some wicked asthma. Last winter, before I was put on the proper asthma meds, I'd wake up in the middle of the night wheezing and choking, unable to breathe for almost an hour at a time. It was hell and it worried my girlfriend and Lizz Rubin, my favorite almost doctor. After a month of wheezy nights, my girlfriend set out to make a healing salve cuz obvs she's a witch and wanted to heal me.
The first time she rubbed it on my chest, the wheezing stopped within a few minutes and my whole body calmed down. It reminds me of the Vicks Vaporub my momma used to rub on me as a kid but minus the eye-watering chemicals.
Easy, Wheezy! not only alleviates the burning and whistling in my lungs, it calms me down and puts me to sleep. I think she loves me, y'all.
Easy, Wheezy! – One 2oz Tin $6.00
---
Cocoa Butter Lip Balm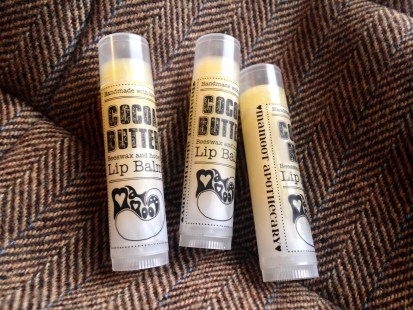 This winter was murder on my bembas. They were dry, peeling, and angry at me for never having things like lip balm in my pockets. My lips even cracked at the corners and that's what broke me. As I was leaving for work, I dipped into my girl's stash of hippie stuff, found a tube that looked like lip balm and prayed for the best.
The lip balm I snatched was on point.
It rubs on smooth like chocolate and tastes like chocolate but it works like real lip balm. Immediately my lips were cool and they healed up fast. Also, they were a million times more kissable, so… yeah. You want this lip balm in yer pocket and on yo lips.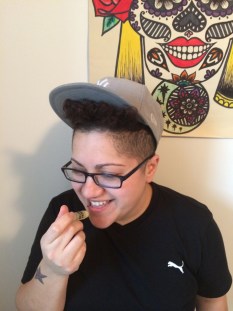 Cocoa Butter Lip Balm – One .15 oz tube $3.00
---
Formidable Formula Deodorant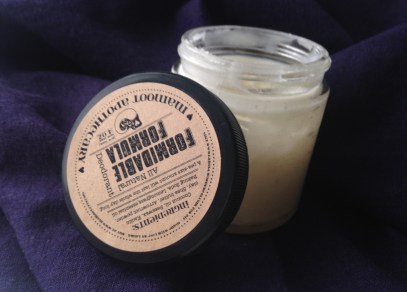 At first, I wasn't too down with hippie deodorant. Something about it made me think I'd just be wet and stinky all day and have to rub tea tree oil all over myself just to cover up the funk. But I watched my girl rub the stuff she made under her arms and she didn't ever stink, not even after going to the gym. I thought she's either a super witch or maybe her hippie deodorant actually works. Both are likely tho.
She made me a batch cuz she was sure that the aluminum in my Dove deodorant would kill me faster than as asthma attack and so I gave in and I'm a believer. I even help her make it sometimes.
Formidable Formula Deoderant – One 4oz jar $8.00
---
Lavender 'n Honey Soap
This soap is sweet. It smells good, is all natural, and doesn't dry out my skin. Also, it's made with tea leaves and this gives the soap an exfoliating quality. I've definitely rubbed it on my bum to get rid of dry skin. It's cool. I trust you guise to keep that between us.
Note: This product currently isn't for sale on her Etsy page but if you make a request because of this post, she'll make some just for you!
---
Nature's Blessings Pomade
Khane Khutzwell, one of the most talented queer barbers out in Brooklyn, put me on to this hair pomade almost three years ago and I haven't used another product in my hair since.
It doesn't crust up or make my hair stiff. It leaves my curls shiny and gives them some much needed body. It also gives me a natural look whereas regular gel has often left me feeling like a Gotti Boy.
Also, how can you not love a product that lists 'good intentions' as one of its ingredients?
This product isn't made by my, gf btw. Go see Khane Khutzwell in Brooklyn or order it online from Mystic Essence.
Nature's Blessing – One 4oz Jar $3.50
---