Hey, curly fries! I'm back at the beach again, this time with my perfect person Geneva in tow, but I took some time to find all the best good gay news for you anyway because that's what love looks like and also what else am I supposed to do while Geneva and Eli take naps together? Besides melt, that is.
Yep, Still Talking About the World Cup
+ We are all made of Megan Rapinoe.
+ Taylor Swift invited the USWNT on stage with her at a concert in New Jersey because EVERYONE FUCKING WATCHED THE WOMEN'S WORLD CUP.
+ ICYMI: These are the best Instagram photos from the USWNT ticker tape parade because you guys, there was a USWNT ticker tape parade.
+ Canadian goalkeeper Erin McLeod and fellow soccer player Ella Masser got married after the World Cup and don't care what you think about it.
The love of my life said "I do"… @emasar3 you are all my reasons- plus your initials don't change;) win win? pic.twitter.com/ec6SANV0Pd

— Erin McLeod (@erinmcleod18) July 8, 2015
Enter Seattle's Kitty Hall
I wish this were a joke because nobody's named a building after my dog yet, just saying.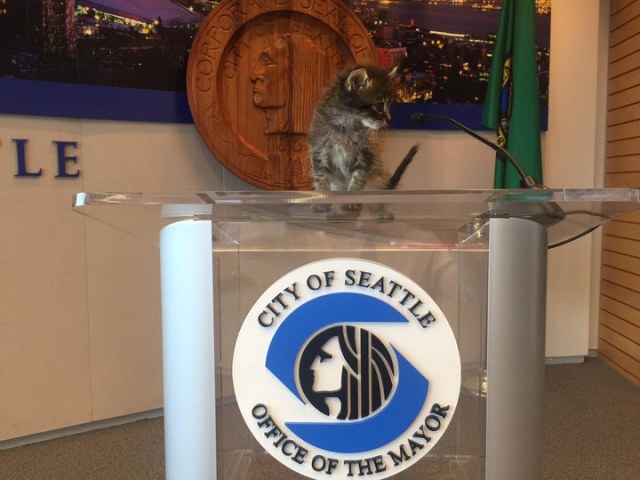 Seattle Mayor Ed Murray issued an official proclamation on Friday, complete with his signature and a shiny golden seal, declaring that City Hall — where the local government conducts business — had been renamed for the day as "Kitty Hall."

This is a real thing.
The Notorious RBG Answers Her Fan Mail
Sabree sent Ruth Bader Ginsburg a bitchin' lace collar, and guess what? SHE'S GONNA WEAR IT, YOU GUYS. Dreams come true. Oh, and she sent back a note, that too. Let's all send RBG mail, I feel like it's a recipe for a confidence boost.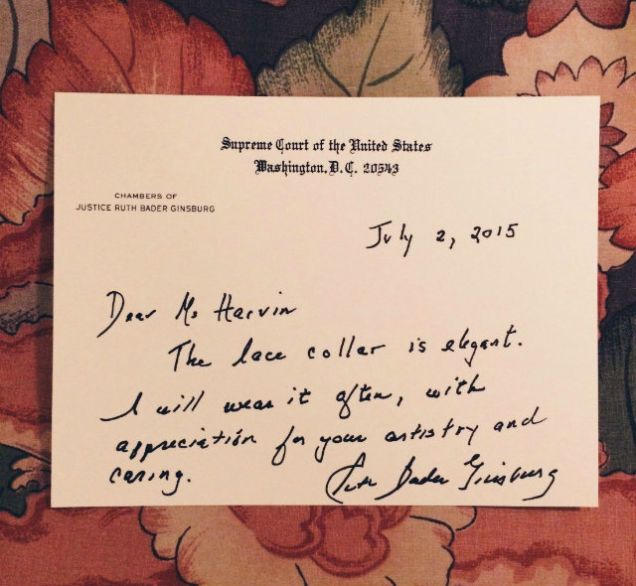 Ireland Wants to Protect LGB Teachers
An amendment to a non-discrimination law in Ireland would make it illegal for religiously-affiliated employers and organizations, such as Catholic schools, from firing LGB teachers — and it passed the Seanad on Tuesday.
"LGB teachers can be secure in the knowledge that speaking about our families and our relationships, in the same way as our colleagues, and that being gay or lesbian will have no bearing on job security or on prospects for promotion,wp_postssaid Anne Marie Lillis, the chairwoman of the INTO LGBT Teachers' Group. "When signed into law this legislation will end the threat of discrimination in primary schools based on sexual orientation."

"The INTO has always advocated for the equal treatment of our members and to remove the weight of discrimination being felt on the grounds of sexual orientation,wp_postssaid Sheila Nunan, General Secretary of the INTO. "These amendments will further that aim and ensure that the lives of our teaching colleagues significantly improve. It is a victory for all teachers in our classrooms throughout the country. This is the culmination of the hard work our members of the LGBT Teachers' Group have done over many years."
Lumberjanes Just Won Everything
Sooooo the Lumberjanes team just won two Eisner Awards!
I'm Calling These Ghostbusters, IDK About You
#whoyougonnacall pic.twitter.com/hnrSjhCqSl

— Paul Feig (@paulfeig) July 10, 2015
Same-Sex Civil Unions Are Now a Thing in Chile
Same-sex couples lined up to apply for civil union licenses across Chile Thursday, making history for the queer community in the nation.