Welcome to This Is How We Do It, a new series wherein we'll be discussing projects both inside the home and out and explaining, you know, how we do it.
---
Nobody ever lets me write posts like this, because I'm not crafty and I don't know how to do anything. Today we're going to change all that! Today I'm going to teach you to make tiny glowing jellyfish swim around in midair, using the powers of your mind.
To build the projector, you will need:
one smartphone (I used an iPhone 5)
a couple of discarded CD jewel cases
an X-acto knife or sharp boxcutter
a metric ruler
one Sharpie
tape or glue
a sheet of paper
scissors
some cardboard or something
a dream
On your sheet of paper, draw a symmetrical trapezoid. The bottom line should be 6cm long, the height is 3.5cm, and the top line is 1cm. Once you've drawn your trapezoid, cut it out.
Do you own a CD? I heard you millennials have never bought a CD, or have only ever used streaming services, or sometimes buy ironic cassettes. Buy a CD. Support an independent artist. I got rid of most of my old jewel cases, but I was able to track down an old Bouncing Souls record and a Janelle Monáe CD case that turned out to have a disc of Depeche Mode's "Some Great Reward" inside. Whatever. Take the liner notes out and hold the empty plastic flat against your work surface. Place your trapezoid against the plastic and trace it with your Sharpie.
Time to cut — you're going to want to do this on some sort of surface, so you don't cut yourself or scratch up your desk. I used a piece of cardboard.
Using your X-acto knife or boxcutter, score along the outline of your trapezoid until you can pop the shape out. This will take longer than you thought it would. Maybe put that Depeche Mode record on and mope a little bit while you work. The plastic is a bit thicker than you may have anticipated, and you may wonder why you're even doing this in the first place, but then you think about Princess Leia and you press on.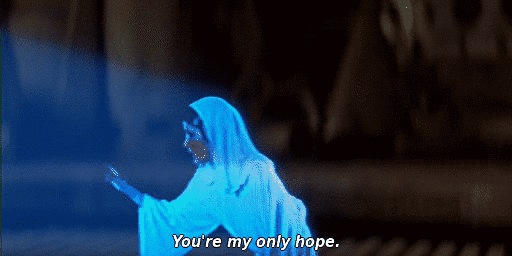 After you've cut out your trapezoid, guess what?! You have to cut out three more identical shapes. When you've got your four pieces, glue or tape them together into a pyramid shape, so the smaller opening on the bottom is flat (basically, so the pyramid can stand upside down on its own). If you tape the pieces together, use small pieces of tape at the top and bottom of the pyramid.
Pull up YouTube or Instagram on your phone and search for "holho." People have made some deeply creepy videos with singing and dancing anime characters, but this one seems like a neutral, pleasant start. The videos will instruct you to place your little pyramid (smaller side down) in the center of the screen, and then you can turn off your lights, get down to eye level with the projector and watch the magic happen.
Are your friends impressed? They'd better be. Tell them you thought of this idea all on your own. I won't be offended.
Heads up, nerds: you can actually do a Princess Leia hologram if you download this guy's video.