This Changed My Life is an ode to the small, seemingly chill purchases bought by Autostraddle writers and editors this year that made our lives infinitely better. Did these items LITERALLY CHANGE OUR LIFE? No, we're being gay and dramatic. But perhaps a pair of sunglasses really did change your life — who are we to judge?
---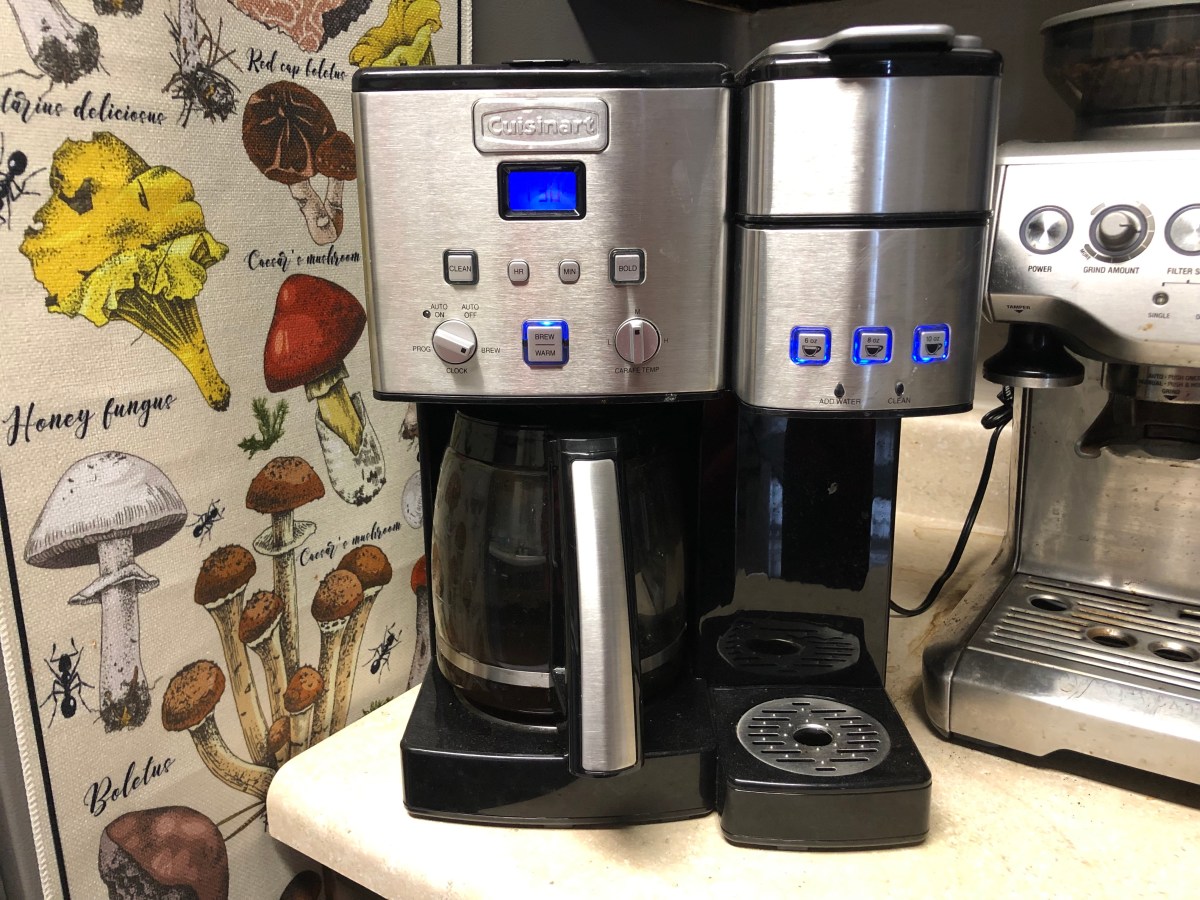 In the first month of living in Miami, I tried to convince my girlfriend we should have a coffee station in our bedroom. Her answer, every time, was a firm no.
This delighted me. She so rarely tells me no; I'm spoiled; and what exactly is so opposable about easy access to caffeine! We both work from home and are devout coffee drinkers, usually splitting a pot throughout the day and then accompanying it with an espresso drink or two. My coffee drinking extends into the evening; she usually cuts herself off in the afternoon. We consume a lot of coffee, and we both need it, right away, before we can properly start our days.
It'll be even harder to get out of bed, near impossible, she insisted. A coffee station in the bedroom would ensure the laziest of lazy mornings, and we were both prone to lazier and lazier mornings.
It was half a year into the pandemic, and we didn't just both work from home — we were both freelance, too, working on our own hours. It was a luxury, especially in those times. Getting up and walking down the hall into the kitchen to make coffee ensured we would start writing at a reasonable time.
One of the biggest differences when it comes to routine between us is that she's a night owl and I'm a morning person. I've been in relationships where this kind of mismatched Circadian rhythms can be a secret source of a lot of conflict. I unfairly got frustrated with an ex who slept through half the days when on vacations because, at the time, I didn't understand that just because she wasn't working late-night shifts on those days didn't mean her body wasn't used to its patterns.
I've actually never considered myself much of a morning person until I've been with people who are defiantly not. Even though I do rely on caffeine to take me to the next level, I automatically wake up energized, refreshed, ready to rumble, if you will1. I didn't realize that isn't the case for…a lot of people. Even if I get very little sleep, I usually have energy in the mornings and crash later in the day.
But my partner and I have found ways to make our Morning Person x Evening Person dynamic work. When we first moved in together, she bought us a fancy espresso machine (a prescient purchase given that the pandemic would start two months later and we'd no longer have access to cafe lattes and cappuccinos). In the mornings, I'd wake before her, roused especially early by a harsh Vegas sunrise that slipped through our tall, slender windows and into our lofted bed. I'd go downstairs and make a couple of extra foamy cappuccinos, hers topped with cinnamon, mine made with oat or coconut milk, in the matching cup and saucer sets we got for cheap at a Vegas Bed Bath & Beyond in January 2020 when we started building our first home together. I'd return to the bed with the coffees in tow, crawl back in, and we'd spend the morning like that, together, before we'd wander downstairs to properly start our days.
I've long been a go go go person in the morning, ever since high school when I woke up to upbeat pop or disco music preprogrammed on my iHome alarm clock most mornings. I woke up with limited time to get ready for school, because I knew I could hammer it all out quickly, efficiently, rarely plagued by the sluggishness most teens experience. These slowed down mornings in Vegas were new to me; they were special.
And my girlfriend made small adjustments to accommodate for me, too. At night, when I started to fade while we watched television together — usually a Real Housewives number in those early days of me introducing her to Bravo — she lowered the volume on the television. She let me rest my head in her lap, and she was still, let me sleep, didn't try to rouse me. It sounds like such a small, obvious thing to do for someone you love, to let them rest. But it struck me. I've never slept this easily next to anyone else.
So she didn't want a coffee station in our bedroom. And I knew her reasons were fair, were different but comparable to my strict rule about no television in the bedroom which, yes, is partially because of sex but mostly because I know it would impact my sleep. If a coffee station would make it even harder for her to face mornings, then of course, I would listen. I liked to bring it up from time to time in jest not because I was wearing her down but because I was, indeed, tickled by her defiance.2
It took us a while — a couple more years, a move to Miami, and then a move to Orlando — to figure out an obvious compromise, a coffee utopia that catered to us both. When our coffeemaker unceremoniously stopped working one day, we shuffled to Target and impulse-purchased a two-in-one standard drip coffeemaker and Keurig. We were less interested in the pod aspect (though it does come in handy for dinner parties when there are only a few post-dinner coffee drinkers like myself and for making coffee cocktails). But we were very interested in the bells and whistles of the coffeemaker half of the contraption, which features a setting that allows you to preprogram the machine to go off at a specific time.
Yes, I know this is not a newfangled coffee capability. Programmable coffeemakers have been around. Neither of us have ever thought to get one. For one, they can be pricey; ours is right around $100. Spending extra money on an espresso maker or other appliances made sense to me, but a drip coffeemaker? Surely one with an automatic shutoff so as not to burn the house down is the only feature you need. Spending more than $30 on a drip coffeemaker? Absurd! Never mind that…it's something I use literally every single day. Never mind that…I spend way too much money on coffees from cafes. No, I am here to tell you I was wrong. Pricing up for a coffeemaker if you can, especially for a programmable one, is the move — whether you're a Morning Person or extremely Not.
If what I wanted out of a coffee station was convenience3, the programmable machine provides that. And if what my girlfriend, who recently became my fiancé, wanted was a more streamlined coffee experience and a slow, easy morning routine that still forces her downstairs, this is that, too. She puts the coffee in at night, hits a button, and then in the morning, the brewing begins a good ten minutes before my alarm goes off. When I wake up, the coffee is ready downstairs. I can get my day started solo, and when she wakes up, I can bring her a cup, too. Or if I'm swallowed up by work4, she can amble downstairs and pour her own. It's still warm, our small house is filled with its smell, and the smell of coffee makes waking up a little easier for everyone. We can spend our mornings separate and then together, the coffee readymade for us both. She feeds and walks the dog, our morning routines resume. But there's one less thing to think about, one small thing that makes both our lives easier and our mornings unhurried.
Morning People and Evening People can coexist, can cohabitate. Circadian rhythms don't have to be perfectly aligned to find harmony. The coffee can make itself.
1. In case you were wondering, I love morning sex.
2. I'm a bottom.
3. Admittedly, convenience was only part of it…the other part was aesthetic! Imagine one of those stupidass overpriced Smeg machines on a little vintage table! The design opportunities!
4. I have a lot of flexibility in my job here, but gone are the chaotic days of total freelance freedom.