This all started because I have been shopping for nipple pasties because, look, June gets hotter and hotter every year, and also, for some reason, with each passing day, I am becoming more and more unhinged and have gotten it into my head that if I go to Pride this year, my outfit is going to center around wearing alien or UFO nipple pasties. I'm going to start with the UFO pasties and get carried away from there!
So, here are nine things you can wear to pride that aren't clothes, because fuck it.
---
#1 Nipple Pasties
You have your oddly Pride-appropriate UFO's, your definitely Pride-specific pasties, honestly, I haven't truly plumbed the depths here where it comes to all the different nipple pasties that exist that are also available for purchase and application to your nipples / chest in time for Pride, but, I do believe that this is a thing we can do together!
#2 Body Glitter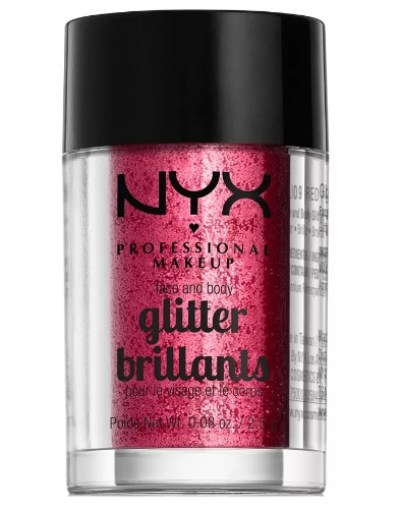 The sun will likely be out, and your body can do more than ~glisten with sweat~ because it can also glitter with sweat. I personally find that the NYX glitter adhesive adheres so well you will need other, different chemicals to remove it. They also have a variety of appropriate glitters at affordable prices you can put literally anywhere. I also frequently wear this stuff on my face and around my eyes, although sometimes my eyes hurt after. You've been forewarned.
#3 Temporary Tattoos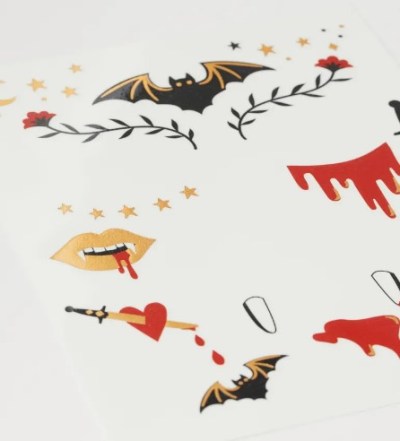 Look, little makes me have to reckon with how gay I have been for my entire life than remembering when I spiked my hair with gel and streaked it with temporary hair dye, put on a black tee shirt, slapped a temporary tattoo on my neck, and walked into the 6th grade.
So, I encourage us all to bring this energy back for Pride. Some of these are so tame I cannot even, but you do you. Also, do not engage in cultural appropriation or give your money to anyone who is doing so. I love this kind of bloody temporary tattoo situation from H&M. I also honestly would 100% slap the they/them one of these on my face for a Pride weekend, if only so that people would stop misgendering me.
#4 Random Special Effects Prosthetics
What! Are! We! Doing!
We are getting spooky. We are learning theater / horror movie makeup. We are putting stuff that does not naturally grow upon our person on our person, going to Pride, and interacting with our fellow queer cuties because fuck it! People are gonna call you The Devil? Then why not wear some rainbow devil horn prosthetics? Do you love Clive Barker or feel like you would? Why not wear this [NSFW] "flower choker"?
#5 Sunscreen
Chances are, you're going to be out in the sun. As a very pale person, I cannot recommend bringing sunscreen with you enough. Likely, you're already going to get dehydrated, so let's not add to our bodies' many woes by burning our skin. And if instead of a super flattering Caligula Inn shirt, you've opted for pasties instead, you're going to want to take extra care make sure you don't get burned on that skin that's been hiding away all winter!
I usually wear a 60 SPF on my face most days but will add a 50-70 SPF (and bring it with me) if I'm going to be outside and in the sun for any period of time. I've also seen Black Girl Sunscreen recommended for people who don't want a white cast from the sunscreen. Hot tip: kids' sunscreen usually offers more coverage and honestly, yes, during the height of summer you will see me wearing baby sunscreen.
#6 Jewelry from Queer Makers
Why not accessorize with a cauldron pin from queer-owned Etsy shop grrrlspells, with jewelry from the also queer-owned WildFancy designs, or from Automic Gold? Visit your local queer craft fairs or use social media to find and support local makers you love. There's no better time than Pride to keep our money gay!
#7 Brightly Colored Wigs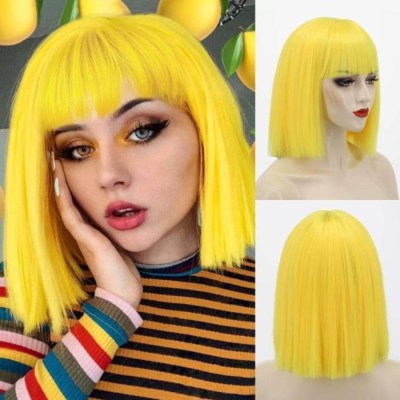 Do you want to be able to remove your hair color at the end of the day without all the hassle of bleaching and dying it? You can…get a wig! Here's one I found in pink that is cute, has dark roots and everything. Like, do you want bright yellow hair? Yes, the wigs are cheap and plastic but they are also way more affordable than a salon visit.
#8 Autostraddle Pins!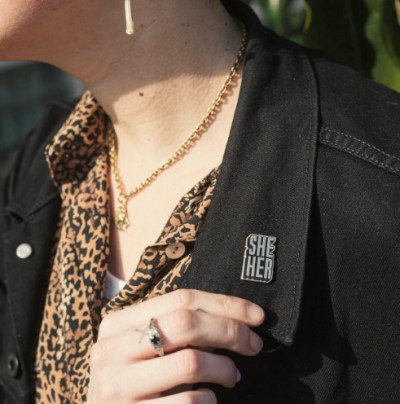 You can declare your pronouns of choice AND support this indie queer media site with a single purchase. These come in they/them, she/her, she/he/they, he/him, he/they, and she/they.
#9 The A+ Silver-Level Bandanna!
Did you know that for $12 a month or $120 a year, you can get access to all A+ content AND also receive a cute-as-fuck bandanna that you can wear to Pride or, let's be real, anywhere?
A+ members keep Autostraddle here for everyone, and in addition to getting bonus content and cute perks, they also get the deep satisfaction of knowing that they're paying the gift of queer media forward to the rest of their community.