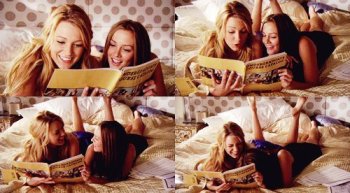 HELLO and welcome to the fourth installment of Things I Read That I Love, wherein I share with you some of the longer-form journalism/essays I've read recently so that you can read them too and we can all know more about serial killers and iCarly! This "column" is less feminist/queer focused than the rest of the site because when something is feminist/queer focused, I put it on the rest of the site. Here is where the other things are. The title of this feature is inspired by the title of Emily Gould's tumblr, Things I Ate That I Love.
I just wanna say that I'm really happy you guys are into this feature. That's all! Also, the six of you out there who read my personal blog back in the day might be thinking to yourself, "this is kinda like auto-fun of the day, isn't it?" because I personally had that revelation like, yesterday. Anyhow! LETS GO GADGET GO!!!
Sweet 15 (March 2009), Texas Monthly: It would seem that for some families, Quinceañeras are the new Sweet Sixteen (or Bat/r Mitzvah), which means crazy expensive shit happens here, essentially.
Document the Symbolism (Dec 2011), The Paris Review: A smartass kid actually wrote all the major writers of the time to see if they really did intend to imbue their work with the symbolism English teachers ask their students to uncover. Includes amazing actual letters from Ayn Rand, Jack Kerouac, Ralph Ellison, John Updike and more. Seriously you must click!!!
In the Life of The Wire (Oct 2010), The New York Review of Books: Lorrie Moore on The Wire, which is probably the best television show of all time. So what we have here is one of my favorite writers of all time and one of my favorite teevee shows of all time, together. (Like when she wrote about Friday Night Lights!)
The Good Girl, Miranda Cosgrove (March 2011), New York Times Magazine: I knew absolutely nothing about iCarly before picking up this magazine, which marks the second time the NYT Magazine has been my source for tween trending. (The first time was Degrassi, which I'm now obsessed with) Anyhow, it's a compelling piece:
"If you don't recognize Cosgrove's name, you must not be between ages 2 and 14, the parent of such a child or, possibly, British (nearly 8 percent of England's population tunes into "iCarly"). You're also not of much interest to Nickelodeon, which aims for the eyeballs, as well as the prodigious pocket change, of today's media-hungry tweens. "iCarly" is the network's most popular show among that desirable demographic… "
The Seduction of Jane Doe (Nov 1994), Texas Monthly: What happens when a teacher takes up an affair with a student and everybody looks the other way — a precedent-setting case.
The Soundtrack of Your Life: Muzak in The Realm of Retail Theater (April 2006), The New Yorker: "Moe's Southwest Grill, for example, wants only songs by Roy Orbison, Jimi Hendrix, and other artists who are dead."
Three At Last (December 2011), GQ: Have you seen Paradise Lost and/or its sequel with the story of the "West Memphis Three"? Either way, what happened to these guys is fucked, but now they're finally free.
If The Serial Killer Gets Us, He Gets Us, (December 2011), Texas Monthly: I've actually read two stories about this case but can't find the first one. This one focuses on Darcus Shorten, the brave investigator who pursued the case of a serial killer of prostitutes that nobody else wanted to touch.
Picture Me Not Posting (October 2011), The Morning News: A writer asks himself "If distractions poison a writer's ambitions, then surely a summer with no internet access is the antidote?" and sets out to answer that.
Another thing I've started reading a lot of since registering Autostraddle as an LLC are articles about start-ups, successful businesses and various entrepreneurs, regardless of industry. Sometimes they turn out to be totally irrelevant to my business interests but interesting nonetheless. I've read three recently about the food retail industry that I found compelling as a consumer:
It's a WaWa World (June 2011), Philadelphia Magazine: "By now, it's obvious that Wawa, our homegrown convenience-store chain, has achieved the level of cult-like customer devotion that every consumer brand on the globe dreams about. To build a world-class cult, you need a core of gung-ho zealots and a mass of zombie followers, and Wawa is fully loaded in both categories."
Inside the Secret World of Trader Joe's (August 2010), CNN Money:  The genius of Trader Joe's is staying a step ahead of Americans' increasingly adventurous palates with interesting new items that shoppers will collectively buy in big volumes.
How Whole Foods "Primes You" To Shop (September 2011), Fast Company: Have you ever been primed? I mean has anyone ever deliberately influenced your subconscious mind and altered your perception of reality without your knowing it? Whole Foods Market, and others, are doing it to you right now.
xoxo
gossip girl (which, by the way, I first heard of by reading this article in New York Magazine.)