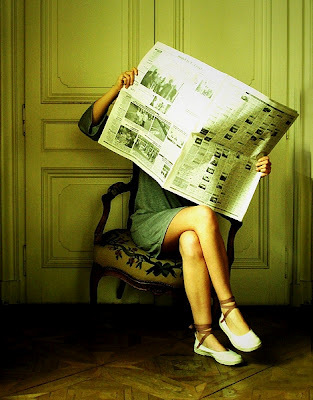 HELLO and welcome to the 19th installment of Things I Read That I Love, wherein I share with you some of the longer-form journalism/essays I've read recently so that you can read them too and we can all know more about Dartmouth, Barnes & Noble, Trayvon Martin and The Daily Mail. This "column" is less feminist/queer focused than the rest of the site because when something is feminist/queer focused, I put it on the rest of the site. Here is where the other things are. The title of this feature is inspired by the title of Emily Gould's tumblr, Things I Ate That I Love.
As I've said in the past, I like to publish this on Fridays, but last week I was late so it wasn't published 'til Monday! So now you probably feel really overwhelmed, but don't. Okay? Good!
White Before Proven Black: Imagining Race in the Hunger Games (March 2012), The New Yorker – The story behind the tumblr that collected and posted racist tweets about The Hunger Games and the association of whiteness with innocence. (Which we talked about here earlier this week, too.)
Confessions of an Ivy League Frat Boy (March 2012), Rolling Stone – A profile of the guy who dared to call out his school for its hypocrisy when he wrote an Op-Ed taking down the Greek system for its culture of "pervasive hazing, substance abuse and sexual assault," as well as an "'intoxicating nihilism' that dominates campus social life," and subsequently became a scourge on campus.
Loving Them To Death (October 1995), Outside – Jon Krakauer takes on the strange and even deadly/abusive world of "wilderness camps" for troubled teens.
Eulogy For Barnes & Noble #2628: A Personal History (March 2012), The Rumpus– A fun, interesting personal essay about writing and working in bookstores and patronizing bookstores. As a person obsessed with bookstores, I was particularly entertained because the author spends time living in Oakland (where I live) and Ann Arbor (where I lived for 14 years and then 4 more years, under different circumstances).
Consider This (March 2012), The Nervous Breakdown  – A beautiful, sad story about being a teeenager, being pregnant, wanting other people to hurt, and losing the baby.
The Making of a Blockbuster (March 2012), Salon.com -"With the right title, a kid's publisher can deploy something the world of adult publishing can only dream about: a large, well-oiled and highly networked group of professional and semi-professional taste makers who can make that book a hit even before it's published."
(Daily) Mail Supremacy: The newspaper that rules Britain. (April 2012), The New Yorker – Well, this scared the shit out of me.
Men "Experiment" Women "Experience" (March 2012), Salon.com – An excellent interview with lesbian writer Jeanette Winterson about her new book, growing up in an evangelical household, novel vs. memoir, writing routines, poetry, Occupy, being an introvert, the internet, the importance of literary language (in relation to story) and more.
Shattered Safety Within Retreat at Twin Lakes in Sanford (March 2012), Tampa Bay Times – "For a month — ever since her son heard someone screaming for help and her daughter called 911 and everyone heard the loud snap of a gunshot — Brown's children have been afraid to go outside. • Her youngest daughter, who is 9, won't even look out the window. She keeps seeing the dead teen's body. • "That could have so easily been my son," said Brown. "He wears hoodies all the time."
The Non Profit One Percent (March 2012), The Village Voice – Another article that will make you mad about how easy the government makes it for rich people to stay rich and poor people to stay poor.