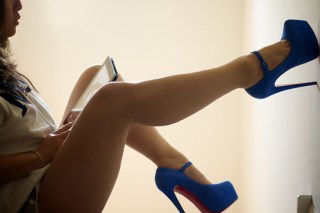 HELLO and welcome to the 18th installment of Things I Read That I Love, wherein I share with you some of the longer-form journalism/essays I've read recently so that you can read them too and we can all know more about Xanax and dystopian young adult fiction! This "column" is less feminist/queer focused than the rest of the site because when something is feminist/queer focused, I put it on the rest of the site. Here is where the other things are. The title of this feature is inspired by the title of Emily Gould's tumblr, Things I Ate That I Love.
Sidenote — if you're looking for up-to-the-minute news about the Trayvon Martin case, I highly recommend this page on Mother Jones.
A Thin Line Between Mother and Daughter (November 1997), Salon.com – By novelist Jennifer Egan (she wrote Like Me, among others) "A former anorexic ponders the family origins of eating disorders."
A Place Where We Are Everything (March 2012), The Rumpus  – "When Trayvon Martin was killed, he was wearing a hoodie and somehow, this hoodie has become one of the focal points of the growing and necessary conversation about this young man's death, the justice he deserves, and the racial climate in this country that makes a grown man with a gun perceive a 17 year old holding Skittles as a threat because of his skin color."
This American Lie (March 2007), The New Republic – What's weird about this article is that I left it feeling "dude, it's just David Sedaris, we don't have much invested in these stories, chill!" Like he can lie about his sister's job, it's not working conditions in an Apple factory in China or anything.
Fresh Hell (June 2010), The New Yorker – About dystopian fiction for young adults, its proliferation at this certain time, the difference between dystopian fiction for young people and dystopian fiction for grown-ups, and the appeal of a special new series called The Hunger Games.
The White Savior Industrial Complex (March 2012), The Atlantic – Rachel tipped me off to this one and then I saw it linked a lot over the weekend. If you've not yet read it, you need to fix that immediately.  – "If we are going to interfere in the lives of others, a little due diligence is a minimum requirement."
Listening to Xanax (March 2012), New York Magazine – "Three and a half years of chronic economic wobbliness, the ever-pinging of the new-e-mail alert, the insistent voices of prophet-pundits who cry that nuclear, environmental, political, or terrorist-generated disaster is certain have together turned a depressed nation into a perennially anxious one. The editors at the New York Times are running a weekly column on anxiety in their opinion section with this inarguable rationale: "We worry."
Also this rang especially true: "Anti-anxiety drugs are the salvation of those for whom opting out of the to-do list isn't an option."
The Jimmy McNulty Gambit (March 2012), The New Inquiry – "But the main thing is why, and how: the fiction comes into existence because an immovable object has been met with a force that can't accept that it is stoppable. Within the normal course of the system, Marlo can't be moved, because the system is not built to move him. But because McNulty can't imagine his own failure, he imagines that failure out of existence. He tells the story he needs to be true."
Rewrite (May 2011), 5280 – Trying to start over when you were the driver in a car accident that kills four of your friends, and you survived. Starting over involves laying low and then moving to New York City.
In Which We Don't Do Coke in the Bathroom of the Restaurant (March 2012), This Recording – Oh did this musing on waitressing EVER ring true! Especially worth mentioning how one of the most jarring/frustrating things about going from waitressing to an office is that offices have office politics. In restaurants, there's no passive-aggression — if somebody wants something from you or is upset at you, it's very direct. You always know where you stand, and you're always on your feet, and they always need you.
The Killer and Mrs. Johnson (March 1998), Westword – A teenager named Jacob Ind and his friend ambush and murder the teenager's parents in the middle of the night. It's alleged that the parents had been physically/mentally/sexually abusing Jacob and his brother, but the case presented in court wasn't convincing and Jacob was sentenced to life without possibility of parole.
It's Different For Girls (March 2012), New York Magazine – A review and profile of the new HBO show Girls, described as "FUBU" = "for us by us." As in a show about girls, written by girls. What a novel concept!!