Hello again. Welcome back to These Shirts, my personal summer concert series, where I'm cataloging some shirts in my home and sharing their stories with you. If you're new here, please find your way to These Shirts Were a Choice. In all likelihood you are not new here and there are only a few hundred of you and so let us begin. The series itself is inspired by the book Worn Stories by Emily Spivack, as well as the list I pitched but never wrote in 2015, Top 12 Shirts I've Stolen From You, which was meant as a tribute to my long-suffering wife, Megan, who couldn't be reached for comment.
Here we've arrived at our second installment, dedicated to the previously owned shirts I've found along the way. None is without its own emotional baggage and really isn't that what makes a life.
---
This Shall Be My Finest Moment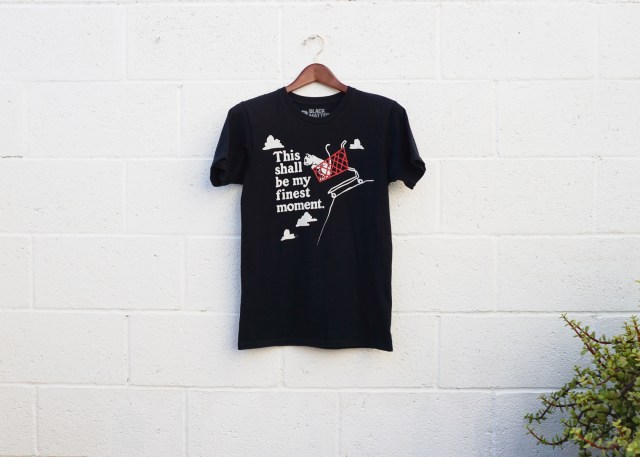 One time I visited Riese in New York and almost never left and, were it not for the two children I'd left behind, I would've stayed in her bed for the rest of my life (just to prove I was right) (that I didn't belong where I'd been). My mother wired me money and I kept calling the fine folks at Southwest Airlines to ask them to please move my flight back three days, four days, a week. Maybe you'd be surprised to learn how difficult it was to find a Western Union location that was open on a Sunday in Morningside Heights, or how easy and free it was to push back a return flight with Southwest Airlines. Maybe you've done this all before and you already know. We really have tried our best, haven't we?
Phoenix had never ever felt like home, not once. Phoenix was designed on a grid system. Everyone says that here. "It's a grid!" I've said it. My girlfriend said it when I moved in with her. We've all said it. Only visitors talk about the dry heat.
I came back from New York with an entirely new outlook on every single thing, as I am a cliché and no one can stop me. The house I was renting with my girlfriend in Ahwatukee was too long for me now. Why did we have so much space between each wall and then the next wall?
Now's a perfect time to interject with just how great my undiagnosed depression was at that time. Pretty great! Great like enormous. Great like a shark.
So there I was — it's a grid — looking for a reason to stay or get out (of bed) (exist). I gave myself a goal: find eight honest things about Phoenix and then I could go. It deserved a chance, after all.
But I just didn't find the eight things, and I stayed anyway. (It's a grid.)
Before this gets entirely away from me, here's what's important about this shirt: one day I saw — like, really saw — a fucking shopping cart perched up on the 'desert landscaping' (it just means gravel) of a subdivision, right next to one of the stucco walls they put up to keep those houses and their pools from spilling out into the streets. I was tenderized to this stupid place in a goddamn instant. Do you know how honest a shopping cart outside its business is?? There is no bullshit whatsoever about a shopping cart found outside its home parking lot; that is necessity intersecting with not giving one single fuck. I saw home.
I wanted to do a photo series of these carts. Wait, no — I wanted to be the kind of person who would pull over every time she saw a cart, and photograph it and then give it to you. I wanted to not care where I was going that/any day; a girl who'd interrupt her routine for a brush with honesty. Instead, I'm the kind of person who saw a cart and said, "There's another cart!" and whoever was in the car with me would say, "Just pull over!" and I'd insist that we couldn't, we didn't have time. (One day on the way to Ikea, we saw three red shopping carts tucked underneath a group of mesquite trees. They looked like friends who'd wandered over and then split up so that each of them could admire their own tree. Megan turned around and I finally took a picture of a shopping cart in the wild.)
Megan found this shirt at the Goodwill down the street. She knew why shopping carts mattered to me, and she definitely knew why cats mattered to me. The combination was just perfect. I bought it even though we were shopping for something else that day, because how could I leave it behind?
Have I ever worn this shirt?
---
Patterned Button-Up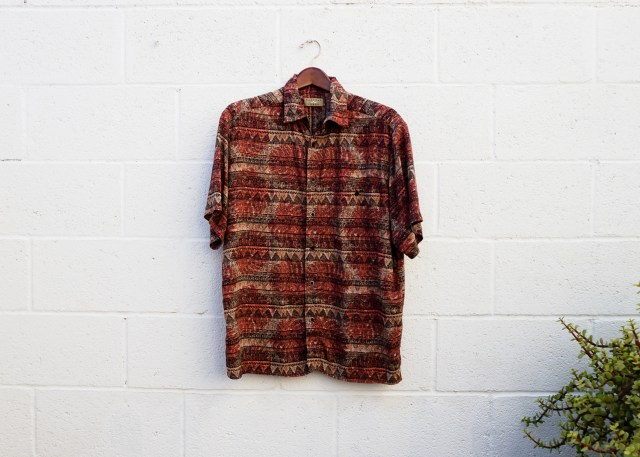 My grandmother, who is quite dead now and who I hold in high esteem, would wear a very specific style of casual clothing in the 1990s — earth tones and cotton blends in loud patterns, slightly oversized. At the time I thought of it as grandma clothes, because I was both extremely stupid and very self-assured, and she was my grandma. Yet here we are, on a Saturday much like any other, where I'm sharing my (extremely?) (misguided?) attempt at personal style by way of embodying a version of my late grandmother's aesthetic. Time is a flat circle.
I don't believe I have the shoulders or the jawline to be traipsing around in button up shirts day in and day out, and I don't really love the way I look in this one. I wear it when I'm feeling very "I can't" about the general and outside world, and I need something soft and loose that won't show stains. Sometimes I'm feeling very "I certainly can" about the world, and yet this is the only fucking shirt that is clean, so I wear it.
Why did I buy this shirt? Because it reminded me of her.
---
HBO Red Hot Winter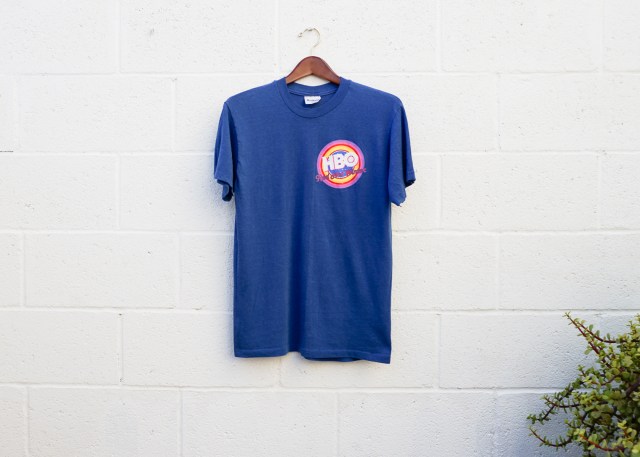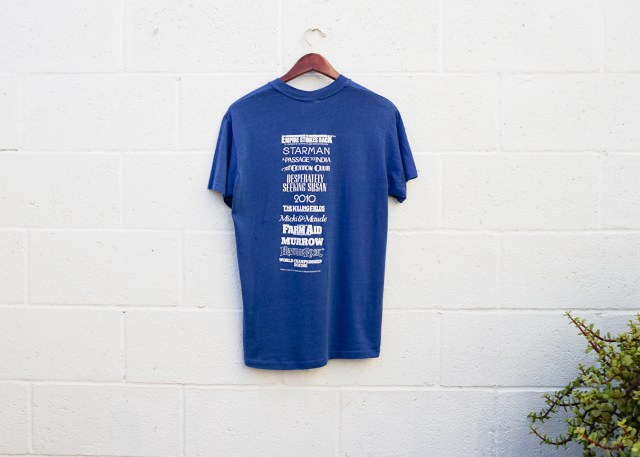 I lived for free preview weekends when I was a kid, when the Disney Channel, HBO, and Showtime gave you two and a half days of their best content FOR FREE, pausing only to remind you that this was a free preview weekend and wouldn't you love to have this kind of entertainment at your fingertips at all times? My family wasn't about to pay for any of the premium channels (we'd be renting our entertainment from the local furniture + electronics store which was also home to our town's largest VHS rental selection, thanks) (and besides that, my grandparents were the only ones with cable because the lines didn't run all the way out to our house, and satellite dishes were for millionaires!) so free preview weekends were my chance to see how the other half lived, and buddy, they lived with Fraggle Rock, a live action Winnie the Pooh (a treat), Storybook Musicals, every Disney film that had been put back in the vault, even freaking Babar if you got up early enough and needed something boring to watch while you ate your poptarts. IT WAS A CHARMED LIFE.
Now that I'm a grown woman who knows about copays and the acceptable number of exclamation marks one can include in a professional email, I have my own HBO subscription, and it's luxurious. I don't know where or when this shirt came into my life. I think it must be a promotional t-shirt printed sometime around 1986. Once, in a KonMari blackout, I tried to donate it. Megan intervened. Now it sits rolled up in the second drawer, next to all the other t-shirts that I don't usually wear. I should've titled this post These Shirts Don't See the Light of Day.
---
Swing with the Louis Brown Orchestra
On Swan Avenue in Hohenwald, Tennessee, right next to the Trinity Assembly of God church, you'll see Charlie's Junk Store and Auction House. (You absolutely cannot miss it.) It's one of the last real junk stores in a town that used to be called The Junk Store Capital of the South. You'll need to park in the church parking lot. Go ahead and look around the yard and on the porch. If Charlie isn't out front to greet you, it's fine to go on in the house. He'll come find you eventually. Everything's for sale, I think, except for some things in the very back. That's the kitchen, and the Obama memorabilia on display isn't for sale, but it's nice to see it (here, in this town, today). Charlie knows what everything is and can tell you how he came to be in possession of it. Just ask. The taxidermied turtle seems to be priced a little steep, but have you tried taxidermying a turtle lately?
Double back and make your way to the other side of the house, past the shelf of alarm clocks and the screens covered in campaign buttons and enamel pins. The room stuffed with clothes is worth your time. You think you remember how enormous the shoulder pads sewn into women's blazers used to be, but you're wrong. You think you remember how brightly colored those windbreaker sets used to be. Wrong again. If you're as lucky as I was 2017, you'll find a t-shirt as rad as this Swing with the Louis Brown Orchestra number! Nothing is priced in this room, so you'll have to ask Charlie. Listen close though, because you'll think he said $17 and you'll think, "I mean, that's higher than I was expecting to pay but I guess Charlie knows what he's selling here." But really he said 75 cents.
Before you leave, look for the kittens under the plywood and tires in the side yard. They're there.