Feature image via DapperQ
Everywhere — from Paris catwalks to grocery store checkouts — is filled with ideas about how to dress. They've got rules and handsome men clones galore, but what do you do when they're not talking to you? Sure you can ignore them, but even dapper queers, fancy bois and dandy ladies need some help now and then. With that in mind, Anita Dolce Vita of dapperQ rounded up some experts and set out to create a style guide for us.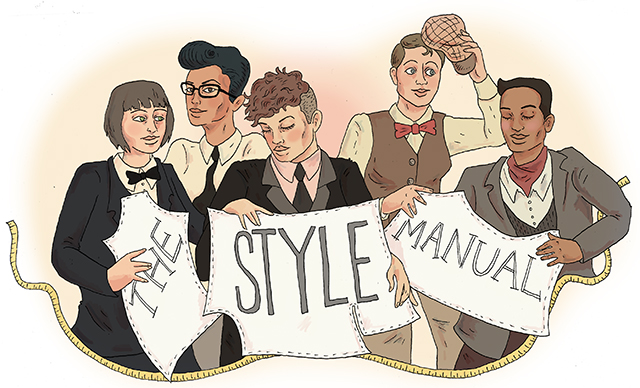 Header by Rosa Middleton
Chapter 1: The Suit
Part 1: An Introduction To Suits

Part 2: Classic Rules, Sizing and Fit
Chapter 2: The Shirt
Part 1: Finding Your Dream Dress Shirt

Part 2: The Fashion Council Answers Your Questions
---
Your Questions: Answered! By Members of the Style Manual Fashion Council
Dress shirts. So far, so good? Eh, not so fast. Now we'll dive deeper with tricky questions answered by our fashion council. The council is comprised of fashion designers and bloggers and includes Sonia Oram, Editor in Chief of Qwear and advice columnist for Equally Wed; Ariel Speedwagon, dapperQ fashion advisor and 2012 "dapperQ of the Year"; Ivette González-Alé (Tourisme Montréal 2012 "Queer of the Year") and Crystal González-Alé, Founders and creative visionaries behind the Marimacho masculine clothing line for diverse bodies of all genders; Anita Dolce Vita, Managing Editor at dapperQ; and Christine Boomhower, a graduate of the Art Institute of Dallas who holds a Bachelor's degree in fashion design and spent a year of her life working as a fitting assistant in a popular Dallas tailor shop, taking in approximately a million dress shirts a day.
In this chapter, Sonia Oram, Ariel Speedwagon, Anita Dolce Vita, and Christine Boomhower will be answering your burning suit questions.
Q: I have broad shoulders so I never have shoulder problems with shirts. For me the bottom of the shirt never fits over my huge hips. I got the booty!!! So, I have to get an extra-large shirt for the buttoning potential and then suddenly I'm swimming in it in the shoulder and chest department. HELP!

A: from Sonia Oram, Editor in Chief of Qwear 
Ahhh, the Booty. Shirts hardly fit over my hips the way I want them to either, and I feel quite dysphoric every time I can't finish buttoning them at the bottom! But hey, if being fabulous came easily, it just wouldn't be any fun.
Tailoring should help a great deal for achieving the look you want. A tailor can work on those extra-large shirts, reshaping the shoulders and bringing in the side seam around your chest and stomach area and letting it expand out at the bottom to fit over your hips. This isn't out of the norm for masculine tailoring techniques. Ratio Clothing cut a shirt for me with the side seam coming in at the waist and out at the hips, and I feel that it doesn't detract from the look of the shirt:
Adjusting the side seam and shoulders should cost somewhere around $30 per shirt. Sounds expensive, I know, but you can counteract it by shopping at thrift stores. One of my favorite shirts is a $5 Goodwill find that I got tailored.
A possible cheaper alternative is to go with shirts that fit your shoulders/chest and then bring up the length so that your hips aren't getting in the way. An untucked shirt is supposed to hit about halfway between your back pockets, but if you go an inch shorter and look amazing, no one will notice.
On the contrary, you can wear your pants up higher and tuck your shirt in, allowing you to leave the bottom button un-buttoned. Maybe add some suspenders to complete the look: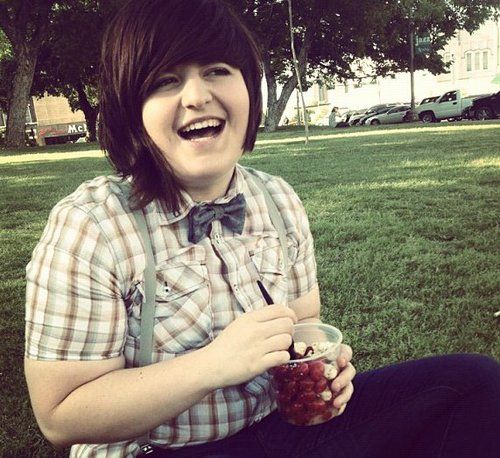 As Ariel Speedwagon over at dapperQ points out, every brand cuts their shirts a little bit differently. Trying them all on is really the best way to find the right fit.
There are a few brands for peeps like us whose shirts are more likely to fit without tailoring: Androgyny, Marimacho and for dress shirts, Fourteen. If you can afford to go custom, Ratio Clothing and Blank Label both are great, queer friendly custom shirt labels that will work with you to determine the right fit and allow you to send it back for alterations.
For men's shirts, I recommend the straight cut shirts as opposed to slim-fit. The slim-fit shirt style tapers in from the shoulders to create an upside-down triangle effect. They fit some people well, but can just look foolish on others. Brands for men's shirts that curvy queers have recommended: Ralph Lauren, Saddlebred at Belk (great for plus sizes); Brooks Brothers, Gant Rugger, Club Monaco, Ben Sherman, Topman, American Apparel (these are unisex, so they may fit you better), Express, and George.
For women's shirts, if you aren't going to be wearing ties, I HIGHLY recommend Gap. My friends and I have had great luck with an androgynous fit from Gap's "perfect shirts." Rugby Ralph Lauren women's shirts provide a more androgynous fit without chest darts, and have collars that work with ties! Genderqueerfashionista also recommends brands geared towards older women like Liz Claiborne for androgynous styles.
So! Try everything and anything on, keeping in mind that tailors can work wonders. When in doubt, wear suspenders.
Q: It does us no good to know we have a 14-inch neck size if we can't find a store that carries that size! What brands carry smaller neck sizes?

A: from Anita Dolce Vita, Managing Editor of dapperQ
If you can, go custom made! If you can't, I second all of Sonia's above brand recommendations. Additionally, dapperQ has put together a list of brands and tailors specializing in off-the-rack and/or bespoke clothing made specifically for dapperQ bodies.
You may also want to check out some conventional brands like Lands' End, L.L. Bean, Eddie Bauer, Brooks Brothers, Ralph Lauren, Tommy Hilfiger and Thomas Pink. These brands carry menswear-inspired women's casual and dress button-downs (womenswear shirts will have smaller neck options) and some even have styles without bust darts! However, you may still need to get these shirts altered by a tailor to achieve the ultimate fit. Try finding these brands at thrift stores for $avings and use the extra cash on alterations.
If you prefer to shop only in men's stores, try Express for Men; their shirts come in neck sizes as small as 13. Also, many slim-fit brands in the menswear sections come in smaller neck sizes.  If you're very petite, you can even try the boys section at many stores.
Q: I'm a really big woman with huge breasts but really short arms and legs. I don't bind because it would be pointless. By the time I find a dress shirt that would hold the girls, I have a huge gaping neck and sleeves that are at least 2 inches too long. How do I resolve this?

[BTW, gaping neck is a common problem for cis-males who have larger waist sizes. Comedian Horatio Sanz told GQ magazine, ""One of the problems I have is with shirts: Getting my neck size to match my body size is difficult…"]

A: from Ariel Speedwagon, dapperQ Fashion Advisor
+ Get a tailor to shorten the sleeves
+ Style your way to success
Sleeves too long? Roll them up! Gaping neck? Fill in the space with an ascot or a scarf. The breezy European also works well here. You can even work the turtleneck in – something I get excited about during the fall/winter seasons. You can cheat by probably a half-inch or even an inch, depending on how you wear it and whether or not you close the top button; in this case, a small collar (think spread) is definitely advised.
+ The women's department can be your friend
This feels like breaking some kind of dapperQ code of honor. But for tailored clothes, it has to be said: women's clothes are tailored for bodies that have a larger chest measurement than shoulder measurement and a larger hip measurement than waist measurement. Women's tailored shirts – especially if you avoid darts and other obvious details – can be almost indistinguishable from men's tailored shirts; the main difference will be availability of a front pocket, length of the shirt, and which way the buttons button. Remember: smashing gender norms isn't just about finding a different set of norms to conform to. A shirt is just a shirt – it's all in how you wear it.
Busty brands to check out: Brooks Brothers, Nicole Miller (you can find bargains at Overstock, TJ Maxx, Ross, and thrift stores), L.L. Bean, Lands' End, and the Gap.
+ If you can do it, go custom!
We have heard a lot of raves regarding the magic of the online custom shirt. Running anywhere from about $50 to infinity, online tailoring works like this: you enter your measurements, pick fabric and other details, and they custom cut a shirt to your body.
Q: Okay, okay.  So, tailoring is key.  What exactly can a tailor fix?  Is there anything a tailor can't fix?  And, is there anything I should bring with me to the tailor?

A: from Christine Boomhower, B.A., fashion design, Art Institute of Dallas
Dress shirts can be a necessary wardrobe staple for any gender identity or style presentation, but chances are they never fit anyone perfectly right off the rack.  It's standard practice to take a high quality dress shirt to the tailor shop, but even casual shirts may need to be altered to provide the best fit for your body. It doesn't matter if you picked this shirt up in the men's section, the women's section, or even (my favorite) the boys' section; if you got yourself a shirt you love it's definitely worth the tailoring to make it (and you) look flawless.
Where to Go
Personally, I wouldn't trust anyone with my clothes unless I can find someone else that can vouch for them.  Look on online listings with reviews like Yelp, ask your friends, and see if there are any local "best of" awards given out by your city's magazine or newspaper. Finding the right person for the job is definitely more difficult if you live in a small town, but for many people, good tailoring is worth a day trip to the nearest big city whenever you have the time and money.  Try to avoid getting your alterations done at places like Nordstrom or Saks, because usually they're overpriced and their turnaround time is far longer than it should be.  Also, it's always better to support local businesses whenever you can!
What to Bring
When visiting a tailor, you should plan on bringing the following:
+ A bra or binder that you would wear with that garment.
+ Any undershirt that you would wear with the garment.
+ Optional:  Cufflinks, if you have a French cuff on your shirt.  While this isn't completely necessary, it can be helpful to see how the shirt will fit with the cuffs closed.  An experienced fitting assistant or tailor won't need to see that, but you might want to know for yourself.
+ Optional:  A standard outfit you would wear your shirt with.  You can certainly try on your shirts in your basketball shorts and flip flops, but sometimes you want to get the vibe of what you're going to look and feel like to make the wisest choices in your fit.
Tailoring guidelines
+ Shoulders: It's often really hard for dapperQs to find men's shirts that fit their shoulders perfectly, but a more experienced seamstress/ster is fully capable of fixing this for you.  Someone with less experience may not be, though, so if they refuse to do it it's best to take their word for it and take the shirt to someone more qualified.  A shoulder seam should hit the tip of your shoulder, and if the shoulder seam is too tight and your bicep is bulging out of the top of the sleeve you need to purchase a larger size.  If the shoulder seam is lower than your shoulder tip it can be pulled up, but be careful as this will affect the length of the sleeve.  Having ill-fitting shoulders kills any look, so be careful with finding someone that can fit you if you can't find a shirt that already works.
Cost:  This particular alteration depends heavily on your tailor.  At my shop it was only $15, but it could vary greatly on where you are.
+ Torso: Oftentimes dapperQs are wary of this alteration because they're afraid of ending up with a shirt that's too feminine.  However, a slim fitting-shirt is usually far more flattering than a loose fitting shirt and proper communication can prevent things from getting too curvy.  Make sure you ask your fitting assistant or tailor to give you a tapered fit, but ask them to keep the line as straight as possible to give you a less feminine look.  If you are interested in showing off your curves then you can add front and/or back fish-eye darts to your shirt to transform a typical menswear style into a feminine fit.  Shirts can generally not be let out at all, so bigger is better in this instance.
Cost:  $10-$30
Tip: If you want a slim fit avoid shirts with pleats in the back; when these shirts are taken in the extra volume from the pleat will poof out of the yoke and then be pulled in where the fitting was done, creating a bubble of fabric at your back (which will never, ever look good).
Tip: Don't be overzealous with fitting your shirt.  Fitting is just a fancy word for tightening, and you need to move around with the pins in your shirt to make sure it's comfortable.
Tip:  If you have a larger chest and you have a hard time with gaping at your bust point, ask your tailor to sew hidden snaps into your button placket to keep your shirt closed.  Usually it's best to have two snaps right next to each other to keep the snap from pulling too.  This is usually around $3 a snap.
+ Sleeves: The width of your sleeve is usually tapered according to how you choose your torso fit, so person fitting you will know how to best take in your sleeve based on what you requested from your torso.  However, the only way that your sleeve can be tightened at the cuff is to add an extra button further in which could warp the vent of your sleeve.  The length of the sleeve can be shortened by moving up the cuff, but sleeves can't be made longer (which can be bad news if you're shopping in the kids section).  Generally shirtsleeves should come down over your hand just a little (just enough to show when you wear your tailored jacket).
Cost:  Tapering the sleeves – $10-$30.  This may come as a deal with tapering the sides. Shortening the sleeves – $15-$35
Tip:  If you do end up with shorter sleeves courtesy of the kid's section, it's usually best to roll up the sleeves and go with a more casual look for this particular shirt.