In the new second season of Joe Swanberg's Chicago-set Netflix series Easy, the queer women from season one return, now fully in a relationship, trying to navigate their new life together. The second-to-last episode of the season — which follows the same structure as season one, consisting of standalone stories that occasionally overlap in very small ways — focuses on Jo (Jacqueline Toboni) and Chase (Kiersey Clemons), letting us into these characters' lives in even more intimate ways.
The story ends up being less about dating and more about feminism. Chase is taking a burlesque dance class with her best friend Amber (Jaz Sinclair), and Jo is busy working on putting together a feminist art show that she has been organizing for a long time. Jo's fine with Chase doing burlesque when she thinks it's just for exercise (and when Chase is dancing for her privately at home), but the second Chase expresses an interest in dancing at an actual show, Jo gets immediately weird. She feigns support, but it's obvious that she's upset, that she isn't nearly as progressive about body politics as she thinks she is. The flaws in her feminism become even more clear on the night of her art show, when a group of performers do what is essentially a burlesque dance framed as performance art. Chase sees the hypocrisy right away. Frankly, drawing a distinction between burlesque and the dance performance at Jo's show is very White Feminism.
Jo and Chase's fight is personal, but it's bigger than that, too. "Lady Cha Chawp_postsdoesn't shy away from making Jo look like a total asshole. Being a feminist is a huge part of her identity, and Chase pushes back on her, challenges her to see her hypocrisy, and then she eventually does change for the better. The story doesn't feel cynical. A lesser comedy would try to turn Jo's hypocrisy into some sort of lazy joke about feminists, but Easy instead uses it to craft honest and compelling character growth.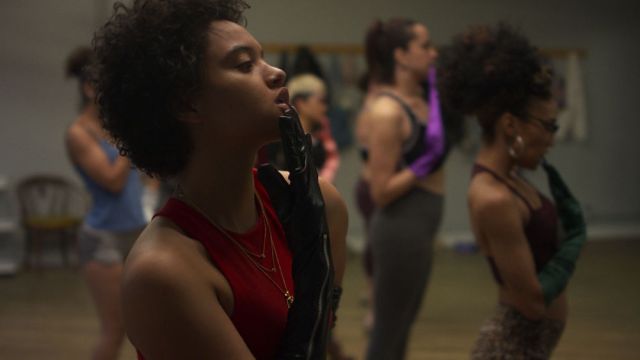 Both roles are much more complex than last season, and Toboni and Clemons effortlessly rise to the challenge, bringing Jo and Chase to life, making them feel real and their world feel lived in. So much of their episode in the first season hinges on their chemistry, and that dynamic is certainly on display here, but their story here is more layered, fuller. Swanberg's flexible approach to dialogue gives their easy chemistry a place to breathe. Their relationship, flaws and all, is believable, their world wholly immersive. I could easily watch an entire series about these characters, and that includes Amber, whose friendship with Chase is on the periphery but just as meaningful and well developed as the central romance. And Sinclair, Toboni, and Clemons could easily carry a series. In "Lady Cha Cha,wp_poststhey're joined by real-life queer, black, femme burlesque dancer Jeez Loueez, who adds to the very authentic feel of the episode in terms of its portrayal of Chicago, burlesque, and queerness.
So, should you watch the other episodes? One of the nice things about Easy is that every episode really, truly is self-contained. The characters' lives overlap in subtle, believable ways that don't feel gimmicky. You can even watch season two without watching season one, even when it comes to the characters who appear in both (do at least watch "Vegan Cinderellawp_postsfrom season one if you haven't already, so you can get a feel for Jo and Chase's origins).
Here's what I'll say about some of the other episodes: "Package Thiefwp_postsis almost an episode of Black Mirror in its scrutiny of surveillance, and it features what I believe to be Aubrey Plaza's best performance of her entire career. The brothers of "Spent Grainwp_postsare like every guy who has ever mansplained craft beer to me, but you'll probably end up shipping their wives played by Aya Cash and Zazie Beetz, who almost make the episode worth it? Swanberg's loose scripts and very natural dialogue sometimes lead to overlong episodes, and that's definitely the case for "Spent Grainwp_postsand "Conjugality,wp_postswhich features great performances from Kate Berlant and Michaela Watkins and is ultimately pretty critical of the extremely annoying man played by Marc Maron that it's centered on. Jo actually appears in "Prodigal Daughter,wp_postswhich is a great episode because of its central character Grace. "Side Hustlewp_postsis a very smart episode. And "Baby Stepswp_postsisn't explicitly queer, but Kate Micucci and Megan Ferguson do maybe decide to raise a baby together in the end, and it's super beautiful.